Heads up! We're working hard to be accurate – but these are unusual times, so please always check before heading out.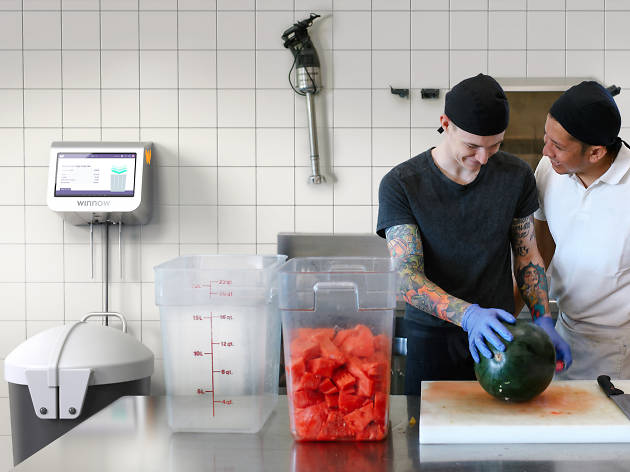 Four ways that robots are improving the food and drink industry in London
Ever been served a cocktail by a robot? Cutting-edge technology is well and truly part of the food and drink industry, reducing food waste, increasing efficiency and making our food taste better
Robots are changing the London we live in, from how doctors diagnose eye problems to how we cross the road. AI plays a big part in pretty much every industry and the worlds of food and drink are no different. Whether it's a bot bartender serving you a delicious tipple or an algorithm tweak ensuring that you get your takeaway in record time, here are four ways our food and drink are getting served with a side of technology.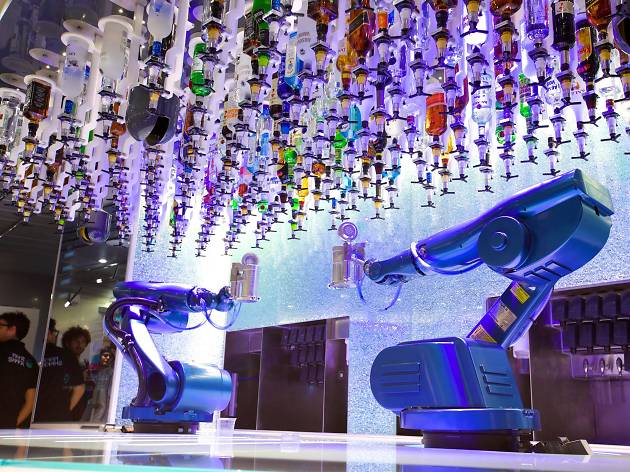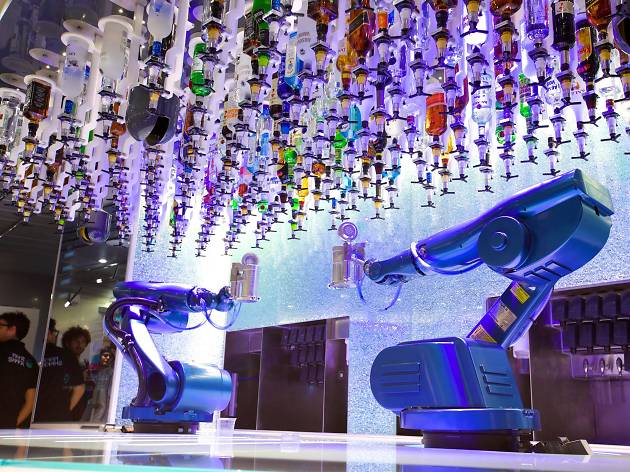 Royal Caribbean International
Shaking up (and stirring) the world of mixology, the aptly named Makr Shakr is the world's first robotic bar system, which makes cocktails in seconds via two literal mechanical arms. It was recently seen in action at the Barbican's 'AI: More Than Human' exhibition. Making 80 drinks per hour with a choice of 158 spirits, lengthy queues for the bar really could be a thing of the past. All you have to do is pick your poison using the Makr Shakr app and your bionic bartender will do the rest.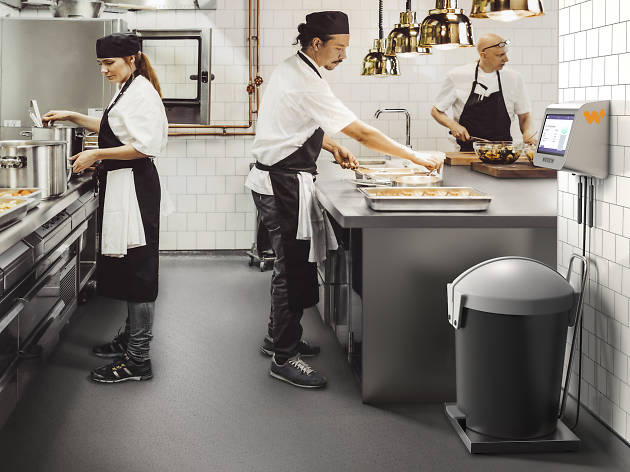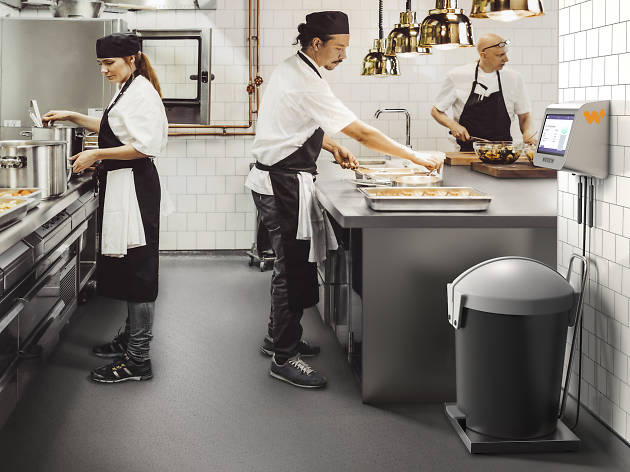 Photograph: Maskot
More than 600,000 tonnes of food waste is disposed of in the hospitality sector every year so, in order to combat this, London start-up Winnow Solutions came up with a handy, well, solution: bin technology. That's right. With a digital scale, connected table and a camera, the AI trains itself to recognise what's been thrown into the bin until the data is captured automatically. Daily reports tally up what has been thrown away and how much it costs, meaning businesses can adjust food purchases to avoid waste. That's a lot of food and money saved thanks to a very smart bin.
The intelligent cooking bot
For those of us who don't already have a personal chef on hand, the Moley Robotic Kitchen is the next best thing. With two mechanical arms integrated into a modern and professional kitchen, the robot is designed to learn recipes, cook them and then clear up after itself: a feat that not all humans have yet conquered. Modelling the movements of 'MasterChef' star and Brixton's Nanban restaurant owner, Tim Anderson, the Robotic Kitchen brings top-class culinary dishes a lot closer – so close that you don't even have to leave your home.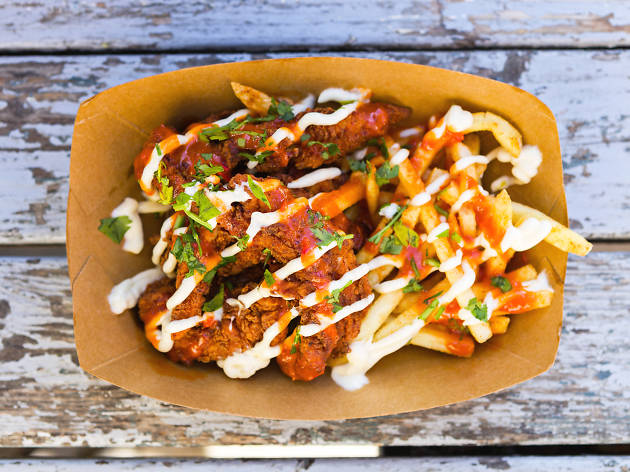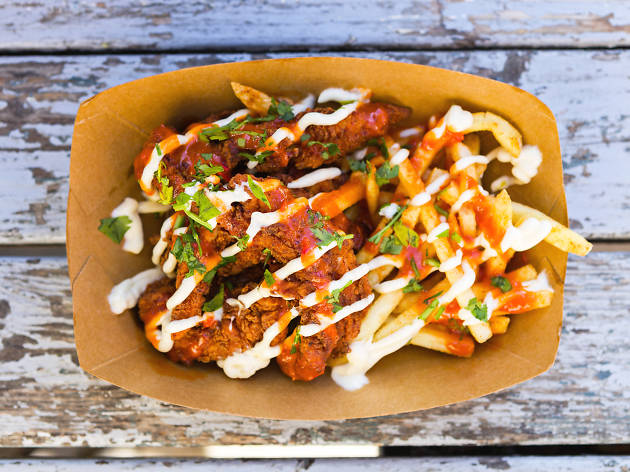 Michael Franke
The delivery-improving algorithm
For those of us who are partial to a hangover-curing pizza or cheat day-indulging curry, lengthy delivery delays can sour the taste of your takeaway. But fear not, because AI has worked its magic with a meals-on-wheels service. Food delivery titan Deliveroo uses an algorithm that scopes out the most efficient way of distributing simultaneous orders, all based on predictive technology using a number of factors including distance and location. Named Frank, after Danny DeVito's character in comedy series 'It's Always Sunny in Philadelphia', the algorithm has reduced delivery time in the UK by almost 20 percent so the next time your chicken chow mein arrives piping hot, you know who to thank (it's Frank).
Discover what's next for London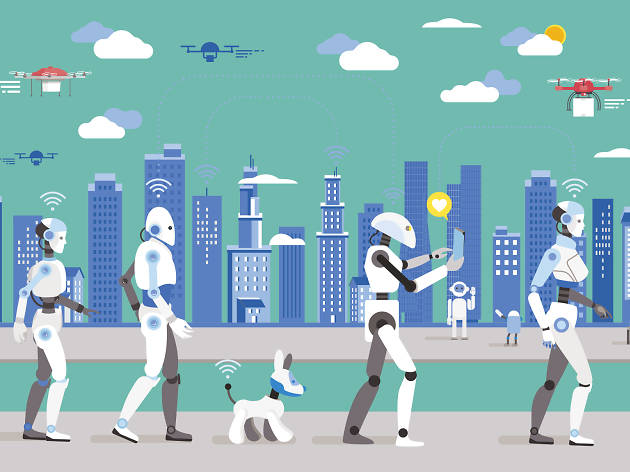 What will London's skyline look like in 20 years' time? How will we respond to climate change, a rapidly increasing population and air pollution? Will we all be eating insects in the near future? In this series, we're delving deeper into the future we know is coming, and investigating the developments that could shift the way we exist in the coming decades.