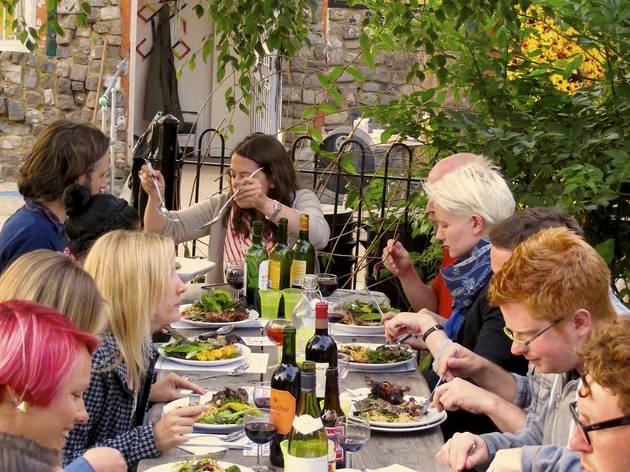 1/4
2/4
3/4
4/4
An alfresco supper you can really pig out on
Any event is instantly more appealing for being held in the proximity of animals, in my book. Apart from a taxidermy course, perhaps. Sadly the only furry creature we spot at Funthyme at the Farm supperclub is a cat being shooed out of the kitchen, but it's enough just to know that the ferrets, goats and donkeys are there, digesting their dinners while we borrow their tranquil des res for our own feast.
Wherever possible, Matthew Phelps sources ingredients for his dishes at Spitalfields City Farm from the venue's polytunnels, flowerbeds and veg patches. The meat is not, of course, home grown, but usually bought from east London butcher The Ginger Pig and then grilled on-site on a charcoal barbecue. Guests are welcomed with canapés and glasses to fill – the event is bring-your-own, so you can drink as much as you can carry, provided you can still tell the main gate from a rabbit hutch at the end. The three courses that follow are served at a communal table in a pretty corner of the gardens or, if it rains, in the farm's new yurt. Regular treats include a foraged salad packed with fresh flowers, herbs and leaves, all picked just half an hour before they're served.
Once the dessert plates are scraped clean, the wine bottles have been drained and the sun has dipped behind the tracks of the East London Line, it's time to say goodnight to new friends and leave the four-legged ones in peace. Sharing such fresh food in what must be the city's most verdant dining room is as satisfying as a country walk. And if it doesn't leave you longing for an allotment, we'll eat the cat.