Get active on these eight great days out by train from London
From pumping those pedals to a gentle punt, there are lots of ways to give your body the day out of London that it really craves – by train, on the Thameslink and Great Northern networks
Whether you want to cycle, wakeboard, hang glide or punt your way into the weekend, there's an activity here for every type of adrenaline junkie. And adventure is closer than you think, with all these destinations easy to reach by train, so you can treat your body to a bit of relaxation time on the way home.
Alternatively, enjoy a day out with mates or a date and check out our ten great escapes guide.
Or if you want to get away with the family this weekend, see our pick of ten great days out to keep the kids happy.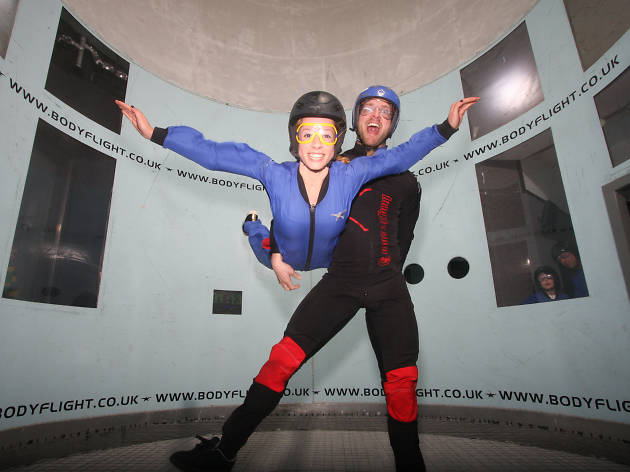 Skydiving without a plane
Twinwoods Adventure Centre just north of Bedford runs indoor sky diving sessions and other high-thrill activities like surfing, climbing, archery and simulated motor racing. Their Bodyflight simulator lifts your body with an 180mph updraft, so you can hover in the air as if you're really sky diving.
Twinswood Business Park, Thurleigh Rd, Milton Ernest, Mk44 1FD
www.twinwoodsadventure.com/fly
Getting there: Bedford rail then bus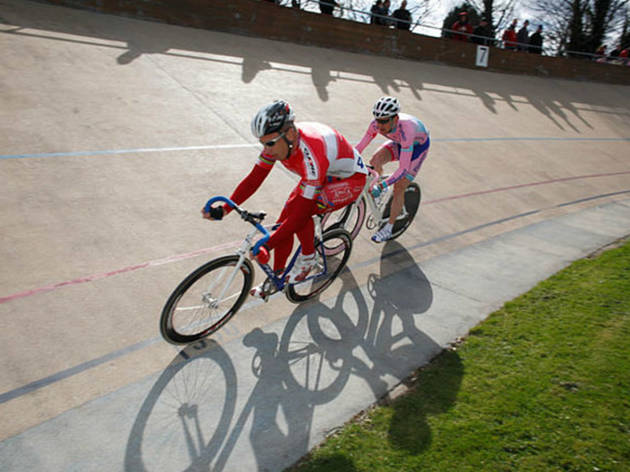 A Victorian bike track hidden behind a suburban street, this velodrome featured in the 1948 Olympics and is still one of the best places in London to enjoy outdoor speed cycling without having to stop at a single traffic light. It's more gently banked than modern indoor tracks, so it's suitable for everyone from beginners to experienced riders, and the club offers induction sessions.
Herne Hill Velodrome, 104 Burbage Rd, Herne Hill, SE24 9HE
Getting there: Herne Hill rail.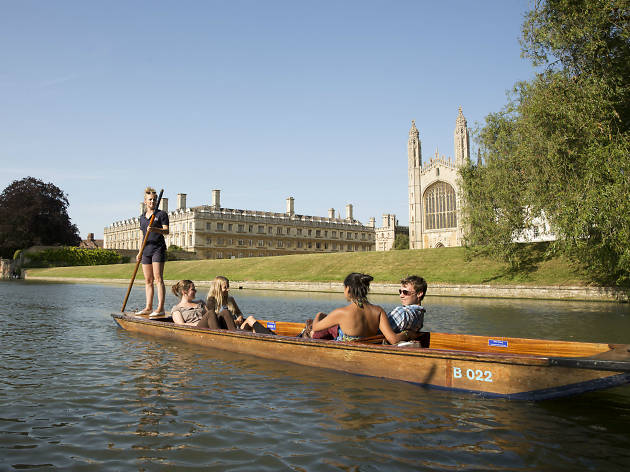 © Iain Lewis
It's got to be done, if you're ever in Cambridge on a sunny day… Take a punt out on the water or, if you don't feel confident enough, hire a chauffeured boat and sit back for a romantic glide along the river. Just try not to break into a chorus of 'O Sole Mio'.
Scudamores, collection at various locations, Cambridge
Getting there: Cambridge rail (2FOR1 offer when you travel by train).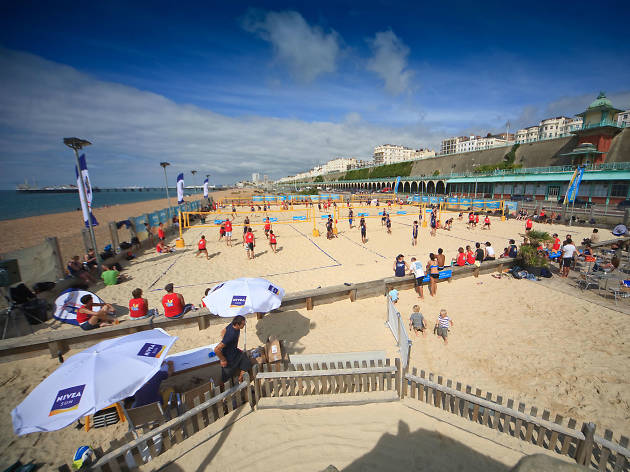 Yellow Wave Beach Sports, on Brighton seafront, is open all year round. Pack your shorts, hope for sun and make friends in a volleyball class on the sand, or by joining an open court sessions. There are kids' sessions in the holidays, too, if you want to sit and relax in the beach house café and watch the little ones do all the work.
Yellow Wave Beach Sports, 299 Madeira Drive, Brighton BN2 1EN
www.yellowave.co.uk
Getting there: Brighton rail.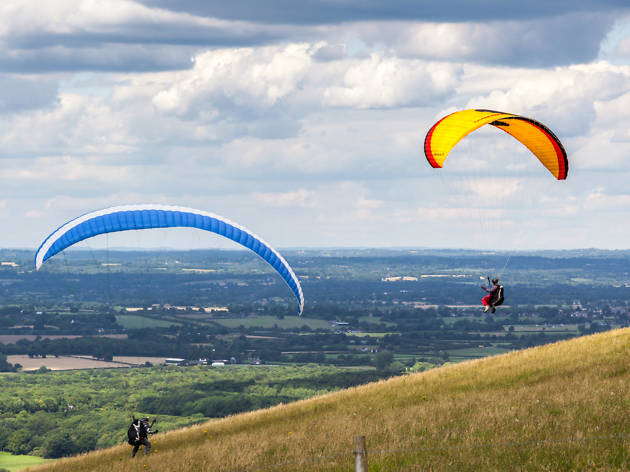 Just a short bus ride from Brighton station, you'll find Devil's Dyke – beautiful rolling hillside ideal for walks and, if you dare, hang gliding. Even if you haven't been before, there are local organisations like the Southern Hang Gliding Club that can help you take off…
Devil's Dyke, nr Brighton, West Sussex
Getting there: Brighton rail then 77 bus (discount on bus fare when you show your train tricket).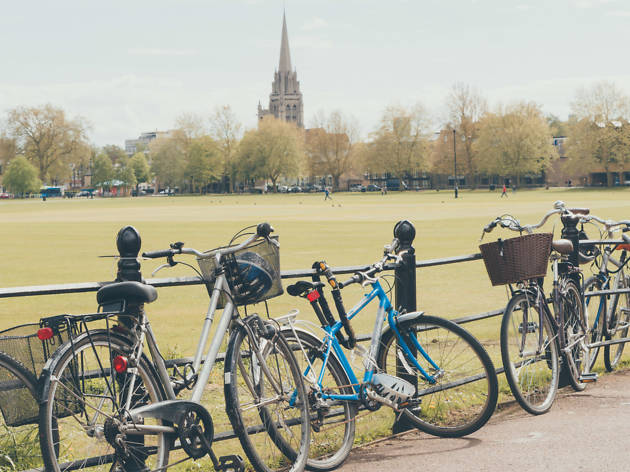 Do you like to mix exercise with pleasure? Then come with us… on a Cambridge Bike Tours trip around the city. The company offers a variety of gentle guided tours exploring the town and, in the case of the 'River Pubs' tour, making a few pitstops along the way.
Cambridge Bike Tours, meeting place: Parkers Piece (under the lamp post), Cambridge
Getting there: Cambridge rail.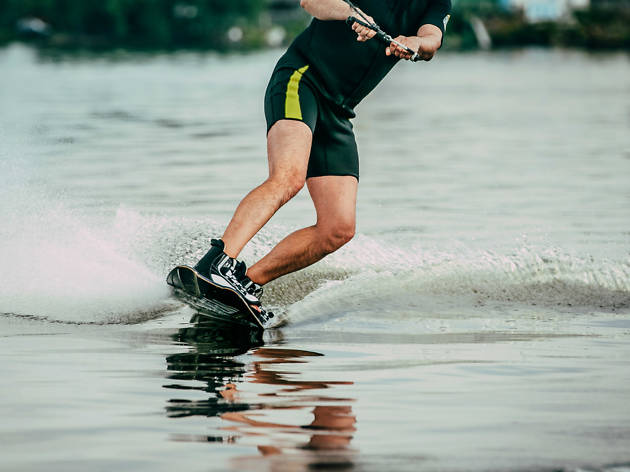 Box End Park near Bedford has outdoor watersports for all ages and abilities, including water-skiing and wakeboarding activities (for adults), inflatable float fun for kids, and open water swimming sessions.
Box End Park, Kempson, Bedford, MK43 8RQ
Getting there: Bedford rail then short taxi ride.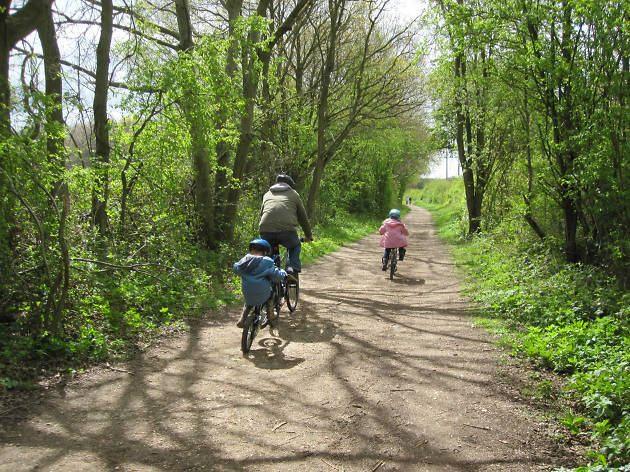 © Sue Stevens
Travel off peak or on weekends and you can take your bike on the train to explore the country for yourself. The Nickey Line in Hertfordshire is a great option for all ages and abilities. It's seven miles of former railway track offering relaxing country views all the way.
Park Hill, Harpenden, Hertfordshire
Getting there: Harpenden rail.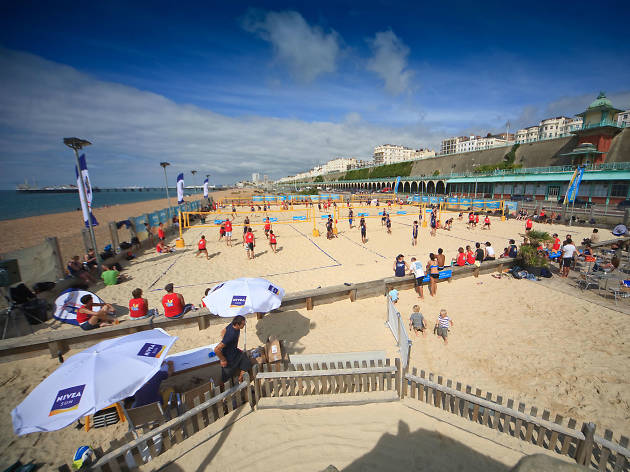 Thameslink operates train services to and from the heart of London, between Bedford and Brighton via Luton and Gatwick Airport, and St Albans and Wimbledon.
Great Northern connects King's Lynn, Cambridge and Peterborough, via Stevenage and Welwyn Garden City with London King's Cross. Metro services run to and from Moorgate weekdays, late evening and at weekends.
Kids travel for just £2 when accompanied by an adult on our great value Off-Peak tickets, plus get 2FOR1 offers to heaps of attractions when you travel by train.