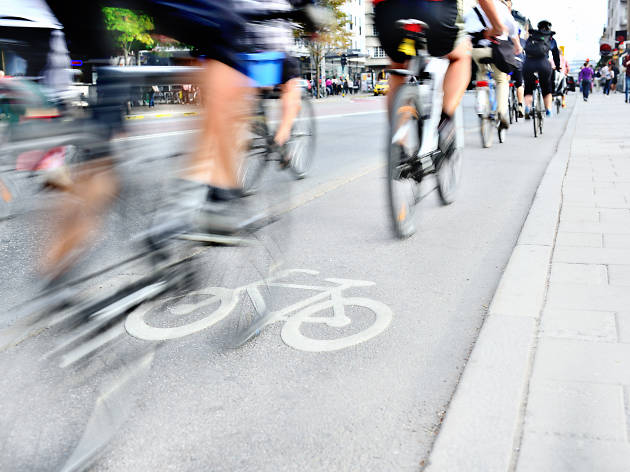 Get cycling this month and win great prizes
The London Cycle Challenge is back, so come on London, Time Out wants you to get on your bike
We love cycling here at Time Out. Not just because it's cheap and keeps us fit, but because it gets us from A to B to Z – for work, for shopping and to get around all those brilliant things to do and see that we rave about in the magazine and online every week.
Get pedalling and win prizes
Summer is the perfect time to discover cycling in London for the first time or to get back in the saddle – that's why TfL's London Cycle Challenge takes place each June. This year's challenge is on now and runs until Sunday June 28.
TfL's London Cycle Challenge is a chance for you to encourage friends and colleagues to try cycling. You can form a workplace team and notch up miles together, competing against companies of a similar size, with prizes for the organisations with the biggest participation.
You can also bid for Challenge glory as an individual, recording your journeys as part of TfL's quest to find London's most enthusiastic cyclists.
The London Cycle Challenge is free to enter and you can register now.
The London Cycle Challenge is part of the National Cycle Challenge, so your organisation or department can compete against other offices, colleagues and friends around the country.
Over 100 prizes to be won
You can win daily and overall challenge prizes – from free lunches to speedboat trips and festival tickets – by clocking up your journeys by bike in and around London. You could also emerge with a London Cycle Challenge title honouring your achievements!
There are prizes for the overall winning teams and for male and female riders who have racked up the most miles. To encourage first-time participants, there are male and female newcomer awards for the greatest distance covered and the most trips completed. There's also a Best in Show award for a member of staff nominated by colleagues, and Top Explorer for the person who's done the most leisure rides.
Time Out will be rewarding London's best individual cyclists with titles and prizes. The person who registers the highest number of fellow cyclists will be rewarded with the title of Time Out Top Encourager and will win VIP tickets to the Lovebox festival and the London stage of the Tour of Britain.
Evans Cycles will be rewarding companies and organisations who get the highest number of employee participants. Rewards include £100 vouchers, FIX IT maintenance sessions and entries to RIDE IT Sportive road rides.
Other prizes include a Thames dinner cruise, a Lee Valley BMX track session and Team GB cycling gear.
How to track your rides
Any ride anywhere, anytime during the three-week Challenge counts, so long as it's at least ten minutes. Download the free mobile app Love to Ride (for Apple iOS and Android) to make it easier to record your rides, set targets and compare with friends. It can also record rides automatically using GPS.
Register now
Registration for the London Cycle Challenge is now open at www.tfl.gov.uk/cyclechallenge.
Organisations without cycling facilities can apply for up to £10,000-worth of cycling products and services from TfL, to help encourage employees to cycle to work. For more information or to apply, workplaces should visit www.tfl.gov.uk/cyclingworkplaces.
Participants without bikes can still join in by using Santander Cycles, London's cycle hire scheme, which covers 100 sq km of the capital, for as little as £2 a day.
Time Out loves cycling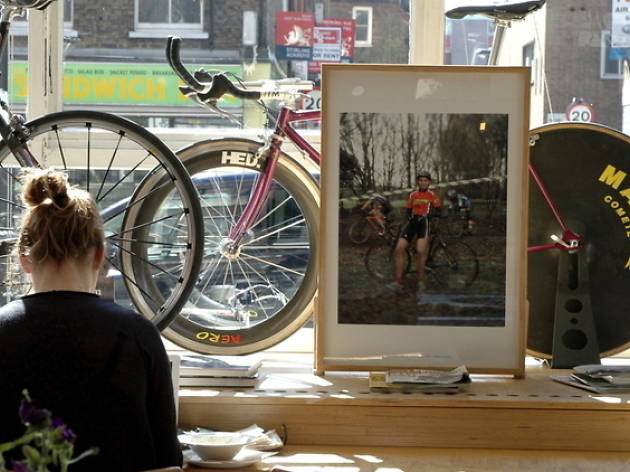 © Ben Rowe
Of course, getting around takes some serious refuelling. As the experts on eating and drinking in London, Time Out has checked out all the finest cycle cafés around the capital – from Look Mum No Hands! in east London to Pearson in the west, from Camberwell's Cycle PS to Islington's Micycle. Our list of Best cycle cafés in London has just been updated, so check it out now for great places to grab a bite while you're waiting for repairs, or just to hang out with like-minded freewheelers.