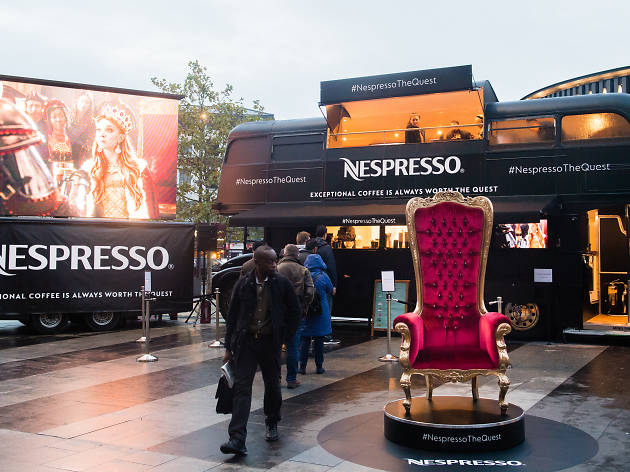 Here's where you can sample Nespresso's new range of coffees in London this week
A decked-out bus full of delicious coffee has landed in central London – here's where you can find it
If the tone of your day is set by the quality of your morning coffee; and if your favourite part of the afternoon is your espresso, then we've got great news. This week, a beautifully designed Nespresso bus will appear in two central London locations, armed with a selection of delicious coffees to try.
You'll be able to find the Nespresso bus at King's Cross on Monday November 12, and at Charing Cross Station on Wednesday November 14 from 7am to 7pm. You'll spot it instantly: on the ground floor, friendly Nespresso staff will be handing out free cups of coffee in recyclable cups for you to take with you to work.
Our tip: leave a little more time in your day to check out everything the bus has to offer. Upstairs, there's a luxury lounge where you can sample Nespresso's new Vertuo Limited Edition Festive range. This year, the range is inspired by Parisian coffee culture, designed in partnership with architect and designer India Mahdavi. Start with the Madeleine: a sweet, almond-infused blend – then move onto Exotic Macaron and taste the hint of delicate coconut. To finish, sip the Paris Black: an intense, smooth espresso. Like what you're tasting? You can order some Nespresso capsules on the bus, which will be delivered to your home. The experts will be on-hand to answer any questions about Nespresso, and to advise which machine could be right for you: the original, or the Vertuo, which makes larger, mug-sized coffees.
And that's not all, coffee-fans. There'll be a huge, medieval throne for you to snap selfies on, plus a giant screen playing Nespresso's epic new George Clooney campaign, titled 'The Quest'. This time, it involves the man himself saving a medieval kingdom from a dragon ('Game of Thrones' star Natalie Dormer is the queen, naturally) – then taking to the streets of New York in a quest to find the kingdom's finest coffee. You can watch the video below.
To browse the full Nespresso range, head to the Nespresso website, or visit your local Nespresso boutique. Find the full list of London boutiques here.