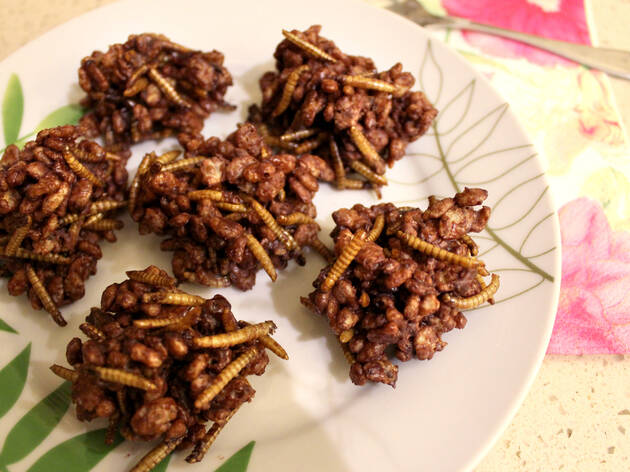 Time Out says
When I imagined visiting an insect farm, a semi-detached house on a quiet, leafy street in Ealing wasn't what I had in mind. But thousands of mealworms and crickets are grown in this suburban spot every week, at London's first and only edible insect farm. I'm greeted at the door by Tiziana Di Costanzo, co-founder of Horizon Insects, who leads me into her kitchen to join five other bug novices for a farm tour and insect cookery class. Tiziana began the niche family business when her son started cultivating insects for a Duke of Edinburgh's Award project. Things have since expanded, as the house now has a purpose-built insect lodge in the garden.
We put on white lab coats and hairnets before heading in. The smell – a rancid hamster cage twang – hits you first and there's a cacophony of cricket chirps in the air. Scores of plastic storage containers are stacked on wooden shelves, each containing a group of Tiziana's insect charges.
We meet worms at each stage of their growth phase – from microscopic entities to thick tubular creatures pulsing over scraps of fruit.
This is no eccentric side hustle, though. Tiziana has hit on a big sustainable food movement. Insects, she tells us, not only contain more zinc, calcium and magnesium than beef, they can be farmed using little space and feed on food waste.
Speaking of food – it's time to turn the grubs into grub. Tiziana helps us make a three-course feast of fried cricket tacos, burgers filled with blanched mealworms and a cake baked with flour made from ground worms. We tuck in. Turns out, fried crickets taste a lot like prawns, mealworms go really well with beef and bug flour doesn't affect the taste of fruit cake. Bugged out? Not at all. If edible crickets are the future, then I have arrived.
Fancy a tour of London's only edible insect farm? Find the next dates here.
Details
Best selling Time Out Offers