Heads up! We're working hard to be accurate – but these are unusual times, so please always check before heading out.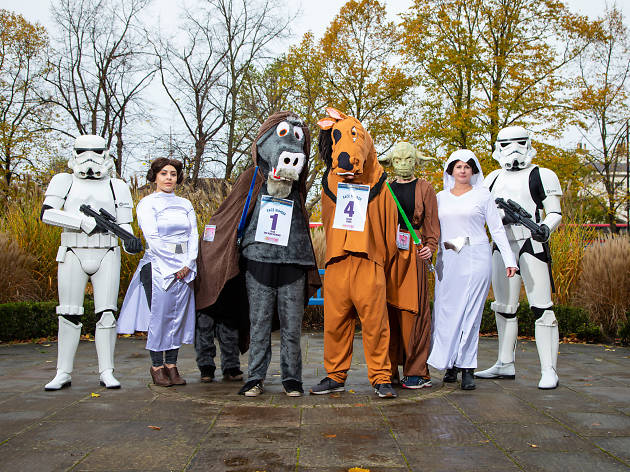 Horsing around: meet the people taking part in the London Pantomime Horse Race
London has some odd festive traditions but Greenwich's Pantomime Horse Race could be the oddest. We meet the runners and riders
It's a particularly cold day in Greenwich, which makes the fact that I'm sweating feel all the more bizarre. Blame it on my claustrophobic surroundings: my head's trapped in a wellpadded cage, and my only line of sight is dead ahead, through a pair of fuzzy nostrils. Beyond the confines of my head-prison I can hear laughter. Through my nostrils I can see a particularly intimidating stormtrooper. So yes, understandably, I'm sweating. And if this is what it's like for the front half of the horse, forgive me for not wanting to try the back.
You see, that's the main rule of The London Pantomime Horse Race. As the name suggests, you have to race as a pantomime horse. You know the kind – one at the front, one at the back. Good for 'It's behind you!' stage business, maybe, but less conducive to sprinting around Greenwich on icy cobbles, stopping for pints along the way. Uncomfortable as this may sound, as many as 2,000 people are expected to turn up to watch this year's race (it's 'Star Wars'-themed, hence the stormtroopers). There'll be celebrity appearances, sky-high charity earnings and a spin-off event taking place in Chicago six hours later. All this, for a handful of halfdrunk fake horses? I'm as baffled as you are. That's why I got in touch with founder and organiser Mark Biddiss to ask how something so out there has become such an enormous festive mainstay in the city.
'We do try and impress upon them not to have a curry the night before'
'The first year we did it, it was just a community thing,' he says. 'About 30 or 40 people turned up, most of them locals. We had about five horses and one hippo, maybe a random zebra.' In that first year, Mark was thrilled that a team unexpectedly turned up on the day. This year, there'll be eight times as many teams racing, and 50 times as many attendees. I've been invited to meet some of the racers, which brings me to a makeshift 'paddock' in the gardens of Greenwich's Devonport House a couple of weeks before the race. Horses are here training for the main event, which will take them from King William Walk to Royal Hill, via six or seven pubs and several obstacle courses. Thanks to the theme, these include an 'asteroid belt' (people dressed as asteroids, wearing belts, and getting in the way) and a 'space hopper challenge'. I ask Mark how a pantomime horse rides a space hopper, and he explains that there's two hoppers per horse. As separating from your other half is strictly forbidden, I'm left with some logistical questions. Trying on the blinding horse head only leaves me with more. Here's one: who in their right mind would choose to be the back? 'Whoever signs up first tends to get the front end,' Mark explains. 'But we do try and impress upon them not to have a curry the night before, because those costumes can be quite… unforgiving.'
Photograph: Chris J Ratcliffe/Getty Images
Taking part in this year's race is local Kay Trinder, who emerges from the back of the horse next to me to say hello. 'I'm the back of the horse because I'm shorter,' she explains. Along with her friend Sally, Kay is racing for the first time this year. 'We're runners, so we're in it to win,' she explains. Sally, whose face is obscured by the enormous head, nods clumsily in agreement. I ask about their race strategy, and a muffled voice comes from inside. 'Run fast, drink faster,' it says. One year, the horses were stopped and breathalysed by people dressed as police while a loudspeaker boomed 'Every Breath You Take' by, well, The Police. The drunkest team got an extra point.
'Horses from races past include Freddie Mercury with a hoover... and "Donald Trump Sugar Lump"'
These sorts of moments have become virtually mythical to long-term fans, who treat the race with a near-religious fervour. They talk in awed voices about the time Mark guitar solo-ed as Brian May on the Devonport House balcony while an impersonator of the actual queen regally waved along, and they chuckle about the time the Cheeky Girls came down to perform. Nothing sticks in their memories like the costumes, though. 'They get funnier and more surreal every year,' says regular Cordelia Stuart-McDonald. Some of her favourite horses from races past include Freddie Mercury with a hoover, 'Father Ted' character Father Jack being pushed by the Pope, and 'Donald Trump Sugar Lump,' whatever that means. This year's nags are theme-appropriate: Sally and Kay are racing as an Obi-Wan Kenobi horse, while there's a Yoda horse galloping clumsily around next to me. Well, less 'Yoda horse', more 'baby Yoda on a horse'. Mark tells me that the slowest racers they've ever had were hampered by the fact that they were a costumed mum and dad, with an actual child riding on their back. 'They didn't win, but we gave them an award anyway,' he says. Maybe there's hope for baby Yoda yet.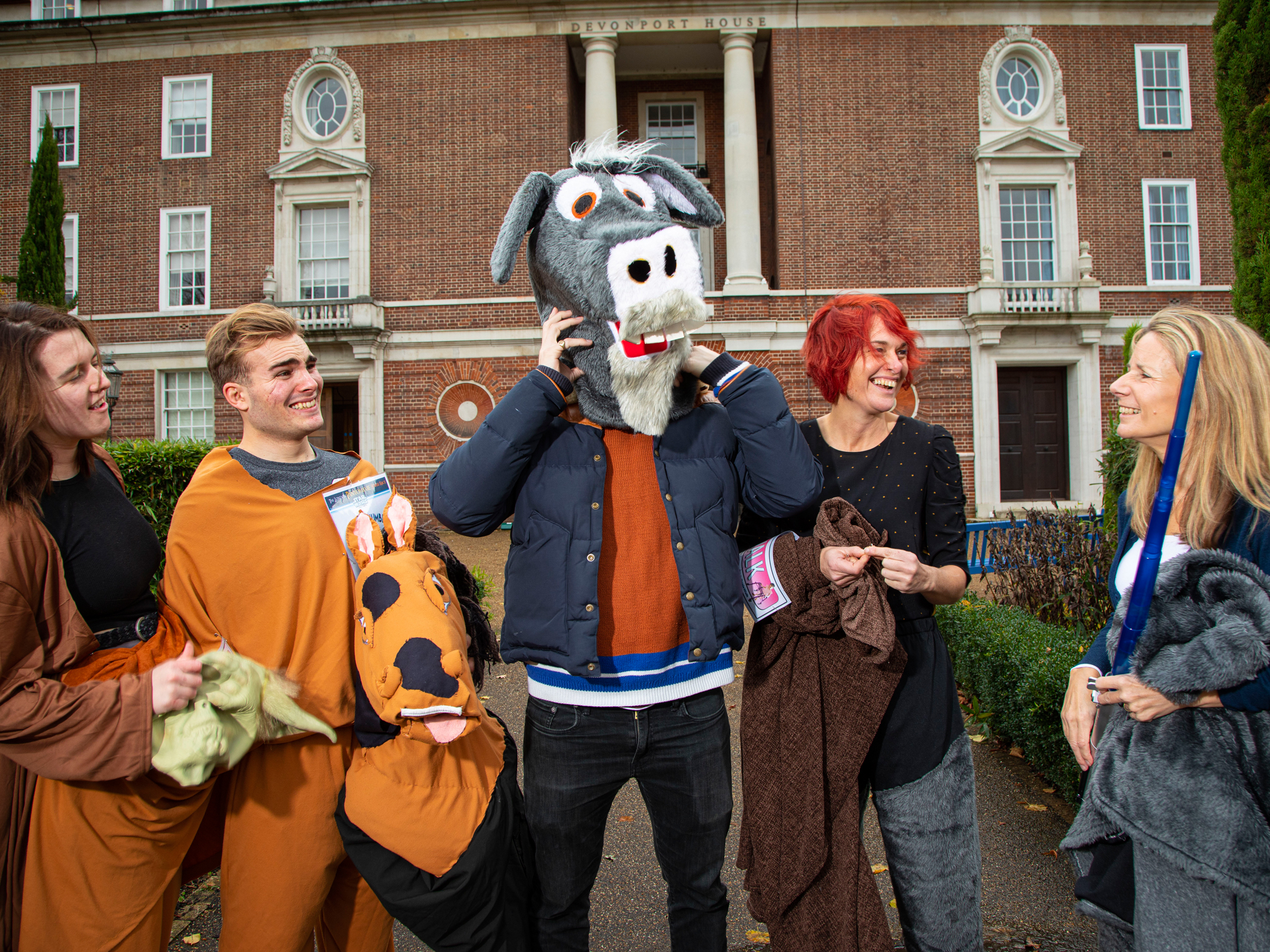 Photograph: Andy Parsons
Anyway, it's not about prizes. Sure, 'It's the taking part that counts' is a tired old cliché – but here, where London charities see genuine benefits from all this horsing around, the old adage really does ring true. 'It's Christmas time,' Mark says. 'This is a time of end-ofyear reflection. Which means not just raising money for charity, but also just putting a smile on people's faces.' In the past, the race has brought in thousands for charities like Make a Wish and Riding for the Disabled. This year, they're hoping to channel their Christmas spirit into raising £50,000 for Help Rosie Walk – a charity helping a local fiveyear-old with cerebral palsy access life-changing surgery. Kay and Sally, who are racing on Rosie's behalf, say it's a no-brainer. 'We all take our legs for granted, so this is an important one,' Kay says. Suddenly, the whole thing doesn't seem so silly after all.
The London Pantomime Horse Race takes place in Greenwich on Dec 15 at 11am. Head to www.pantohorserace.org to sponsor and find out more.
Find more festive things to do in London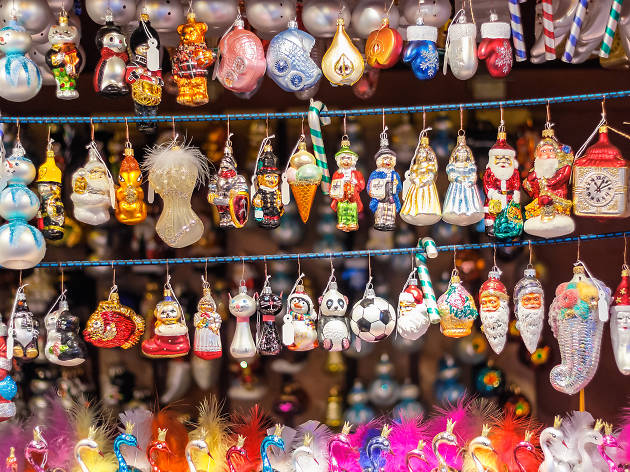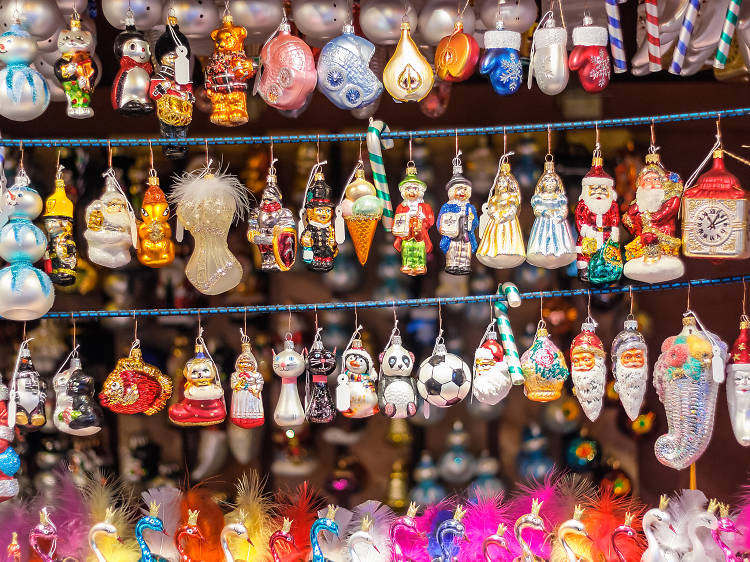 Prepare to find all you want for Christmas at London's brilliant Christmas markets. Whether you're looking for festive food, traditional decorations, cutting edge arts and crafts or just shopping for a last-minute present, the capital's selection of yuletide sales are here to help.
Support Time Out
We see you're using an ad-blocker. Ad revenue is Time Out's main source of income. The content you're reading is made by independent, expert local journalists.
Support Time Out directly today and help us champion the people and places which make the city tick. Cheers!
Donate now