Heads up! We're working hard to be accurate – but these are unusual times, so please always check before heading out.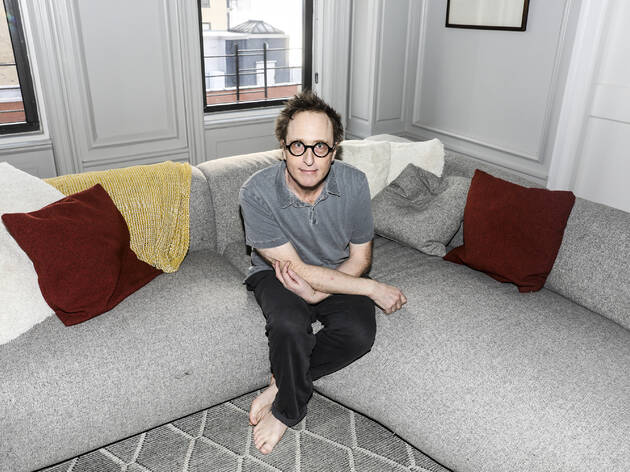 Jon Ronson: 'Don't create rules that you won't be able to live by'
Whether it's as an author, podcast-maker or Time Out columnist, Jon Ronson speaks his mind. He chats to Rhian Daly ahead of his huge Palladium talk
Jon Ronson has a way of staying ahead of the curve. In the author's 25 years of exploring the more peculiar sides of society, he's presciently documented the rise of extremists like Infowars' Alex Jones ('Them: Adventures with Extremists') and cancel culture before it was known as such (his book 'So You've Been Publicly Shamed'). That book also inspired an episode of 'Black Mirror', been turned into a George Clooney-starring movie, and provoked thousands to Google 'take psychopath test online'. Not bad for someone who started out as a Time Out columnist in the '90s.
Today, he's sat behind a desk in his apartment on New York's Upper West Side, with only the constant ping of his laptop and the barking of his dogs in the next room breaking the quiet. He's in the middle of planning his UK tour, based on 'The Butterfly Effect' and 'The Last Days Of August', his recent podcasts about two different sides of the porn industry. He'll be bringing the talk to the London Palladium. If it's anything like talking to him in real life, expect no-holds-barred chat.
You've spoken about how being immersed in the porn industry taught you about human nature. What was the biggest takeaway?
'I think a lot of porn people's troubles are because consumers don't want to be curious about their lives because it would make them feel bad about themselves. For that exchange to work there has to be a dehumanisation of the porn people. If you humanise them, it's going to make you feel bad about watching porn. As a consequence, the lives of porn people are worse. I found that really interesting. We live in a time where most people feel they want to support marginalised communities and be less stigmatising, but there's always some marginalised communities that people don't bother trying to support. The porn community is one.'
People have a lot of preconceptions about what it's like to be on a porn set. What was your experience?
'It was like seeing an off-Broadway show, to an extent. We were fortunate that we were embedded with this director for "The Butterfly Effect" called Mike Quasar, who would never lie or force people to do anything against their will. I never saw any exploitation, with the one exception of what's called 'the suitcase pimps' – these boyfriends who are quite often older. [They're not employed but take care of the porn star's business affairs.] I did this thing with Louis Theroux recently and he said, "Have you noticed that when you go into a slightly shadowy place, you'll quite often find a villainous English person?" It's true. Quite a lot of the slightly sinister suitcase pimps were English.'
Telling the story of the suicide of porn star August Ames was a source of huge anxiety for you. Do you think having those worries helped you be more sensitive to the issues?
'Yeah, I massively believe that. I really do think OCD, Tourette's, and other forms of anxiety disorders – I hope I'm not being too blanket with this statement – they all come from a place of morality. I think anxiety does keep you good.'
You wrote about public shaming in 'So You've Been Publicly Shamed'. What do you make of cancel culture?
'I think part of the problem is that people are finding it hard to distinguish between serious and unserious transgressions, between Harvey Weinstein and R Kelly, and, you know, somebody who makes a joke that's slightly badly worded. If cancel culture is coming primarily from the young – I don't know for sure but I suspect it is – they're creating a system for themselves that they'll come to regret. Don't create a set of rules that you'll find as you get older you won't be able to live by.'
'So You've Been Publicly Shamed' inspired the 'Black Mirror' episode 'Hated in the Nation'. How did that come about?
'Charlie Brooker was the very first person to read "…Shamed". I don't know him that well, but I know him well enough. When I lived in London, Jonathan Ross used to have a Halloween party every year that I started getting invited to. So every year, I'd always meet and chat with Charlie Brooker because he was always there. When the book was finished but not published I just sent it to him because I thought he'd be interested. He sent me a really nice message about it. And then, when the episode came out, he praised me in interviews and credited the book in interviews, which was almost but not quite as good as receiving money, but it was also very flattering.'

If you were writing an episode of 'Black Mirror', what would your dystopian scenario be?
'I told Charlie about the bespoke porn stuff in "The Butterfly Effect" [where fans commission the exact porn they want] thinking that would make a really great episode of "Black Mirror", but he didn't pick up on it. But that's utopian – that's about porn people and consumers bonding in an extremely weird and unexpected way. So my literal idea for "Black Mirror" was utopian.'

You've interviewed a lot of interesting subjects in your time, including a robot called Beena. How did she compare to some of your human interviewees?
'Less good. What was funny was when I was interviewing Beena, who is supposed to be the world's best robot, I just felt this urge to be profound. So I asked her profound questions like "What does electricity taste like?" and Beena replied, "Like a planet around a star." Which is either incredibly profound or totally meaningless. Right now, we're living through a phase of robot developments that I would categorise as disappointing. But that will change.'

What are your favourite things to do when you're back in London?
'I always stay in Soho, on Dean Street. I like the noise and the franticness of it. The very first thing that I do when I arrive in London is run from Soho to Buckingham Palace, and then up and down The Mall two or three times. That's my tradition.'

You used to work for Time Out as a columnist. What was the most memorable moment in your time here?
'That was my first break. I was only 24, I think, maybe even younger. I won columnist of the year when I was 25. Someone came up to me at the ceremony and said, "How does it feel to have peaked at 25?" And then they walked away again! What an embittered little island Britain can be. People shit talk each other in emails in New York too, but I think, by and large, that's more British than American. People don't bemoan other people's success anywhere near as much as they do in London.'
Get tickets to Jon's talk at the Palladium.
Pictures: Krista Schlueter