Heads up! We're working hard to be accurate – but these are unusual times, so please always check before heading out.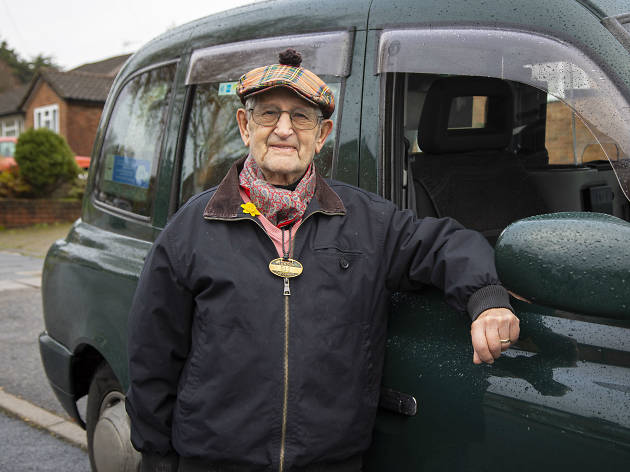 I was a London taxi driver for 58 years – here's what I learned
Since 1961, Alec Curtis has watched the city change from behind the wheel of his black cab. This is his London story
I was born and brought up in London's East End. Apart from during the war, when we got evacuated 30 miles outside the city, I've lived here my whole life. I first started driving a cab in May 1961 after becoming fed up working at the factory where I made ladies' garments. I had never really given any thought to whether I wanted to be a cab driver, but a lot of my friends started doing The Knowledge, so I did too.
I was 30 at the time, which was quite late to become a cab driver. I used to go out on my bicycle and learn the streets and suburbs of London using a map. It wasn't easy, but it only took about a year to learn then, whereas now it can take four to five years – the city has grown so much.
Eventually I got my badge and licence. The lower your badge number, the longer you have been driving in London. My badge number is 511. If you got your badge now, your number would be about 70,000 or 80,000 – and it keeps going up.
'I've picked up Judi Dench, David Walliams and John Betjeman'
London has changed a lot in my 58 years as a cab driver. There are more motorways now, everywhere is a lot busier than it used to be, and there are so many one-way systems. If you don't know where you're going now in central London, you can just forget about it – you'll just be going round in circles. But a black-cab driver will always get you out of trouble.
In 58 years driving around London, of course I've had some famous people in my car (though I usually say everyone is famous if they pay me). I've picked up Judi Dench, David Walliams and the poet John Betjeman. I once gave Michael Flatley a lift on my wedding anniversary: he gave me £50 and told me to take my wife out for a nice meal.
As a cabbie I've always tried to help out my customers. A few years ago, one lady asked me to help her carry some bottles of water up the stairs. She told me, 'You know I'm 75?' I replied, 'Well then, you should be the one helping me: I'm 85!'
'Even my heart bypass didn't stop me driving'
There are no fortunes in cab driving, but it is a living – though I have noticed a big difference since Uber came to London. You can be sitting at hotels for hours, and all of a sudden someone will come out using their phone, get in a car and off they go. It's definitely had an impact on the trade.
I've always been a hard worker. In 1984 I had a heart bypass, but it didn't stop me driving: I had medicals every year to make sure I was safe on the road. But then a few months ago, I ended up in intensive care with double pneumonia. It was obvious that, at the age of 89, I'd have to pack it in.
Even though I didn't set out to become a cab driver, I never regretted it. I've loved the freedom: even though you're always working for someone, you are an individual. Everybody pays their own tax and insurance, and if you don't earn anything you don't get anything from the government. You can please yourself about where to go and when to work. And, of course, I love talking!
For more unique London voices, sign up here to get Time Out features straight to your inbox.
Now meet more incredible Londoners
If you've read our regular 'My London Story' feature in the free Time Out London magazine or online, you'll know that there's no end of fascinating, inspiring people in this city of ours. From activists to hairdressers, mermaids to hedge-trimmers and aviators to refugees, we've met some incredible Londoners this year. Here are a few of the best.