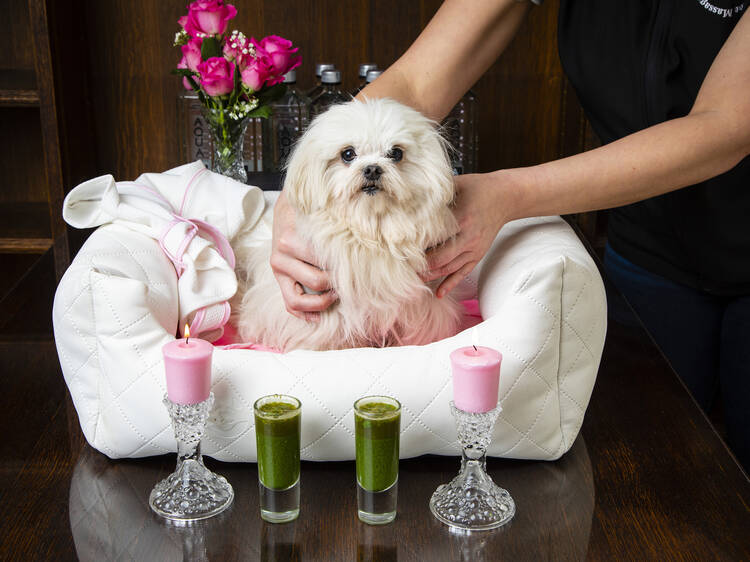 Andy Parsons
The maltese with a nutritionist and a masseuse
Lilliput, 6
Job: Actress and Instagram celeb
Instagram: @lilliput.the.maltese
Biggest diva demand: She has three agents. Three.
7.15am Lilliput starts her day by aligning her chakras with a Dogamahny doga class. Then she'll have a treatment from her private clinical masseur at On Point. It's important to stay limber for all those long walks.
8am A total #wellness fanatic, Lilliput's breakfast is a green smoothie and/or some organic brains (and eyeballs) from a Borough Market butcher. Throughout the day, she'll chow down on chia powder, turmeric paste, manuka honey and spirulina and even kefir (that's a fermented milk drink, FYI).
10.30am The appointments begin. Fittings for a fashion show at Mayfair bar Mahiki, filming an advert for NowTV, a charity appearance at Mayhew Animal Home. There's still time for grooming at Pet Pavilion in Chelsea Farmers' Market, though. She brings her own organic shampoo, naturally.
12pm Fan time – a meet and greet with her 'Lilliputians'. Then it's lunch at Ricardo's in Chelsea, before a session with her PT, Kathleen at Fun Dog Trick Training.
3pm Between her dental specialist, her nutritionist and her chiropractor, she barely has time to check on her Insta collabs with Warner Bros and River Island. 'Lilliput's face normally obscures the product she's promoting,' says her owner (who prefers to be referred to as her anonymous 'human'). 'Thankfully, her Lilliputians know how intolerably narcissistic she is.'
4.30pm A shoot with the Pet Shop Boys for Attitude magazine proves thirsty work. Alas, Lilliput only drinks Aqua Carpatica, from glass bottles.
5.30pm A quick walk around St James's Park. 'She's hoping the Queen will spot her and adopt her,' her 'human' says. 'Lills she sees herself on the throne.'
7pm Dinner before her latest movie premiere. She accompanied Kevin Hart to her last one, but she doesn't return his calls anymore.
10pm Lilliput's head finally hits the organic cotton of her bed-on-top-of-the-bed at home. She'll need her beauty sleep – tomorrow's even busier.