Heads up! We're working hard to be accurate – but these are unusual times, so please always check before heading out.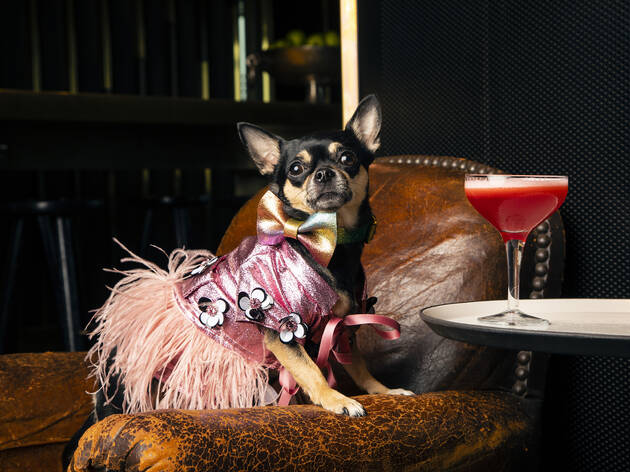 Meet London's most pampered dogs
From green smoothies to PT sessions, we get a glimpse into the paw-fect lives of London's most pampered pooches
London is a dog-friendly city. As in, its dogs are friendly: from the Basset Hounds of Brockwell Park to the
Bichon Frises of Downing Street
, the capital is built on the backs of incredible pooches. A simple stroll through any of the city's
green spaces
on a weekend will be enough to brighten up the gloomiest of dispositions, and it's the lovely dogs of London who you'll have to thank.
So don't London's dogs deserve a little bit of TLC? Don't you think they should be afforded something more than a quick Soho Square lunch break scurry, followed by the same everyday dinner of tinned wet mystery meat? Shouldn't every dog shave his own filet mignon and a wheatgrass and spirulina smoothie to wash it down?
If you don't, you might want to look away now. We've searched far and wide for the most pampered dogs in the capital, and they definitely eat, sleep, and go to the toilet, more luxuriously than you.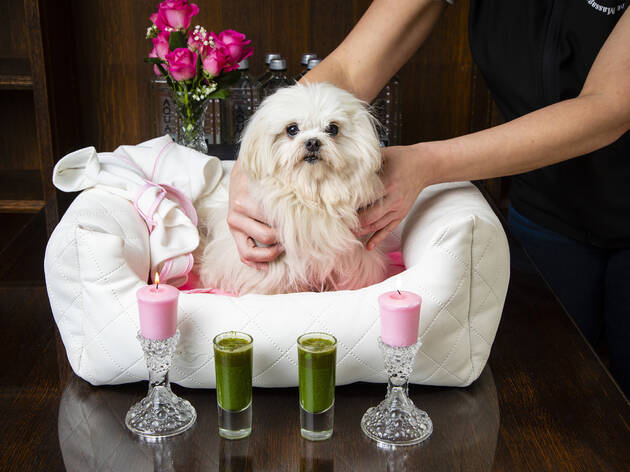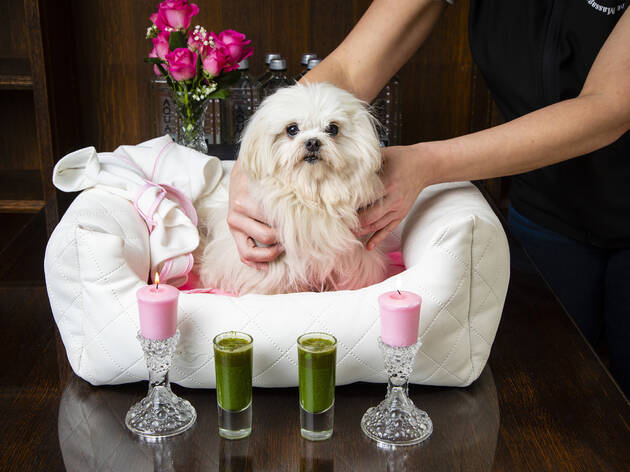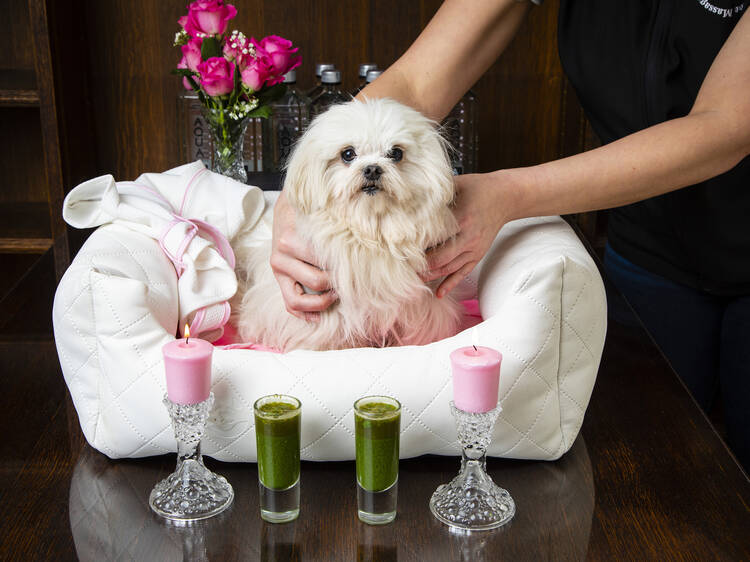 Andy Parsons
The maltese with a nutritionist and a masseuse
Lilliput, 6
Job: Actress and Instagram celeb
Instagram: @lilliput.the.maltese
Biggest diva demand: She has three agents. Three.
7.15am Lilliput starts her day by aligning her chakras with a Dogamahny doga class. Then she'll have a treatment from her private clinical masseur at On Point. It's important to stay limber for all those long walks.
8am A total #wellness fanatic, Lilliput's breakfast is a green smoothie and/or some organic brains (and eyeballs) from a Borough Market butcher. Throughout the day, she'll chow down on chia powder, turmeric paste, manuka honey and spirulina and even kefir (that's a fermented milk drink, FYI).
10.30am The appointments begin. Fittings for a fashion show at Mayfair bar Mahiki, filming an advert for NowTV, a charity appearance at Mayhew Animal Home. There's still time for grooming at Pet Pavilion in Chelsea Farmers' Market, though. She brings her own organic shampoo, naturally.
12pm Fan time – a meet and greet with her 'Lilliputians'. Then it's lunch at Ricardo's in Chelsea, before a session with her PT, Kathleen at Fun Dog Trick Training.
3pm Between her dental specialist, her nutritionist and her chiropractor, she barely has time to check on her Insta collabs with Warner Bros and River Island. 'Lilliput's face normally obscures the product she's promoting,' says her owner (who prefers to be referred to as her anonymous 'human'). 'Thankfully, her Lilliputians know how intolerably narcissistic she is.'
4.30pm A shoot with the Pet Shop Boys for Attitude magazine proves thirsty work. Alas, Lilliput only drinks Aqua Carpatica, from glass bottles.
5.30pm A quick walk around St James's Park. 'She's hoping the Queen will spot her and adopt her,' her 'human' says. 'Lills she sees herself on the throne.'
7pm Dinner before her latest movie premiere. She accompanied Kevin Hart to her last one, but she doesn't return his calls anymore.
10pm Lilliput's head finally hits the organic cotton of her bed-on-top-of-the-bed at home. She'll need her beauty sleep – tomorrow's even busier.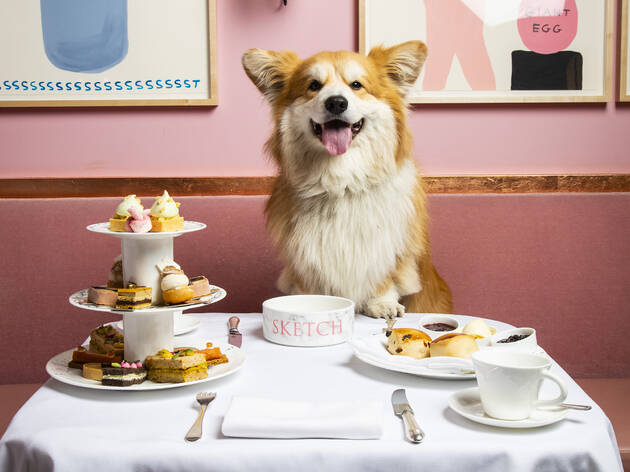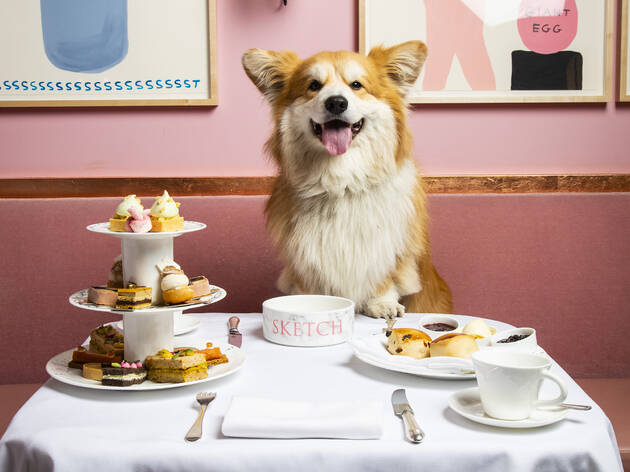 Andy Parsons
The corgi #influencer with 100k followers
Marcel, 5
Job: Travel blogger and food critic
Instagram: @lecorgi
Biggest diva demand: Goat's milk. He refuses to drink water without it.
8.30am Marcel wakes at one of London's most prestigious hotels. Recently he's stayed at the Flemings, the Connaught and the St Pancras Renaissance. 'We get a few invites a week,' his owner Aurélie, says. 'And I'm always his plus one.'
11.30am After an in-room breakfast and a nap, it's onto a riverside walk, where one of his thousands of fans will invariably recognise him. He's recognised almost every time he's out in central London.
1.30pm It's important for Marcel to give back – and at his regular therapy dog appointments with the elderly, he dishes out the cuddles like a pro.
4pm Another nap, then it's time for tea at Sketch in Mayfair. Once upon a time, Marcel was allegedly the only pooch allowed in – he was the poster boy for their Corgi Tea Party, after all.
6pm Marcel is planning his next holiday. The stamps in his pet passport include Corsica, the French Alps and Tuscany, where he was the ring-bearer at a wedding. His most indulgent travel moment was in the Isles of Scilly, though, where the hotel chef prepared a steak for him. 'They actually asked him how he wanted the steak cooked,' says Aurélie.
7pm A quick dinner, then cocktails at the Sheraton Grand on Park Lane. Its menu offers beer and prosecco for dogs, as well as the occasional cocktail. His favourite is a kale and coconut water concoction.
9pm Hometime. Before bed, there's some editing to do on one of the many pics he's taken today. He's got over 100,000 followers on Instagram, and you have to keep the fans happy. Then it's time to sleep in one of his beds. He has four of them.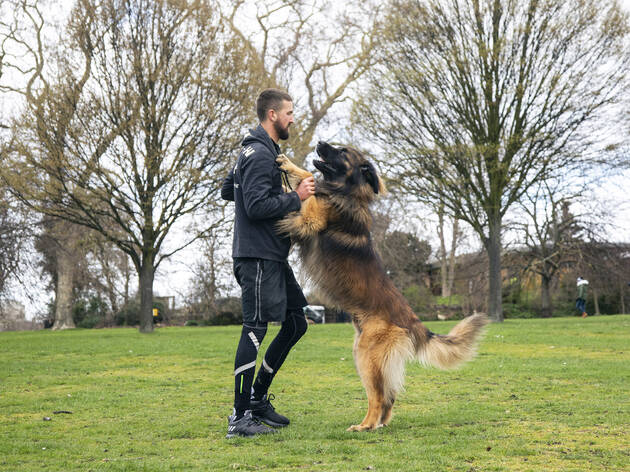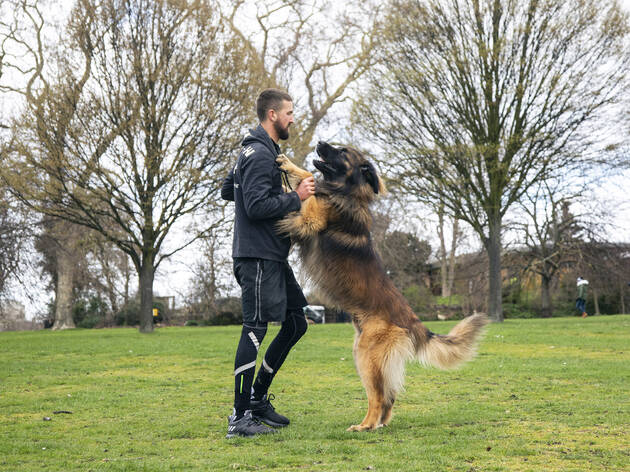 Andy Parsons
The leonberger with his own personal trainer
Quinn, 3
Job: Socialite and gourmand
Instagram: What's that?
Biggest diva demand: Black cabs. He's too heavy for the tube.
7am Quinn wakes on his Scandinavian mid-century sofa. The family heirloom used to belong to his owners, but he broke the wooden backing in order to have it for himself.
8.30am Breakfast is sliced prosciutto or fresh eggs, with some of his trusty frozen salmon dog food. Plus a brioche from Bread Ahead, if he has room. He always does.
11am After a cab to King's Cross, it's an early lunch at a street food truck – either a lamb kebab or a hamburger. Gotta get those protein #gains.
11.30am Quinn reflects on his 'Princess Diaries'-style good fortune. We owned Quinn's uncle,' his owner Tama explains. 'His breeder called us from New York because Quinn was in a bad situation.' At one year old and 52kg, he flew to London in a custom crate the size of a lion's cage.
12pm That's not to say Quinn doesn't watch his weight. He trains with his PT, Oli from Milo's Dog Running, almost every day, usually in Hyde Park or Kensington Gardens.
1pm Exercise is hungry work. It's onto Harrods Food Hall, where Quinn requests a rotisserie chicken. 'He can eat a whole one in one go,' Tama says. 'But it's not good for his digestion.'
3pm-6pm Quinn's culinary odyssey continues. Vanilla cupcakes at Peggy Porschen, homemade dog biscuits at Mungo & Maud, free samples from Jago Butchers. 'He's the honorary Mayor of Chelsea,' Tama says. 'John Cleese knows him by name.'
7pm Another meal of frozen salmon, then it's onto the master bathroom, where Quinn likes to nap under the toilet. Owners have to use the guest bathroom. What? The marble is cooling.
8pm Dinner at Harry's Dolce Vita, where Quinn sits outside, chowing down on pizza crusts. He dutifully poses for selfies with pedestrians and watches the Lamborghinis roll by.
10pm Time for bed, if not on his Scandi sofa then inside the fireplace. Being a foodie is tiring work.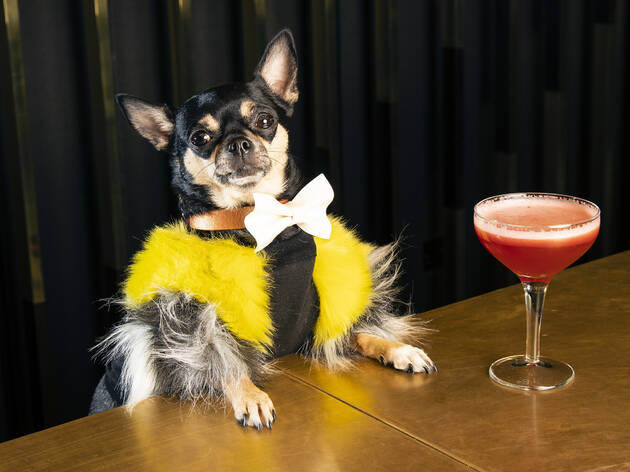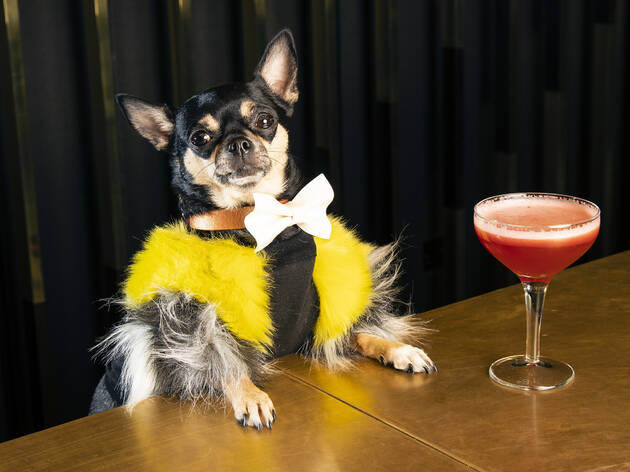 Andy Parsons
The chihuahua who models for Dior
Dolly Pawton, 3
Job: Model and fashion blogger
Instagram: @dolly_pawton
Biggest diva demand: The clothes, obviously. She owns 13 leather jackets.
10am Dolly doesn't like mornings. She does like scrambled eggs, though – and she'll only eat them in bed.
10.30am Dolly sleeps on her way to a shoot. She's modelled for Moschino, Selfridges, Vogue and Dior. Last year, she was a 'Babe of Missguided' – you might have seen her on billboards around the country. No big deal.
1pm Answers emails about her LGBT+ charity work – her owners, Stella and Lucy, have made her passionate about the cause. 'She's always involved with London Pride,' Stella says. 'She opened the "Queer and Now" exhibition at Tate Modern the year before last.
3pm Time for an outfit change. Dolly is 'really big on faux furs', but often has too many clothes to choose from. 'She has about three black bin bags, two storage boxes and a suitcase worth,' Lucy says.
5pm After shopping at Liberty, it's onto the Sanderson hotel in Fitzrovia for cocktails. 'She gets treated like she's royalty,' Stella says. 'I'm surprised there isn't a Dolly room yet.' The doormen will pose for pics and the staff fetch her own blanket if she's cold. Dolly, as always, remains unfazed.
6.30pm Dolly roughs it for dinner – she enjoys a Nando's, but she's a pizza girl at heart (she's too small to manage a whole slice, though).
8pm With a packed social calendar, an RSVP from Dolly is a hot ticket. 'She was on the front row of the London Queer Fashion Show at the V&A,' Lucy says. 'She had her own seat, with her name on,' says Stella. 'There was a man sitting in it at the time, and he had to move for a dog. He was raging. You could see him side-eyeing Dolly for the whole show.'
Late Home, after one 'pawsecco' too many. Fashion slows down for no-one, darling.
Want to see more cute dogs?
Cats might be the kings of the internet, but dogs really are a man's best friend. We went out on London's streets to speak to owners about their pawsome pooches