10 amazing local parks in London
Your tiny terrace not cutting it? Head to one of these amazing local public parks in London instead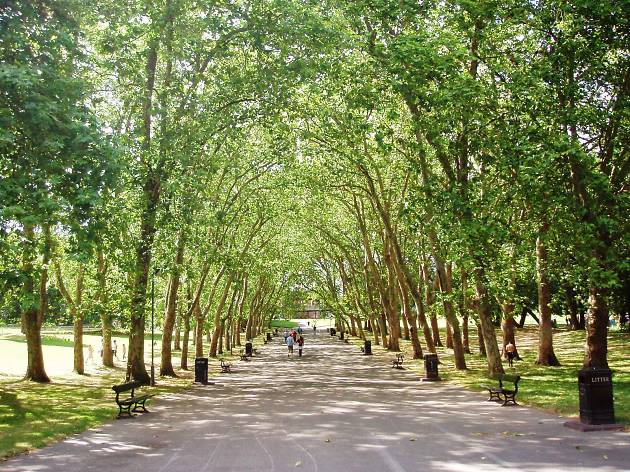 When the sun comes out and the weather is warm, London's major parks are a magnet for city dwellers desperate to break in their new flip-flops. But sometimes you just don't fancy scrabbling for a deck chair in Hyde Park, or working up a sweat to check out the best views from Hampstead Heath. The beloved pelicans of St James's Park aren't going anywhere, either, so you shouldn't be afraid to venture to park-stures new.
When you fancy a slightly more chilled slice of park life, why not try one of London's lesser-known but still totally lovely local parks. They offer terrific sporting facilities, picturesque running and walking routes, and loads of cute spots for picnics, BBQs or an afternoon gin-in-a-tin with friends. Check out our guide to the best local green spaces in East, West, North and South London.
Wanna get outdoors? We'v rounded up ten of the best parks and gardens in the city.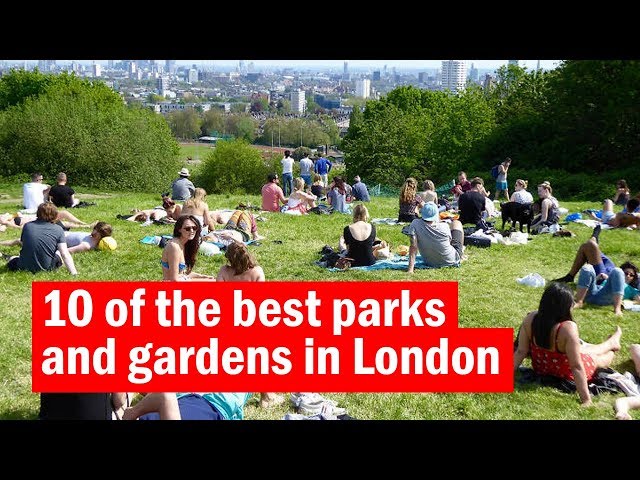 RECOMMENDED: Outdoors London
North London's best local parks
Attractions, Wildlife centres
What is it? A lush and calming 55-acre open space in Stoke Newington. Young families, canoodling couples, Hackney hipsters and football lads are among the regulars, but rarely does it feel like any one group's about to take over.

Why go? Depending on which side of 30 you are, there's the charming, recently restored Grade II-listed Clissold House to admire (from the outside only, unless you're getting married in it), or a decent-sized skatepark, five-a-side football facilities and open-air table tennis area.
Top tip Don't ignore the wildlife. Clissold Park also has a small farm, a lake with terrapins, and its own butterfly dome.
Opens 7.30am. Closes Dusk. Barbecues allowed? No.
Image: David Holt/Flickr
Attractions, Parks and gardens
What is it? Occupying 35 acres in Hackney's Upper Clapton, this is London's most beautiful, untouched local park. It's a fantastic spot for pottering, picnicking, sunbathing, and non-strenuous sports.
Why go? There's a fountain, a bandstand, a graceful slope, tennis courts, a bowling green, a cricket pitch, outdoor chess boards, a children's playground and a bit of tangled shrubbery for the kids to get lost in. There's also an upscale fresh-juice-and-homemade-cake sort of café at the top, and a great greasy spoon by the river at the bottom.
Top tip On hot weekends, the stretch of river at the bottom of the park is a noisy jostle of boats of all shapes and sizes, from Victorian narrow barges to inflatable dinghies. The bridge across to the marshes makes for a great lookout post from which to watch the fun.
Opens 24 hours. Barbecues allowed? No.
Image: Loz Pycock/Flickr
South London's best local parks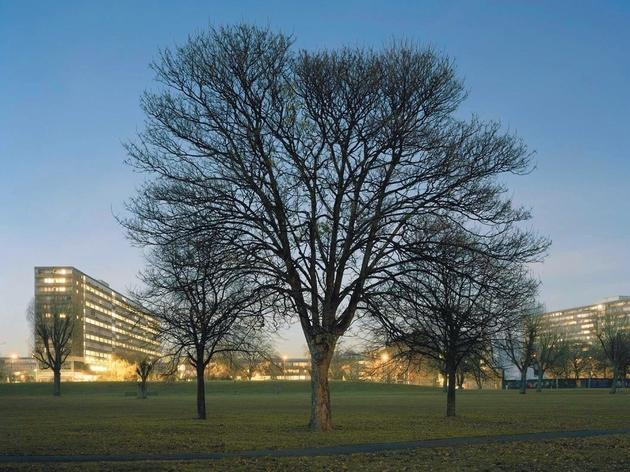 Attractions, Parks and gardens
What is it? A long, thin stretch of green hills, hidden playgrounds and swan-inhabited lakes nestled among the grey estates of Walworth Road. The park completed a £6 million makeover a few years ago, so the 113 acres are looking mighty smart and luscious.
Why go? There are sports aplenty here – tennis courts, cricket lawns and football pitches, plus a signposted 5k running route and fishing in the lake. The massive adventure playground is an energetic kid's dream, and there's a gokarting track for under-16s. Burgess Park even boasts a 'national-sized' BMX track, if adrenaline sports are your bag.
Top tip Take a stroll across the wooden bridge over the lake (which has impressive 30ft fountains) for a more tranquil experience.
Opens 24 hours. Barbecues allowed? Yes, but only in designated areas which can't be reserved.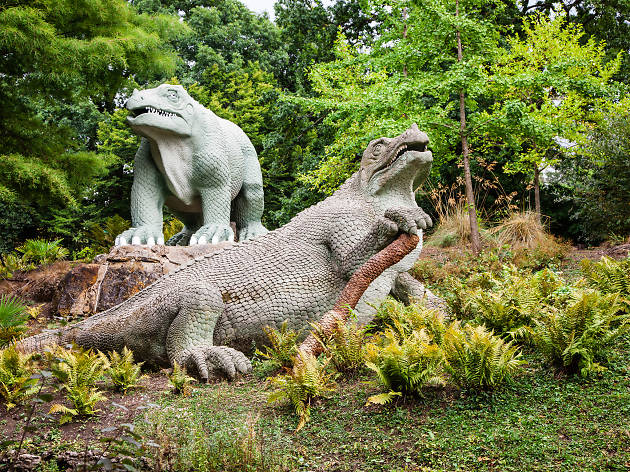 Attractions, Parks and gardens
What is it? A Grade II-listed green space in south-east London that is vast, grassy and very hilly – climb high enough and you'll be treated to a fantastic view of the London skyline. It's got stacks of sporting history, too, having hosted the FA Cup final (21 times!) during the late 19th and early 20th centuries.
Why go? It has just about everything you'd expect from a 200-acre patch of grass in Zone 4, plus a few things you absolutely wouldn't. It's home to London's biggest maze, for a start, as well as a collection of hundred-year-old, life-size dinosaur sculptures, a children's farm and a racetrack for remote-control cars.

Top tip If snow settles in winter, you can use the park's gentle slopes for ski practice.
Opens 7.30am on weekdays, 9.00am on weekends. Closes 4.30pm-9.30pm, depending on time of year. Barbecues allowed? No.
East London's best local parks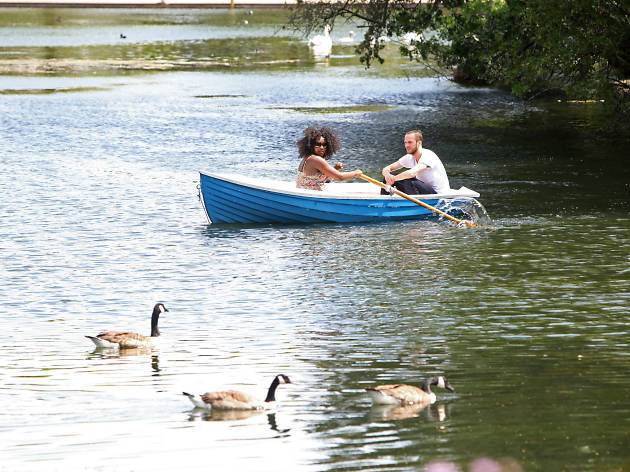 Attractions, Parks and gardens
What is it? London's oldest public park, welcoming all-comers for over 170 years. It's a bit of a joggers' and commuter cyclists' paradise during the week, but 86 hectares of space means you're generally free to take a sunny snooze without fear of being mown down.
Why go? It's the perfect place to walk off a monster brunch from the park's own Pavilion Café or nearby Broadway Market. If you're feeling more energetic, head for the football pitches, cricket nets and tennis courts. You'll also spot people slack-lining (the less hardcore version of tight-rope walking), practising tai chi and pulling gnarly tricks at the skatepark.
You can also check out the Chinese pagoda that popped up a few years ago in the middle of the East Lake. Just stroll over the newly built bridge for a side of serenity with your sarnie.
Top tip It's probably worth steering clear of the place whenever there's a festival on (unless you've got tickets, obviously).
Opens 7am. Closes Dusk. Barbecues allowed? No.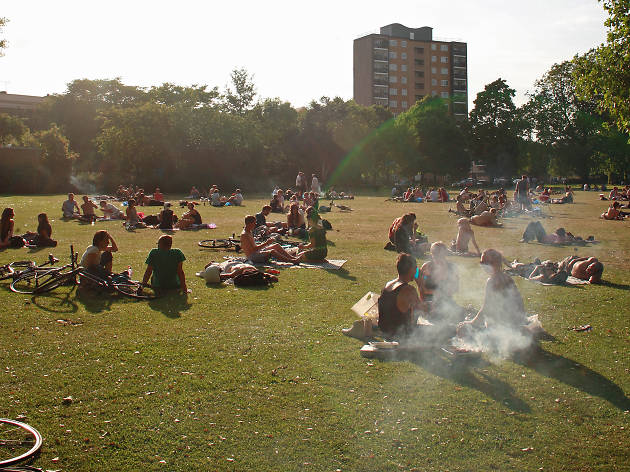 Attractions, Parks and gardens
What is it? A 30-acre green space in Hackney where you'll find pollarded trees, dog walkers and the odd sports fanatic. In summer months, it's a destination for sun-seeking hipsters.
Why go? Drinking pink wine and eating kebabs here in summer is a real treat. But there's also swimming at the heated lido, a cricket pitch and basketball nets, a summer paddling pool, tennis courts, an outdoor gym and three kids' playgrounds with climbing frames.
Top tip The wildflower meadow, a relatively recent addition to the park, is a lovely tranquil spot.
Open 24 hours. Barbecues allowed? Yes, in designated areas.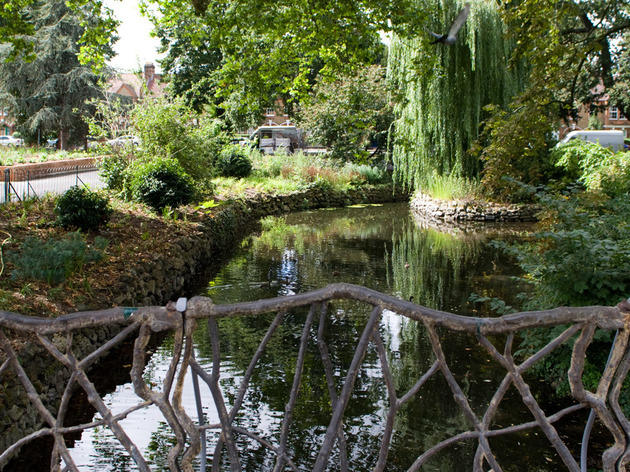 Things to do, Heaths, meadows and fields
What is it? Refurbished in 2012, this historic green space is home to the famous William Morris Gallery.
Why go? Following the refurbishment, Lloyd Park has new landscaped gardens inspired by William Morris designs. It also boasts an eighteenth-century moat, an outdoor gym, a new skate park, table tennis tables, excellent children's play areas with a sandpit and fountain, and a community café. Beyond these grounds are large fields containing dog walkers, joggers and sporting activities
Top tip Check the website for a range of free courses on offer in the park, from aerobics to den-building to birdwatching. Den-building!
Opens 8.30am Monday-Saturday, 9am Sunday. Closes 7pm-midnight, depending on time of year. Barbecues allowed? No.
West London's best local parks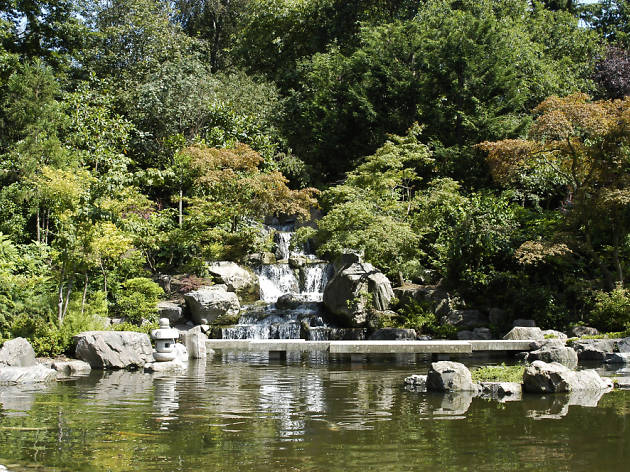 Attractions, Parks and gardens
What is it? A fancy park minutes away from the rather imposing houses of Notting Hill.
Why go? It's a striking mix of the practical and the beautifully landscaped: carefully tended lawns, sheltered pathways and Japanese gardens sit alongside busy playing fields and overgrown woodland. There's also peacock-spotting, a children's park, loads of kids playing football, and the opportunity to soak up some posh garden culture.
Top tip The annual Opera Holland Park festival season, showing works from the likes of Puccini, Donizetti and Bizet, happens every June, July and August. Staged on the old ruins of Holland House, and covered by only a canopy, the opera isn't super expensive (£12-£70), and you can book a picnic.
Opens 7.30am. Closes 30 minutes before dusk. Barbecues allowed? No.
Attractions, Parks and gardens
What is it? A mecca for yummy mummies from nearby Chiswick and Hammersmith, Ravenscourt Park is home to not one but four children's play areas.
Why go? There's also a pretty little lake, a bowling green, tennis courts, a modest paddling pool, a beautiful secret garden and a cute little café dispensing obscene cakes by Fait Maison.

Top tip Outdoor film screenings take place in the summer, so you can watch classics like 'Pretty Woman' and 'Back to the Future' in the balmy twilight.
Opens 7.30am. Closes Dusk. Barbecues allowed? No.
Alex Hughes/Flickr
What's it like? Containing more Bugaboos than a Destiny's Child reunion, Acton Green Common is a lush and pleasant little strip of greenery outside of Turnham Green station.
Why go? It's a pretty spot with a lot of history; Acton Green Common was reputedly the site of a battle between Royalists and Republicans during the English Civil War. These days, it's a favourite with toddlers on scooters (who love the pathways) and twenty- and thirty-something couples who like to sit and drink tinnies from the local offy. There's also a five-a-side football centre on the adjoining Chiswick Common.
Top tip If you like keeping fit in the open air, 'gym in the park' classes are held every Monday, Wednesday, Friday and Saturday.
Open 24 hours. Barbecues allowed? No.
Image: Alex Hughes/Flickr
More to explore
Snap up exclusive discounts in London
Time Out's handpicked deals — hurry, they won't be around for long...