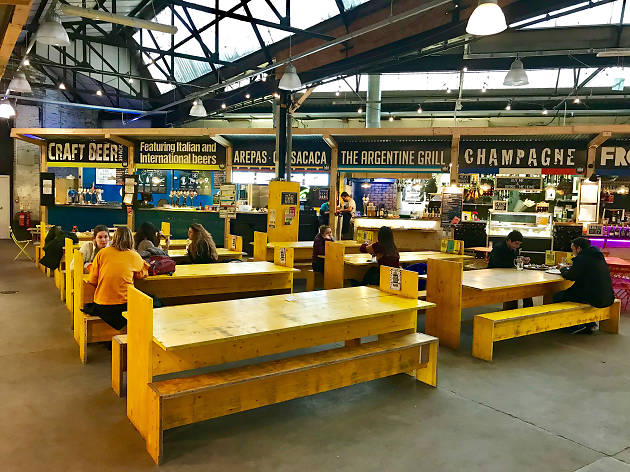 Time Out says
A 45,000 square foot market space offering a mixture of Italian and London based artisan producers including "the best pizza maker" from Naples, supposedly.
Details
Address:
48-50
Newington Causeway
London
SE1 6DR

Transport:
Tube: Elephant and Castle
Price:
Free
Contact:
Opening hours:
Mon–Fri 8am-11pm, Sat 11am–11pm, Sun 11am–10pm
Do you own this business?
Average User Rating
4.6 / 5
Rating Breakdown
5 star:

25

4 star:

12

3 star:

0

2 star:

0

1 star:

1
Great place with lots of food varieties and lots of people. 5 mins from E&C tube. Other interesting places nearby. Try it you won't regret it.
A happy, chilled space with something for everyone. One of London's best catch up spots.
After an incredible day with the people's vote march, my dad, sister and I headed to your food hall to continue what had been a day of high spirits. However, when we arrived we were turned away by a couple of thuggish bouncers for a few stickers and a European flag. When we asked why, we were told 'they' (by this I assume they were speaking on behalf of management) did not want a potential 'scene'. This, to me, was shocking- if you/they (I'm not entirely sure who I am referring to, but I was told I did not deserve to know) had any idea about this march, you/they would be aware that violence, confrontation, or anything of the sort (which I assume is what was feared) was the last thing on anyone's mind (likening me to a football hooligan was offensive). In fact, if someone had approached me wanting to 'start something' because they spotted a few stickers, my only response would have been to turn away- unwilling to let anyone ruin my mood. However, it was my service that was refused. You see, then, what message this sends. For a place preaching 'community' and 'acceptance' you were willing to serve potentially pugnacious guests over myself. Whatever your policy was last night it was executed extremely poorly. I was left feeling intimidated, rejected and humiliated. I urge any of my fellow visitors to keep walking 5/10 minutes down the road and you'll reach another food hall- flat Iron square- excellent food (I highly recommend the burgers) and equally excellent beers. Alternatively try any of the other bars and pubs around Waterloo (I went to three different ones with no issue)- you will be welcomed regardless of your political orientation, which I'm sure is what any of us would hope for when we wish to enjoy an evening with friends and/or family.
Definitely one of the best hidden gem food/drink markets in London. A great way to spend an afternoon if the weather is nice (or not - plenty of room inside!) Insider tip: Don't go spending all your money on booze at the bar, you can actually buy bottles of wine, prosseco, and even cold beer at the shop connected to the market (£14 for prosseco, some wine even cheaper - beer around £2!) While you're at it, stock up on the cheese and meet section, I'm drooling just thinking about how good the quality of products they sell there. (You're allowed to take your beer/wine back to the market ps- so enjoy!)
How did I not know this place existed before? As our hungry faces entered the food hall we did not know which way to turn first. There really is something for everyone here and all of exceptional quality. There is everything from Argentinian, BBQ, stonebaked pizza, a gin truck, pasta, Mexican, a wine bar to much more than I can list now without making this a giant sentence too long. The atmosphere was also great with an energetic buzz that never got out of hand and queues that were small around each booth whilst they prepared the food super quick. A great find to stumble across, I will be back to try more!
At last, a street feast that South London deserved. Mercato metropolitano was love at first site for me. Nice, lively food market located next to the railway arches at Elephant and Castle. As the name suggests, here you will find some of the best Italian dishes. Don't miss the Pizza Napoletana; prepared in a wooden oven is probably one of the best pizzas served in London. If not in the mood for Italian there is definitely something for you in the market: Lebanese, Argentinian and Turkish are some of the options available. Unlike other feasts Mercato Metropolitano offers sittings both inside and outside making it a great option regardless of the weather.
How have I not heard of this place? I have no idea.
Just down the road from Borough station, this is a hidden gem in the food market sector (for now) with absolutely gorgeous design and a huge selection of food stalls. Of course, it doesn't come cheap - think above-average food market prices - but the quality of the offerings certainly match up.
Stalls ranging from tiramisu through cheese (Champagne & Fromage) to Spanish delights and even vietnamese banh mi-s, there is something for everyone. If you're looking for something truly special, aim for the Neapolitan pizza stand - no need to venture all the way to the next Pizza Pilgrims branch - or, if you're looking for a nibble I highly recommend the empanadas from the Spanish stand, which come with a variety of fillings like beef or pulled pork, and are freshly baked to order.
One major issue - I drank the best stout I have ever encountered at the Italian craft beer stall. But it was the most expensive half-pint I've ever had too, for a whopping £5. Ouch. And yet I feel this strange draw to go back and... just once more...
The pure excitement of finding something so cool in Borough is worth the visit. Go hungry and be ready for some delicious foods (and to open your wallet slightly wider than usual).
I have a friend who lives directly opposite here and she's been raving about the food and gelato since it opened a few months ago. I finally tried it with a group of friends on Friday night and can't wait to go back!
It was pretty cold and rainy outside, but once inside it was warm enough to not be uncomfortable even though there doesn't appear to be any heating. I also had a few mulled wines which helped!
The food options are pretty good! I shared a meat and cheese platter which was huge and delicious followed by a truffle mac and cheese. YUM!
I would definitely recommend this market as a cool new place to visit on the south side, just 5 minutes walk from Elephant and Castle station.