Only Fools, The (Cushty) Dining Experience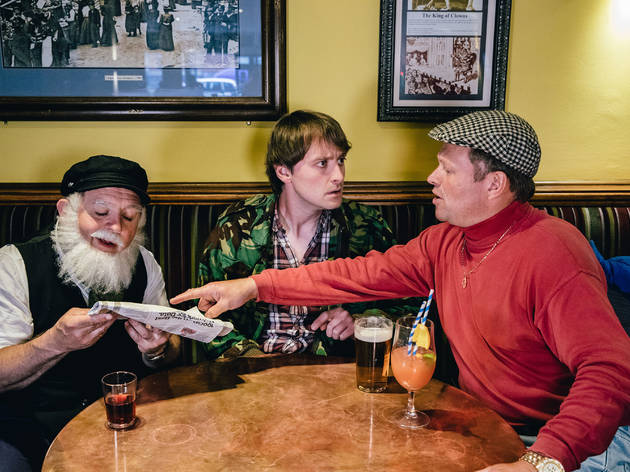 Time Out says
As the popularity of London's immersive 'Crystal Maze' game and the re-emergence of Buffalo platform trainers attests, nostalgia is a powerful tool. That's why, when I rock up to the Radisson Hotel near Warren Street for 'Only Fools, the (Cushty) Dining Experience', the event isn't just sold out, it's full of a whole range of punters young and old, all happily devoting their Friday night to a TV programme that stopped broadcasting 15 years ago. There are dressed-up couples on dates and families with their grandparents; it seems that Del Boy's appeal transcends all age brackets.
To kick off the proceedings, I step into a waiting area with a makeshift bar and a faux market stall table covered with a couple of Union Jack umbrellas and not much else. Next door is the main room: a fake Nag's Head pub that's actually just some tables with branded beer mats on. If the set design department hasn't exactly excelled itself, however, then the folk behind the casting have. From the moment 'Del Boy' enters with an enormous, clunky '80s mobile and a suitcase full of knock-off watches, it's hard to keep the grin off my face. The actor playing lovable 'plonker' Rodney is so on point it's like being inside the telly.
The dinner (three courses of suitably '80s but still rather tasty pub grub) is set to a wheeler-dealer tale in which the brothers try to fix a pub quiz (our whole table teams up to try and charm hilarious quiz mistress Marlene into giving us extra points). It could so easily be cringeworthy, but somehow, it's a hoot. I'm fully ashamed to admit I even got a bit misty at the show's soppy conclusion. If you have even a shred of fond memories for the exploits of Del Boy and co, this'll be the most endearingly uncynical night out you'll have in a while. Lovely jubbly.
Details
Best selling Time Out Offers