Open House London: our highlights
Peek behind the doors of some of London's most famous buildings at Open House weekend this September
Give in to your curious side. The annual Open House London weekend gives Londoners the chance to explore behind the closed doors of some of the capital's biggest, most renowned and most secret venues for free in September 2017. This is your chance to explore a bit of hidden London and have a poke around some of London's best buildings.
When is Open House London?
It takes place for one weekend and one weekend only, on September 16 and 17 2017.
Where is Open House London?
Across the whole of London, with the full programme of architectural venues spanning 30 of the capital's boroughs.

What is Open House London?
An annual celebration of London's architecture and design, which allows access to 800-odd venues not normally open to the public – private homes, government buildings, historic sites, educational establishments – but it's not just about being nosy, there are also loads of walks and tours to bring the buildings alive. See below for more details.
How much does Open House London cost?
Amazingly, it's all free. Some of the popular events need to be pre-booked or are allocated through a ballot (which you can enter here until Aug 31), but otherwise you can just turn up on the day.
Quirky venues
Rob Parrish
Saturday 11am-5pm. Architect-led tours 11am, 1pm, 3pm
Tours around this girls' school will lead visitors to striking new buildings, plus the refurbished Leslie Martin-designed pool and assembly hall. The campus won the prestigious Stirling Prize in 2015.
Burntwood Lane, SW17 0AQ
Image: Rob Parrish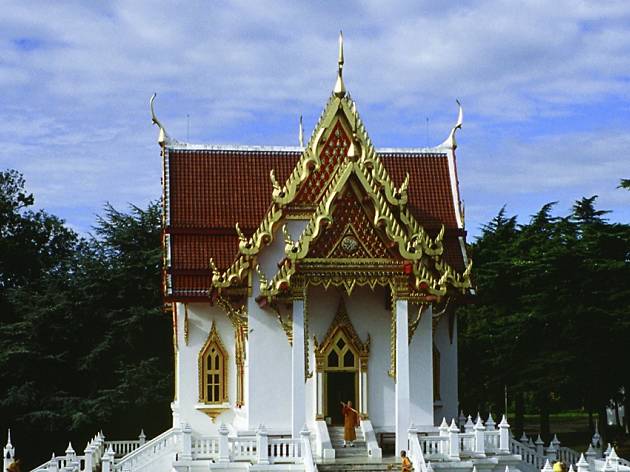 Attractions, Religious buildings and sites
Sat and Sun 10am-5.30pm
Visit this Thai-style Theravada temple – one of just two outside Asia – to see its amazing Shrine Room. It contains a golden Buddha, copied from the Buddha Sihing in Bangkok, plus there are gardens covering four acres, a lake, grove and orchard.
14 Calonne Road, SW19 5HJ
Greenwich Reach Swing Bridge
Saturday 1pm-5pm

Check out this elegant bridge over Deptford Creek that swings up to let boats enter and exit the Thames. It won best pedestrian bridge at 2015's Structural Awards. Best foot forward, now.

Glaisher Street, SE8 3ER
Ruins of Garrison Church – RA Barracks
Saturday and Sunday 10am-5pm
Built as a church for the Royal Artillery at Woolwich, this site was bombed in 1944. The RA added mosaics as part of its Victoria Cross memorial and last year the Heritage Lottery Fund added a new roof.

Grand Depot Rd, SE18 6XJ
Paul Tucker
St Bartholomew's Hospital, Great Hall and Maggie's Centre
Sunday 10am-5pm. Hourly tours of Maggie's Barts Cancer Care Centre (pre-book only)
The Grade I-listed north wing of this central London hospital houses spectacular canvases by William Hogarth and a historic Great Hall. A new addition, Maggie's Centre, a cancer care unit, is crisp and modern in contrast. The church of St Bartholomew the Less is also open to visitors.
St Bartholomew's Hospital, EC1A 7BE
Sarah Brewerton
Lumen United Reformed Church and Café
Saturday 10am-5pm, hourly tours
A remodelled shell of a 1960s church building, which includes the crypt of an 1820s church hit by a V2 missile in 1945, a café, two dramatic eight-metre-high windows and a distinctive conical reflective space.
88 Tavistock Place, WC1H 9RS
Image: Sarah Brewerton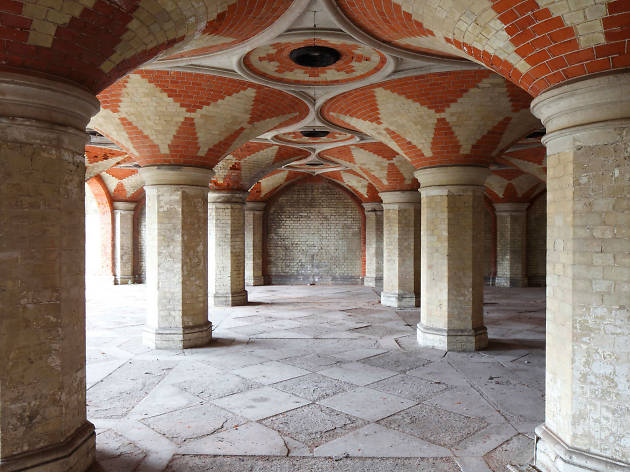 James Balston
Saturday and Sunday, 11am-4pm
Wander around the magnificent subway under the Crystal Palace Parade. Resembling a vaulted crypt, the subway once connected the High Level Station to the Crystal Palace.
Crystal Palace Parade, SE19 1LG
Image: James Balston
John J Norman
Saturday 10am-4.30pm, hourly architect-led tours of building and garden
Who is Mrs Custard? She's a ginger cat, and one who clearly rules this roost. The contemporary refurbishment, which blurs boundaries between inside and outside, was designed with her feline needs in mind. Talk about a pampered pet. Sadly, Mrs Custard won't be in during the Open House tours.
41A Lambert Rd, SW2 5BB
Homes and houses
Saturday, 1pm-5pm. Last entry 4.30pm
This curvy concrete house on Maury Road is the product of a collab between architects Chance de Silva and experimental musician Scanner. It's named after Eric Satie's 28-hour piano piece. Readers of The Wire will delight.
85 Maury Rd, N16 7BT
Mike Daines
Saturday 10am-5pm
Timber's as popular as ever – and this 2014 extension explains why. Banged on to the back of a semi in Putney, the two-storey addition looks great, and slots right into life in a period when Londoners are looking to stay put and spread out.
65 Medfield St, SW15 4JY
Image: Mike Daines
Barrett's Grove (Spruce Apartments)
Saturday 1pm-4pm. Hourly architect-led tours (pre-book only)
Gawp at these six stunning units, situated in a building constructed using cross-laminated timber – a sustainable alternative to concrete and steel. The build won the RIBA London Award 2017 and RIBA National Award 2017.
42 Barrett's Grove, N16 8AJ
Diane Plummer
Saturday morning and Sunday afternoon. Hourly architect-led tours.
These homes were designed with the Older Women's Co. Housing group, a collection of inspiring over-50s who have been fighting for years to set up London's first co-housing community for older people. Now their dream is a reality, and thanks to Open House anyone can come and see what their new lives look like.
5b Union St, EN5 4DF
Image: Diane Plummer
Saturday 10am-4pm, hourly tours (max ten people, be warned: lots of stairs. Pre book)
This two-block estate was conceived in 1966 by then 26-year-old architect Kate Macintosh as a response to the anonymous grid-like super blocks being erected at the time. The brutalist building contains 300 flats, many with impressive, uninterrupted views over London's skyline, and is an example of beautiful, and ambitious, social housing design.
Bredinghurst, Overhill Rd, SE22 OPL
Alexandra and Ainsworth Estate
Saturday 10am-5pm (residents-led tour of five different flats, every 15 mins)
Known as the first modernist housing estate, Alexandra and Ainsworth gained a Grade II* listing in 1993, becoming one of the youngest buildings to do so. Visit five different flats in the development, each containing many of their original features designed by architect Neave Brown in 1968.
Rowley Way, NW8 0SF
Saturday 10am-5pm
Constructed on land once occupied by Barking Power Station, Barking Riverside is a striking London development that remains 'in progress'. It sits alongside 2km of the Thames river, and will (allegedly) house up to 29,000 people.
Barking Riverside Project Office, Renwick Rd, IG11 0DS
© Jake Edgley Design
Saturday 10am-5pm (hourly architect-led tours)
Visit an architect's self-built south London home that is, quite literally, constructed around a 100-year pear tree. Standing proud in the building's courtyard, the tree is a relic from the site's history as a Victorian orchard. Talk about planting pears for your heirs.
190a Friern Rd, SE22 0BA
© Jake Edgley Design
Offices and industry
Saturday 10am-4pm
This sewage treatment works processes 209,000 tonnes of flow every day. It is currently undergoing an upgrade, due for completion in 2018. Pre-booking is essential, as visitor numbers on the live construction site need to be monitored.
AMK Site Office, Picketts Lock Lane, N9 0BA
Grainge Photography
Southwark Integrated Waste Management Facility
Saturday 10am-4pm. Tours every 15 mins
Ever stared into your recycling bin and thought: what really happens to this crap? If so, you need to look round this place – it's Europe's most advanced recycling facility. All your questions (like 'What do you guys do with all of London's old egg boxes?') will be answered forthwith.
43 Devon St, SE15 1AL
Image: Grainge Photography
Saturday and Sunday 11am-5pm
Discover what it's like to be London's version of 'Magnum PI' at this little museum for the Thames River Police.

98 Wapping High St, E1W 2NE
Abbey Mills Pumping Station
Saturday and Sunday 10am-5pm (Pre-book only)
Who knew a house of turds could be so pretty? See the gothic design and beautiful brickwork of the 'Cathedral of Sewage' that saved London from the Great Stink. Constructed by Joseph Bazalgette, Edmund Cooper and architect Charles Driver in 1868, the structure helped form the foundation of London's sewage system.
Abbey Lane, E15 2RW
Peter Keasley
Crossness Beam Engine House
Sunday. Self-guided tours at 10am and 2pm (pre-book only)
Another creation of Joseph Bazalgette, this complex of Grade I and II-listed buildings houses four giant beam engines and impressive Victorian ironwork. Designed in strong Romanesque reds, greens and blues, the elaborate interior of the engine house looks like it belongs to a Moroccan palace, rather than a centre of sewage.
The Old Works, Thames Water Sewage Treatment Works, Bazalgette Way, SE2 9AQ
Image: Peter Keasley
Peter Landers
'Candy Crush' HQ (aka Ampersand)
Saturday, architect-led tour at 10.30am; Sunday, architect-led tour at 12.30pm (pre-book only)
Have a look around the swish Soho workplace of the 'Candy Crush' creators, which has a 'living staircase' that spirals at its centre. Sadly the walls are not covered with squished cartoon fruit.
178 Wardour St, W1F 8FY
Image: Peter Landers
© Tim Soar
Saturday and Sunday 11am-3.30pm (pre-book only)
See what's behind that rotating triangle outside the home of the Metropolitan Police at Embankment. The building recently underwent a £58m development, which bought a new art deco frontage and colourful loos designed to match the patterns on London's squad cars.
Victoria Embankment, SW1A 2JL
© Tim Soar
Further afield
SAC Tim Laurence RAF
Battle of Britain Bunker and Visitor Centre
Saturday and Sunday 10am-5pm (pre-book only)
The Bunker, built in 1939 and today restored to its wartime state, controlled the RAF fighters that won the Battle of Britain. The new visitor centre is due to open in early 2018 but visitors will be able to get a sneak preview.
Wren Avenue, UB10 0RN
Sunday 11am-2pm. Hourly tours (pre-book only)
Built for Richard Carew in 1510, this building holds the only Grade I-listed building in the borough – the Great Hall. Once nobility, including Henry VIII and Anne Boleyn, would have had their dinner here; now it's where the children from Carew Academy tuck in.
Church Road, SM6 7NN
Repton Park (former Claybury Asylum)
Saturday morning and Sunday afternoon. Hourly Residents' Association-led tours.
Formerly a seventeenth-century psychiatric hospital, Grade II-listed Repton Park is now home to an exclusive gated community and an impressive health club, which boasts a swimming pool set in the converted chapel beneath a Victorian water tower. Join an hourly tour. Just don't bring your swimming costume.
Manor Rd, IG8 8GG
Saturday and Sunday 9am-5pm. Architect-led tour at 2pm
An extraordinary, brand new Thames-side structure hosting special dinners and events this summer, as well as family fun days. Find out more about the project on an architect-led tour.
6 Wharfside Close, DA8 1QR
© Elly Bagnall
Saturday and Sunday 11am-5pm
This rural idyll is the only house that was commissioned, created and lived in by William Morris, founder of the arts and crafts movement. The dwelling retains much of its original detail and is of extraordinary architectural and social interest.
Red House Lane, DA6 8JF]
© Elly Bagnall
Sunday tours 10.30am, noon, 2pm and 3.30pm (pre-book only)
This Grade II-listed, late Georgian three-storey stuccoed villa is said to owe its unusual oval shape to a tea caddy, in reference to the first owner, William Sheldon, who was a successful tea merchant.
Broxhill Rd, RM4 1QH
Saturday 11am-2pm
Situated on the grounds of Holy Cross Preparatory School, this ancient conduit house was built at the beginning of the sixteenth century by Cardinal Wolsey to help supply fresh water to Hampton Court Palace.
George Rd, KT2 7NU
Manor Farm and the Great Barn
Manor House: Saturday and Sunday 10am-5pm, Great Barn: Sunday only, tour at 2pm
Visit the oldest heritage site in Hillingdon. It's been occupied since the eleventh century and is still home to a sixteenth-century Manor Farm House, the Grade II-listed, thirteenth-century Great Barn and a smaller sixteenth-century barn, which is now a library.
Manor Farm Site, Bury St, HA4 8BD
Secret spots
Sunday 3pm-5pm, history talk at 3pm. Hourly tours (pre-book only)
Take a peek instead this exclusive private members' club. It was the London base of the Countess of Home and is probably the greatest surviving Georgian townhouse.
20 Portman Square, W1H 6LW
Saturday and Sunday, 11am-4.30pm. Hourly tour (pre-book only)
Alfred Waterhouse won the right to design this impressive Victorian neo-Classical building, which overlooks the Thames, near Embankment, on behalf of the club. It is the second-largest clubhouse ever built, and was also the first London building to incorporate a lift and be entirely lit by electric lighting. It was also one of the first gentlemen's clubs in London to admit women.
1 Whitehall Place, SW1A 2HE
Open House 2017
Saturday 11am-6pm and Sunday 11am-4pm (pre-book only)
Built as a gentlemen's club and inspired by Italian Renaissance palaces, the Reform Club is one of the finest Victorian buildings in the country. The tunnelled steps bring you to a square atrium with a glass mosaic roof that refracts the light in every direction.
104 Pall Mall, SW1Y 5EW
Open House 2017
Sunday noon-5pm. Hourly tours (pre-book only)
This was the last mansion house of its kind to be built in London. The club, founded in 1891, moved to these premises in 1946. A new five-storey wing with terrace garden was officially opened on St Andrew's Day in 2006 by Queen Elizabeth II.
9 Halkin St, SW1X 7DR
Open House 2017
Saturday, tours 11am and 3pm
The last of the grand eighteenth-century mansions which once fronted this part of the river, the club retains its quintessentially English traditions and heritage, while providing modern facilities and services for its members with magnificent interiors and extensive grounds. Now you can peer inside without the price tag.
Ranelagh Gardens, SW6 3PR
Open House 2017
Yeoman Warders Club, Tower of London
Saturday and Sunday, 10.30am-3pm. Tours every 90 mins (pre-book only)
Only beefeaters are allowed inside this club bar outside of tour times. Part of the club's original outer wall was built around 1280, before it became accommodation for Yeoman Warders in the Victorian era. In the 1970s it became known as the Yeoman Warders Club.
Yeoman Warders Club, HM Tower of London, EC3N 4AB
Andaz Liverpool Street
Masonic Temple, Andaz Liverpool Street (former Great Eastern Hotel)
Sunday 10am-5pm
This Grade II-listed Victorian railway hotel has been refurbished with super modern interiors. During construction, a wall was demolished and this Grade II-listed Greek Masonic Temple was uncovered. The marble and mahogany marvel is now one of London's not-so-best-kept-secrets.
Entrance on Bishopsgate, EC2M 7QN
Open House 2017
Saturday and Sunday. Tours at 10.30am and noon (pre-book only)
Fishmongers' Hall is a rare example of a Greek Revival building, right by the river. Designed by the architect Henry Roberts, the Grade I-listed Hall's classical simplicity is contrasted by the magnificence of its interiors.
London Bridge, EC4R 9EL
Ancient attractions
Open House 2017
Saturday 2pm tour (pre-book only)
The Old Palace is a Grade I-listed manor house, the former summer residence of Archbishops of Canterbury and a place Elizabeth I and other monarchs are known to have visited. Now the home of an independent girls' school, it still contains one of the finest great halls and its original roof dates from the 1440s.
Old Palace Road, CR0 1AX
Open House 2017
The Charterhouse (Chapel and Museum)
Sunday 2pm-5pm
The Charterhouse was founded as a Carthusian Monastery in 1371 and later sold as a Tudor mansion – Elizabeth I and James I both spent time here. In 1611 it was endowed as a school (now in Godalming) and almshouse, which it remains to this day.
Charterhouse Square, EC1M 6AN
Open House 2017
Saturday 11am-5pm. Different types of tours throughout the day.
This Grade II-listed fifteenth-century manor house with medieval moat and a recently discovered late sixteenth-century wall painting is the only surviving manor house in Dagenham. An exhibition there tells the story of Barking and Dagenham's history.
Becontree Avenue, RM8 3HT
Open House 2017
Sunday 1pm-5pm (pre-book only)
In the heart of London's legal quarter, Middle Temple Hall is one of the four ancient Inns of Court. It's also London's finest surviving Elizabethan hall, remaining virtually unchanged and highly atmospheric.
Middle Temple Lane, EC4Y 9BT
Open House 2017
Sunday 10am-1pm
This Grade II-listed, sixteenth-century row in Walthamstow consists of 13 dwellings and offices, plus a hall now used as a committee room.
Church End, E17 9RL
Open House 2017
Tower and Churchyard of St Mary's Hornsey
Sunday 2pm-5pm
A Grade II-listed tower and chapel is all that remains of this medieval parish church. The tour includes the crypt, ringing chamber and main roof, which has excellent and extensive views in all directions.
High St Hornsey, N8 7NT
Open House 2017
The Oak Room, New River Head
Saturday and Sunday 10am-5pm (pre-book only)
Formerly the boardroom of a seventeenth-century water house, the Oak Room is a fine late-Renaissance room demonstrating the New River Company's wealth. It has a hand-carved oak interior, plus an overmantel and panels over the doors. It's grand stuff.
173 Rosebery Avenue, EC1R 4UL
Open House 2017
Sunday 10am-5pm, hourly tours
This grand livery hall from the seventeenth century has a beautiful garden, oak panelling and stained glass windows. Although it was damaged by the Great Fire of London, the Hall remained miraculously untouched during WWII. Open House visitors will be able to poke around and see selected items from the archives.
Ave Maria Lane, EC4M 7DD
Find more fun things to do in September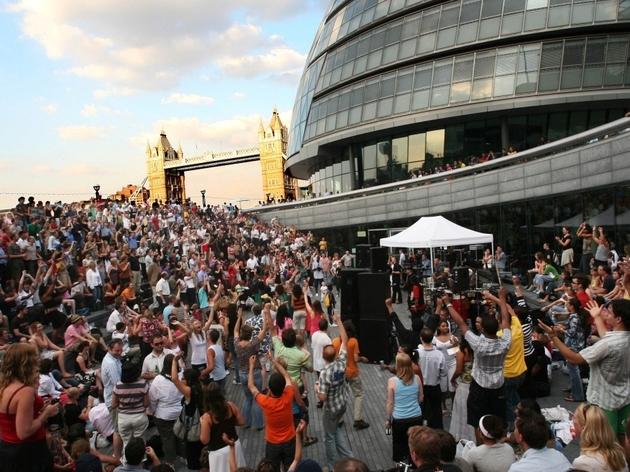 Say goodbye to summer in style – get out and get stuck into the last of the capital's festivals, pop-ups and outdoor shindigs this month.
Sponsored listing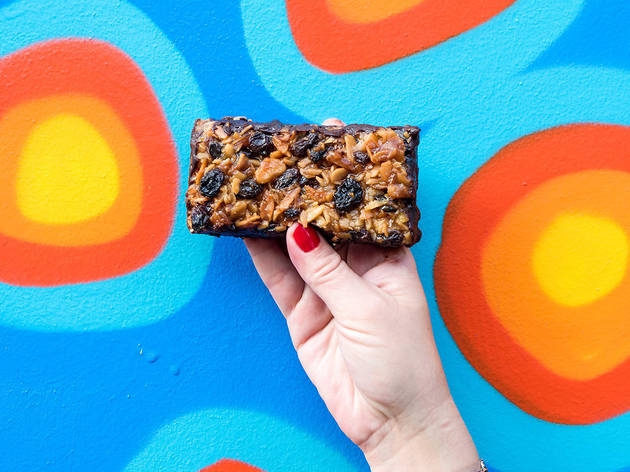 An old school bakery in Camden, serving sweets, savouries and all kinds of bread.
Venue says Not only do we have serious cakes, but also fun things for kids, like our marshmallow ice cream that is bound to put a smile on their faces.