Heads up! We're working hard to be accurate – but these are unusual times, so please always check before heading out.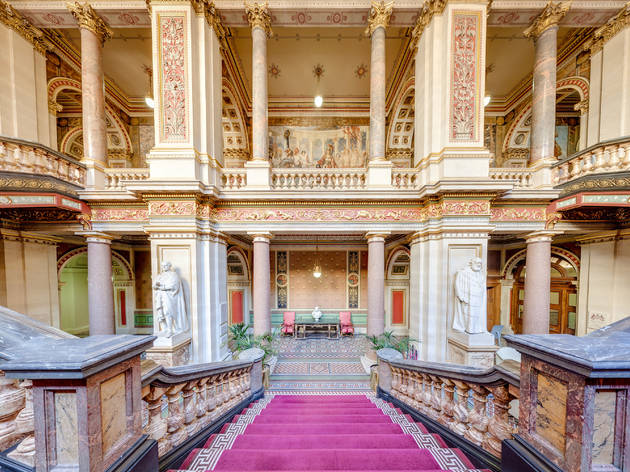 Open House London: our highlights
Peek behind the doors of some of London's most famous buildings at Open House weekend this September
The annual Open House London weekend gives curious Londoners the chance to venture behind the closed doors of some of the capital's biggest, most renowned and most secretive addresses for free. Discover hidden histories, find interior inspiration or marvel at the new architectural structures shooting up in the capital. Find our pick of the best buildings to visit at Open House September 2019.
What is Open House London?
A huge weekend festival dedicated to making architecture accessible to all. This year's theme is all about 'social', a flexible term referring to London's social housing, its civic spaces and its most Instagrammable locations (we're looking at you, Crystal Palace Subway). Now in its 27th year, Open House allows access to private homes, government landmarks, historic sites and sparkling new skyscrapers that are normally closed to the public and just waiting to be explored. Some of the buildings offer free half-hourly tours, others simply open for the entire weekend. It's the largest event of its kind in the world and features walks, talks and tours as well as the chance to nose around some incredible spaces you'd never usually get to enter.
When is Open House London?
It takes place over just one weekend every year. In 2019 it falls on Saturday September 21 and Sunday 22.

Where is Open House London?
More than 800 buildings across 30 London boroughs will be taking part. It's a vast sprawl, so you'll need to dedicate some time to planning your weekend. If you want to visit multiple locations, check on the Open House website in advance for details. The weekend is extremely popular, so unless the building you have in mind is extremely obscure, you can expect to queue.

How much does Open House London cost?
Brilliantly, it's all free. Some of the popular events need to be pre-booked, and entry to venues like the BT Tower and Number 10 Downing Street are allocated via a ballot (which sadly, has already closed). With the rest, just wear your most comfortable shoes and turn up on the day.
Find out more about Open House London. Or watch our video below on one of the most unusual tours you can take...
Quirky venues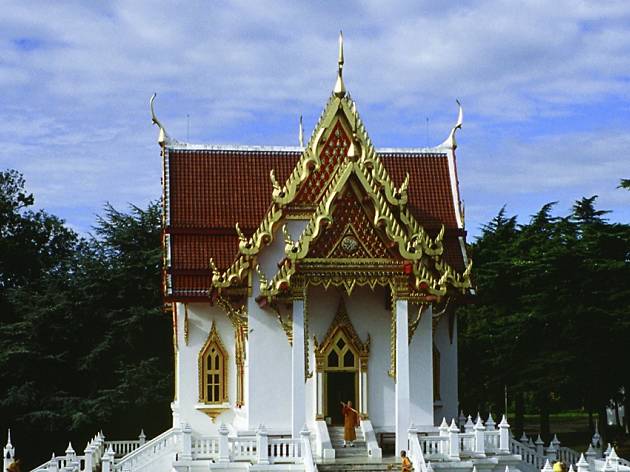 Saturday and Sunday 10am-5pm
Visit this Thai-style Theravada temple – one of just two outside Asia – to see its amazing Shrine Room. It contains a golden Buddha, copied from the Buddha Sihing in Bangkok, plus there are gardens covering four acres, a lake, grove and orchard.
14 Calonne Rd, SW19 5HJ.
Paul Tucker
St Bartholomew's Hospital, Maggie's Centre
Sunday 10am-5pm (last entry 4.30pm), max 100 people, pre-book for a tour by emailing bartsfundraising@maggiescentres.org
The Grade I-listed north wing of this central London hospital houses spectacular canvases by William Hogarth and a historic Great Hall. A new addition, Maggie's Centre, a cancer care unit, is crisp and modern in contrast.
St Bartholomew's Hospital, EC1A 7BE.
Saturday and Sunday 10am-5pm (last entry 4.15pm)
Where once sat a disused car park, now sits Blue House Yard and its colourful collection of standalone worksheds. The two-storey timber structures reminiscent of Hastings fishermen's huts don't house nets, but creative businesses waiting to catch their next big projects. Delivered by Jan Kattein Architects and Meanwhile Space CIC, the project has popped up to address the lack of suitable workspaces without whopping prices tags in London. Alongside the self-builds (constructed with help from local community and carpentry students), you'll find a double-decker bus café, a new public area and pitch space for occasional markets.
5 River Park Rd, N22 7TB.
Saturday and Sunday 10am–5pm, architect-led tour of restoration work at 1pm
Ever heard of the secret waiting room on the second floor of Peckham Rye station? Unless you're local, the answer is likely to be 'no' – the place was bricked up in 1961. Forty five years after closing its doors, it was given a Grade II listing in 2007 and restored by local architect Benedict O'Looney. See it on a scheduled tour this weekend, where you can also check out a photography exhibition charting the history of Peckham.
Peckham Rye Station, Peckham Rye Lane, SE15 4QL
Sarah Brewerton
Lumen United Reformed Church and Café
Saturday 10am-5pm (max 20, limited access to crypt)
This remodelled shell of a 1960s church building includes the crypt of an 1820s church hit by a V2 missile in 1945, a café, two dramatic eight-metre-high windows and a distinctive conical reflective space.
88 Tavistock Place, WC1H 9RS.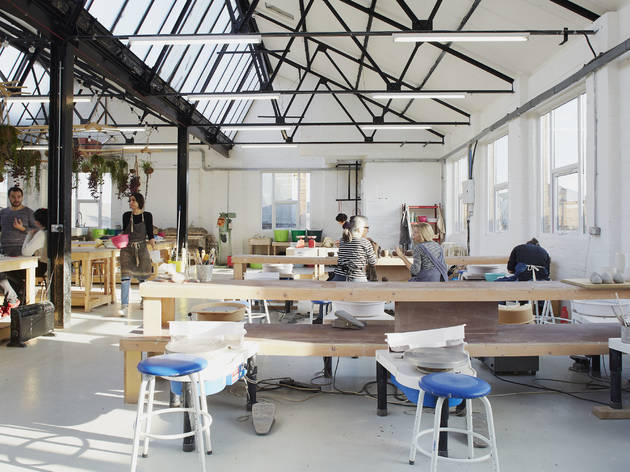 Saturday and Sunday 10.30am–5pm, studio tours hourly
Turning Earth's second and largest studio sits within the Argall Avenue industrial estate bordering the Lee Valley and is a real hive of creativity. Spend an afternoon nosing around the serene space watching budding potters craft their wares and sign up to become a member if you catch the ceramics bug. On your way out, pop into Lighthaus Café for a slice of ridiculously good banana bread.
Top floor, 11 Argall Avenue, E10 7QE.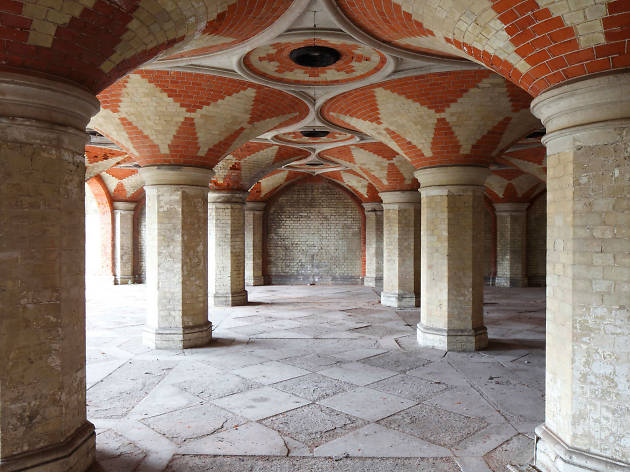 James Balston
Saturday and Sunday, 10am-5pm
This hidden gem nestled beneath the A212 at Crystal Palace Parade originally opened in 1865 to link the now-closed High-Level station to the Crystal Palace itself, which was destroyed by a fire in 1936. It remains as a reminder of the great Victorian structure, welcoming visits from the public every once in a while. Queueing times can reach up to an hour on open weekends but its popping geometric brickwork is well worth the wait.
Crystal Palace Parade, SE19 1LG.
Homes and houses
Saturday, 10pm-5pm (last entry 4.30pm)
This curvy concrete house on Maury Road is the product of a collab between architects Chance de Silva and experimental musician Scanner. It's named after Eric Satie's marathon 28-hour piano piece. Readers of The Wire will be enraptured.
85 Maury Rd, N16 7BT.
Alexandra and Ainsworth Estate
Saturday 10am-5pm (with residents-led tour of five different flats, every 30 mins, first come, first served basis) and Sunday 10am-5pm
Architect Neave Brown's concrete monolith has become a London landmark. When it was built in 1978, it was one of the most ambitious social housing schemes of its time and the first post-war council housing estate to be Grade II-listed. Take a look around the brutalist structure, draped with pops of greenery. This year's tours will focus on recent community initiatives to restore and reuse various areas for the benefit of residents and locals.
Rowley Way, NW8 0SN.
Walter Segal Self-build Houses
Sunday 1pm-7pm (max 20, last entry 5.45pm)
A short stroll up the hill from Honor Oak Park station will get you to this remarkable estate collection of sustainable self-build houses. Constructed using methods developed by architect Walter Segal, who led the project in the 1980s, the homes were created by people on Lewisham's housing waiting list who were willing to help build their own house, with little or no building experience. Some have now been extended and many feature sustainable heating and power. Genuinely visionary.
Walters Way, Honor Oak Park, SE23 3LH.
Saturday 10am-4pm, owner tours every 45 mins. Pre-book only.
Prepared to get whacked with a serious dose of house envy. Built as a school science laboratory in 1935, this space has now been transformed into a four-bed family home by Made With Volume's Carlos Viscoine and his wife Florence. A small set of stairs from the open-plan lounge and kitchen leads to an idyllic rooftop garden, while the zingy yellow staircase in the middle of the space descends to the perfectly designed bedroom area.
The Science Lab, 134 Trumpington Rd, E7 9EQ.
Offices and industry
Grainge Photography
Southwark Integrated Waste Management Facility
Saturday 10am-4pm. Tours every 30 mins.
Ever stared into your recycling bin and thought: What really happens to all this crap? If so, you need to look round this place – it's Europe's most advanced recycling facility. All your questions (like 'What do you guys do with all of London's old egg boxes?') will be answered.
43 Devon St, SE15 1AL.
Saturday and Sunday 11am-5pm (last entry 4.45pm)
Discover what it's like to be London's waterborne version of 'Magnum PI' at this little museum for the Thames River Police.

98 Wapping High St, E1W 2NE.
Saturday and Sunday 10am-5pm (last entry 4.15pm).
Sumptuously painted walls and ornate fixtures decorate these Victorian government offices. You'll be able to explore the highly decorative Durbar Court, India Office Council Chamber, Locarno Suite and Foreign Office Grand Staircase, all of which look very much like they did in the nineteenth century.
King Charles St, SW1A 2AH.
Abbey Mills Pumping Station
Saturday and Sunday 10am-4pm, hourly tours. Pre-book only.
Who knew a house of turds could be so lovely? Go and see the gothic architecture and beautiful brickwork of the 'Cathedral of Sewage' that saved London from the Great Stink. Constructed by Joseph Bazalgette, Edmund Cooper and architect Charles Driver in 1868, the structure helped form the foundation of London's modern sewage system.
Abbey Lane, E15 2RW.
© Tim Soar
Saturday and Sunday 10.30am-4pm. Ballot only.
See what's behind that rotating triangle outside the brand new home of the Metropolitan Police on the Embankment. The former Curtis Green building underwent a £58m development to prepare it for its new role as the city's top cop shop, which included a glazed entrance, restoration of the elegant art deco frontage and colourful loos designed to evoke the designs of London's squad cars.
Victoria Embankment, SW1A 2JL.
Further afield
Sunday 10am-1pm. Hourly tours. Pre-book only. Email: sarah.wheeldon@sutton.gov.uk
Built for Richard Carew in 1510, Carew Manor is home to the Borough of Sutton's only Grade I-listed structure: the Great Hall. Once it hosted banquets for the likes of Henry VIII and Anne Boleyn; now it's where the kids from Carew Academy tuck into their school dinners.
Church Rd, SM6 7NN.
Repton Park (formerly Claybury Asylum)
Saturday and Sunday tours at 10.30am and 11.30am (max 30 people).
Once a huge nineteenth-century psychiatric hospital, Grade II-listed Repton Park is now home to an exclusive gated community and an impressive health club, which boasts a swimming pool set in the converted chapel beneath the Victorian water tower. Join an hourly tour. Just don't bring your swimming costume.
Manor Rd, IG8 8GG.
© Elly Bagnall
Saturday and Sunday 11am-5pm (last entry 4.15pm)
Pre-Raphaelite painter Edward Burne-Jones once called this charming red-brick house the 'beautifulest place on earth', and it's not hard to see why. It's the only house to be commissioned, created and lived in by artist William Morris. It's ridiculously quaint and a destination for anyone interested in the Arts and Crafts movement. Look out for dazzling wallpaper, a fabulous embroidery of Aphrodite and some gorgeous stained glass.
Red House Lane, DA6 8JF.
Saturday and Sunday tours 10.30am, noon and 3.30pm (max 15). Pre-book only.
This Grade II-listed, late-Georgian, three-storey stucco villa is said to owe its unusual oval shape to a tea caddy, in reference to its original owner, William Sheldon, who was a successful tea merchant.
Broxhill Rd, RM4 1QH.
Manor Farm and the Great Barn
Saturday and Sunday 10am-5pm (last entry 4.15pm)
Visit the oldest heritage site in Hillingdon. It's been occupied since the eleventh century and is still home to the sixteenth-century Manor Farm House, the Grade II-listed, thirteenth-century Great Barn and a smaller sixteenth-century barn, which is now a library.
Manor Farm Site, Bury St, HA4 8BD.
Secret spots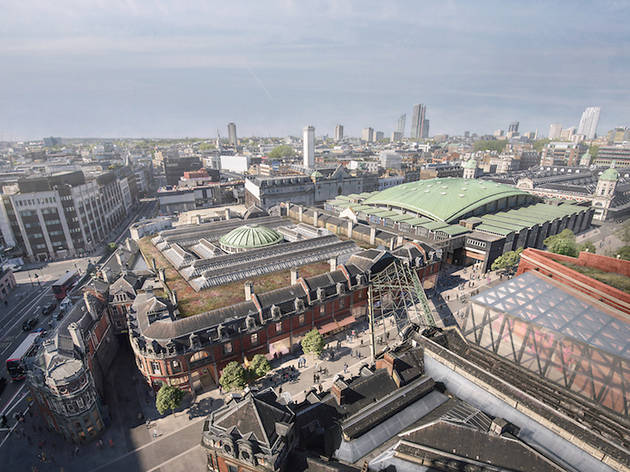 Sat 1pm-5pm and Sun 10am-5pm. Last entry 4.45pm.
The Museum of London is on the move. Well, it will be by the year 2024. The museum is creating a new location in the derelict former poultry market in West Smithfield. For the first time in 20 years the public are invited to explore the site.
Central Markets Charterhouse St, EC1A 9LY
Open House 2017
Saturday 10am-5pm and Sunday 10am-3pm. Pre-book only. Email: paul.austin@reformclub.com
Built as a gentlemen's club and inspired by Italian Renaissance palaces, the Reform Club is one of the finest Victorian buildings in the country. The tunnelled steps bring you to a square atrium with a glass mosaic roof that refracts the light in every direction.
104 Pall Mall, SW1Y 5EW.
Open House 2017
Sunday 10am-4pm. Pre-book only. Email: clubevents@caledonianclub.com
This was the last mansion house of its kind to be built in London. The club, founded in 1891, moved to these premises in 1946. A new five-storey wing with a terrace garden was officially (and appropriately) opened on St Andrew's Day 2006 by Queen Elizabeth.
9 Halkin St, SW1X 7DR.
Open House 2017
Saturday, tours 11am and 3pm
The last of the grand eighteenth-century mansions which once fronted this part of the river, the club retains its quintessentially English traditions and heritage, while providing modern facilities and services for its members with magnificent interiors and extensive grounds. Now you can have a gander without the price tag.
Ranelagh Gardens, SW6 3PR.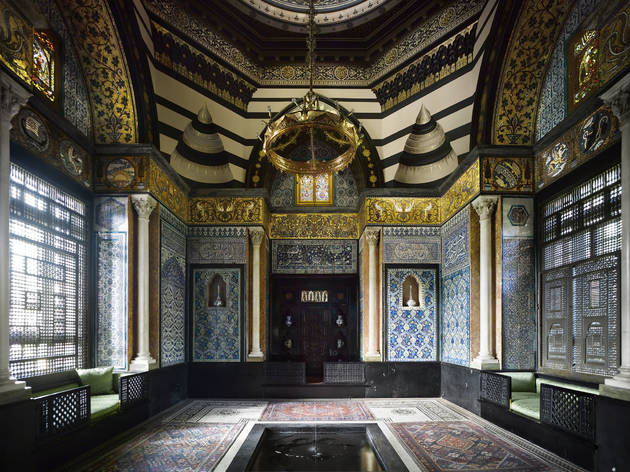 Saturday and Sunday, 10am-5.30pm (last entry 5pm)
Formerly the home of Victorian artist Frederic, Lord Leighton and designed by his pal George Aitcheson in the 1860s, this west London house is packed with sparkling treasures from across the world as well as works by Leighton himself created in his light and airy first-floor studio. The breathtaking Arab Hall on the ground floor has beautiful decorative tiling and a fountain in the middle of the room.
12 Holland Park Rd, W14 8LZ.
Andaz Liverpool Street
Masonic Temple, Andaz Liverpool Street (former Great Eastern Hotel)
Saturday and Sunday, 10am-5pm (last entry 4.15pm)
The interiors of this Grade II-listed Victorian railway hotel are a riot of twelve types of Italian marble and rich mahogany. But accessed via a secretive winding stair, it also has a hidden Masonic temple: a dazzling zodiac ceiling looking down on ceremonial thrones. Oh, and it also doubles up as a cinema.
Entrance on Bishopsgate, EC2M 7QN.
Ancient attractions
Open House 2017
Saturday 2pm tour. Pre-book only. Phone 020 8680 8499 or 020 8256 1594
The Old Palace is a Grade I-listed manor house, the former summer residence of the Archbishops of Canterbury and a place Elizabeth I and other British monarchs are known to have visited. Now the home of an independent girls' school, it still contains one of London's finest great halls and its original roof dates from the 1440s.
Old Palace Rd, CR0 1AX.
Open House 2017
The Charterhouse (Chapel and Museum)
Sunday 11am-5pm with hourly tours. Tours pre-book only.
The Charterhouse was founded as a Carthusian monastery in 1371 and later became a Tudor mansion – Elizabeth I and James I both spent time here. In 1611 it was endowed as a school (since moved to Godalming) and almshouses, which it remains to this day.
Charterhouse Square, EC1M 6AN.
Open House 2017
Saturday 10am-4pm (last entry 3.45pm)
This Grade II-listed fifteenth-century manor house with a medieval moat and recently discovered late sixteenth-century wall painting is the only surviving building of its kind in Dagenham. It hosts an exhibition about Barking and Dagenham's history.
Becontree Avenue, RM8 3HT.
Open House 2017
Sunday 10am-1pm (last entry 12.45pm)
This Grade II-listed, sixteenth-century row in Walthamstow consists of 13 dwellings and offices, plus a hall now used as a committee room.
Church End, E17 9RL.
Open House 2017
Tower and Churchyard of St Mary's Hornsey
Sunday 2pm-5pm (max 15 people, last entry 4.30pm)
A Grade II-listed tower and chapel is all that remains of this medieval parish church. The tour includes the crypt, ringing chamber and main roof, which has excellent and views in all directions.
High St, Hornsey, N8 7NT.
Open House 2017
The Oak Room, New River Head
Saturday and Sunday 10am-5pm. Pre-book only.
Formerly the boardroom of a seventeenth-century water house, the Oak Room is a fine late-Renaissance room demonstrating the New River Company's wealth. It has a hand-carved oak interior, plus an overmantel and panels over the doors. It's all grand stuff.
173 Rosebery Avenue, EC1R 4UL.
Open House 2017
Sunday 10am-5pm, hourly tours (last entry 4.15pm)
This grand livery hall from the seventeenth century has a beautiful garden, oak panelling and stained-glass windows. Although it was damaged by the Great Fire of London, the Hall survived miraculously untouched during WWII. Open House visitors will be able to look around and see selected items from the archives. This year features an exhibition about the craft of bookbinding (max 60 people at a time).
Ave Maria Lane, EC4M 7DD.
Find more fun things to do in September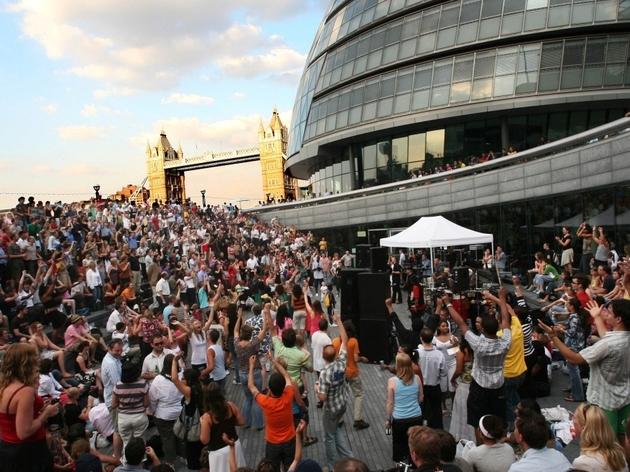 Say goodbye to summer in style – get out and get stuck into the last of the capital's festivals, pop-ups and outdoor shindigs this month.
Support Time Out
We see you're using an ad-blocker. Ad revenue is Time Out's main source of income. The content you're reading is made by independent, expert local journalists.
Support Time Out directly today and help us champion the people and places which make the city tick. Cheers!
Donate now