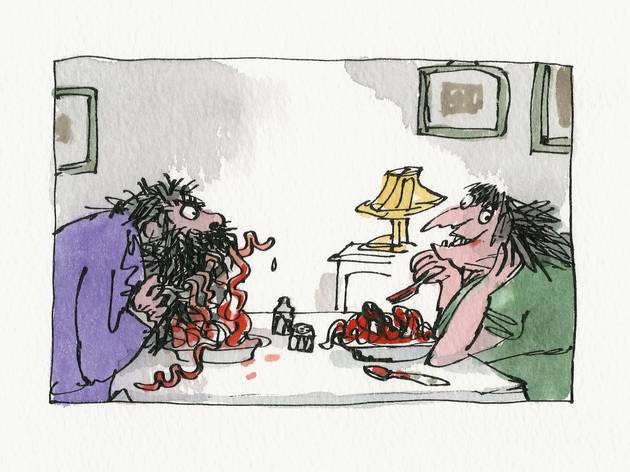 1/8
© Quentin Blake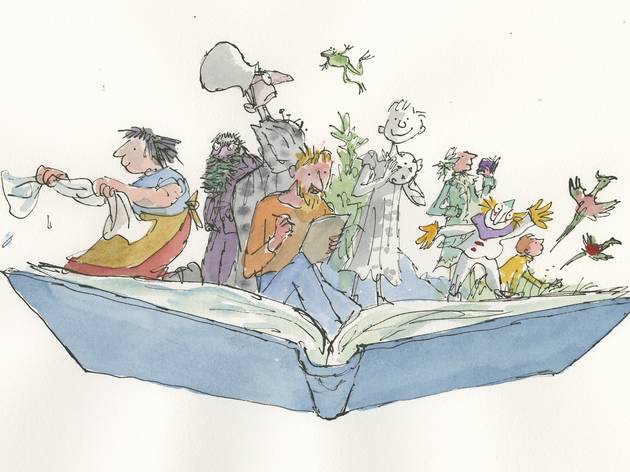 2/8
© Quentin Blake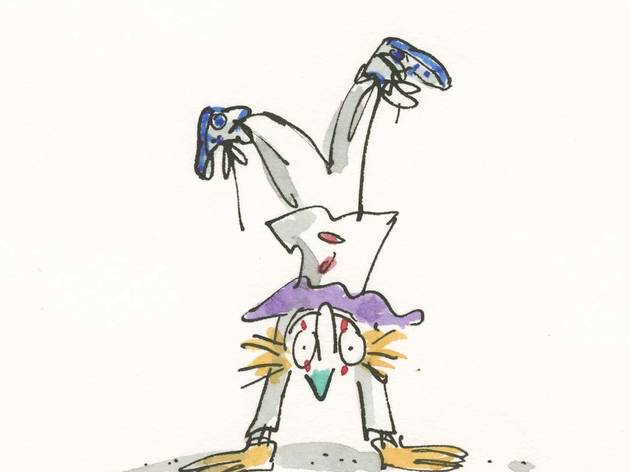 3/8
© Quentin Blake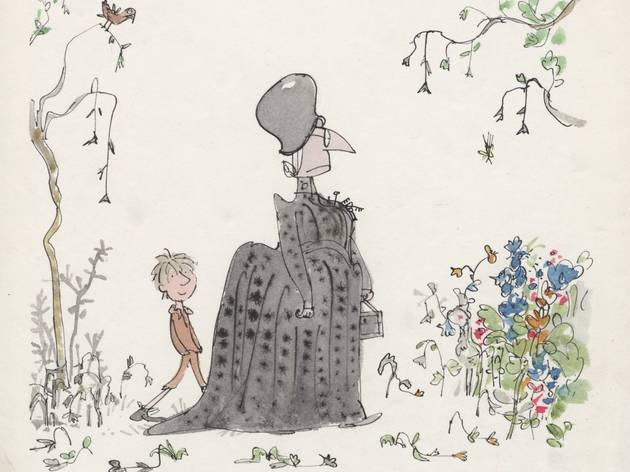 4/8
© Quentin Blake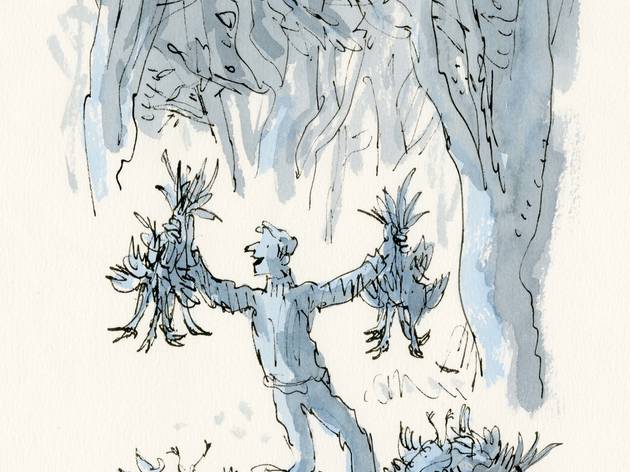 5/8
© Quentin Blake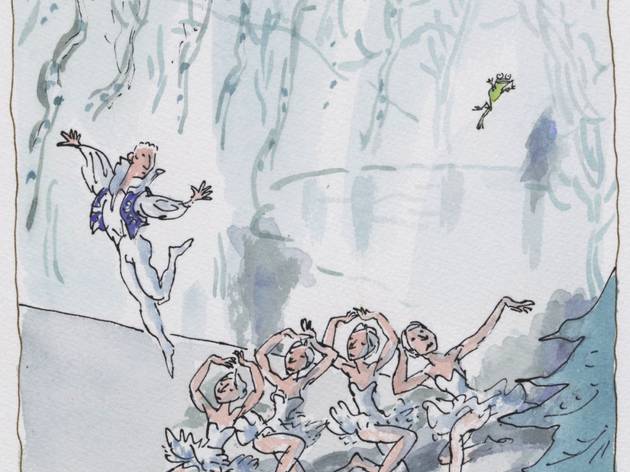 6/8
© Quentin Blake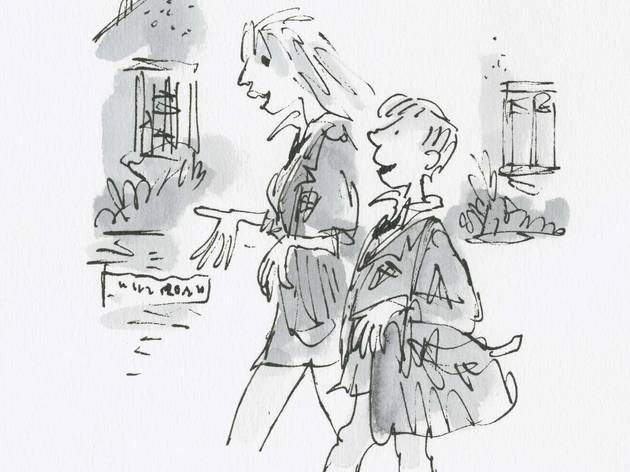 7/8
© Quentin Blake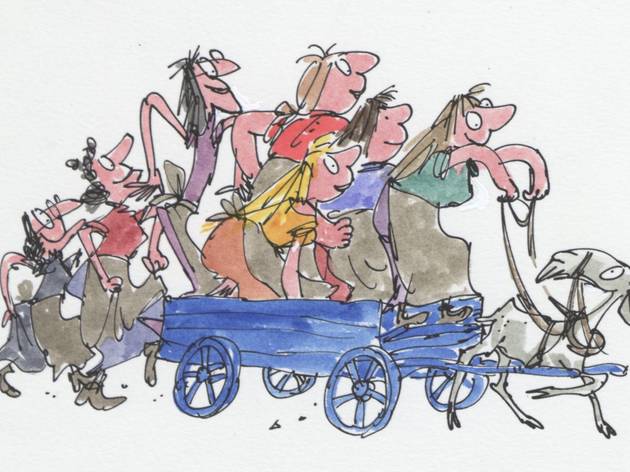 8/8
© Quentin Blake
Disclaimer: I was once a child, and I read children's books. So, like millions of other kids, a major part of the way I learned to enjoy literature and imagery was via Quentin Blake's pen. Most often, of course, this was twinned with Roald Dahl's madcap tales, but not exclusively – we were as captivated by Mister Magnolia's flamboyant grin and the dastardly antics of the Wild Washerwomen as we were by Pelly et al and the gloriously gruesome Twits.
Did I say 'were'? Witness me and the other adult exhibition-goers, lingering over the drawings at 'Inside Stories', goofy grins and excited mutterings a testament to the unique role that Blake's scribbly, squiggly lines and vibrant splotches of colour continue to play in our imaginations. Evidently, the new House of Illustration would have had to try very hard indeed to fail with this exhibition – but even considering the easily pleased audience held captive by its upbringing, it is a fine show.
Blake has chosen a selection of his projects to dissect in storyboard form, using original drawings, handwritten captions explaining how he created the characters, how he worked with the authors and how the process runs from studio to printing. It's an age-inclusive, engaging look into the mind of a matchless illustrator.
Beyond method and nostalgia, the final room of the exhibition was a first viewing, for me, of Michael Rosen's heartbreaking 'Sad Book'. It underlines the real genius of a man who, with a wash of colour or an apparently spontaneous pen stoke, can capture emotional complexity that speaks to all ages.
Ellen Hardy
Average User Rating
2.5 / 5
Rating Breakdown
5 star:

0

4 star:

1

3 star:

0

2 star:

0

1 star:

1
Inside Stories at the new House of Illustration behind Kings Cross gives you a glimpse into the wonderfully vivid imagination of Quentin Blake. Quentin picks a few of his favourite stories and talks you through the thought processes that go into bringing the characters to life. Up close his inky creations are even more beautiful, free and full of expression. If you pick the right weekend to visit you can grab some yummy treats from the Kerb street food market afterwards.
In response to Adam's comment it is small but it's intimate and thoughtful, but I do agree the wonderful posters are misleading.
A must for Quentin Blake fans - maybe give it a miss if you're after something to spend a few hours at.
My daughter and I were attracted to this museum by the wonderful posters all around King's Cross. We expected a gallery with images from our favorite children's books. I gladly paid the steep entry price of 7 pounds for an adult. Only to discover that the "gallery" consists of two rooms with an ante chamber displaying a smattering of works by Quentin Blake. I can't remember ever having felt more disappointed by a gallery or more ripped off. Unless you are a Quentin Blake aficionado this is a disappointing waste of time. Added to which the staff were condescending and smug.