Heads up! We're working hard to be accurate – but these are unusual times, so please always check before heading out.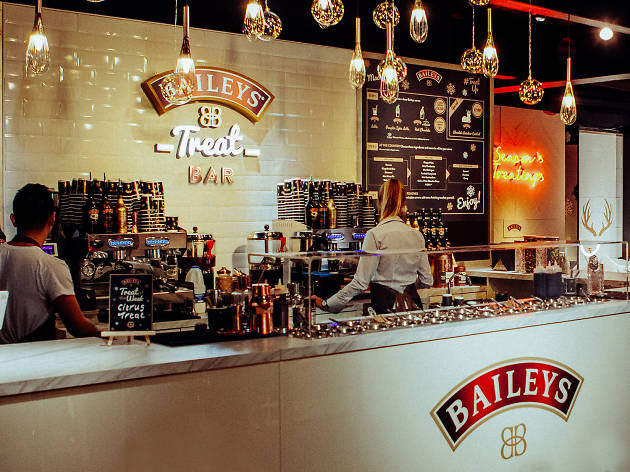 Revel in festive indulgence at the Baileys Treat Bar
Customise your own indulgent Baileys treat for an unforgettable Christmas tipple
The festive season is a time for giving, of course, but don't forget that you deserve a little indulgence, too – and where better to find it this Christmas than the Baileys Treat Bar. After proving a resounding success last year, the Baileys Treat Bar will be returning for 2018, setting up shop in Covent Garden to serve up more deliciously lavish treats than ever before. If you didn't get to visit last year, it's the perfect way for grown-ups to spoil themselves rotten.
Stop off at the Baileys Treat Bar this holiday season and you'll be able to create your own personalised serve, making the ideal, indulgent early Xmas pressie that your taste buds will thank you for.
Take your pick from three blissfully extravagant base options, all served with Baileys Original Irish Cream, Baileys Chocolat Luxe or Baileys Almande (vegan). There's hot chocolate, made with perfectly frothed milk, whipped cream, chocolate syrup and marshmallows – stop drooling, please, you've only heard option one. Or maybe you'd prefer a lush latte, made with fresh espresso, chocolate powder and a wafer straw – because it's Christmas and why the heck not? Then there's the vegan hot chocolate, made with frothy nut milk and 100 percent vegan varieties of whipped cream, chocolate syrup and marshmallows – just as rich and luxurious as option number one, without a doubt.
All three bases are clearly showstoppers in their own right, but if you want to go the extra mile, move on to step two and get customising, by choosing from a whole world of unbelievably tasty stuff to go on top. We're not just talking regular toppings here – we're talking way-out, marvellous things, like macaroons, chocolate-covered pretzels, chewy cookies, fudgy nibs and plenty of gloriously vegan (and gloriously indulgent) options as well, including salted caramel gold-dusted brownie, crushed honeycomb and crushed, vegan-friendly cookies.
If you're feeling generous, you can even tick off some of your Christmas shopping list at the Baileys Treat Bar by grabbing your loved ones some special Baileys bounty, with a bottle and a goodie bag to fill with top-notch toppings at the DIY treat station, so that your loved ones can make their own over-the-top serves at home to accompany the bottle of Baileys you've so kindly gifted them.
So, now you've sorted presents for those lucky souls, you really do deserve a treat of your own. Thankfully, you won't have to look far, as the Baileys Treat Bar is positively overflowing with wonderful stuff. Immerse yourself in a bespoke Baileys delight designed by your own fair hands or pick from a range of inspired, unforgettable festive serves created by a team of experts. Forget Santa's grotto – this is the most magical place to be at Christmas.
Oh, and in case the unthinkable happens and you can't make it down to the Baileys Treat Bar to quaff one a special festive serve, then fear not. Christmas won't be ruined after all, as you can sample an indulgent Baileys treat at other locations around London – find out where here.
Where to find the Baileys Treat Bar
Get treating at 9-11 Shorts Gardens, WC2H 9AT. Open from December 7-22, 12 midday-10pm. Closed December 10 and 17.
Have a Christmas bonus on us
Enjoy a 2-for-1 voucher on any serve at the Baileys Treat Bar for you and a friend. Redeemable from December 7-9. Discount applies to the drink of lower value. For more details and to sign-up for the voucher, visit www.baileystreatbar.com.
Extra-special festive Baileys serves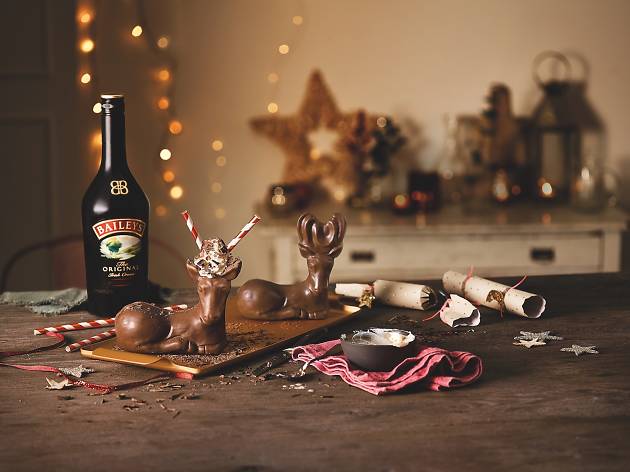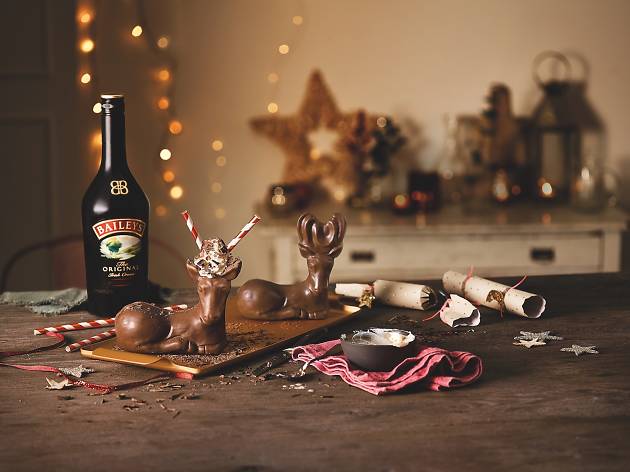 Chocolate Reindeer Cocktail
It wouldn't be Christmas without a reindeer, but this reindeer comes with a little extra festive pizazz. Firstly, it's made of chocolate. Secondly, it comes bearing the gift of an indulgent cocktail, made with Baileys Original Irish Cream, Baileys Chocolat Luxe, double cream and whipped cream. Perfect. Just don't tell Santa, or he'll want these reindeer for himself.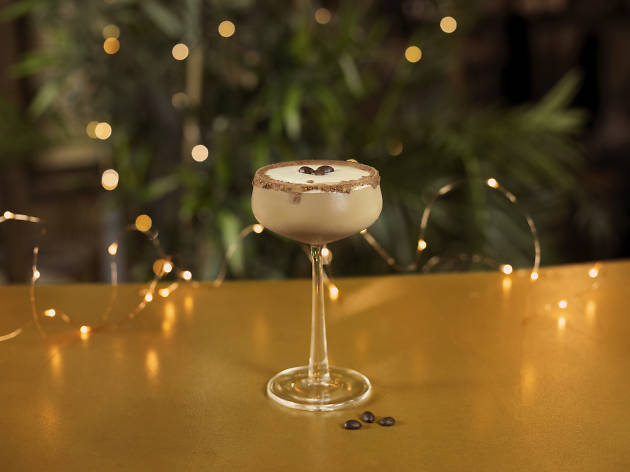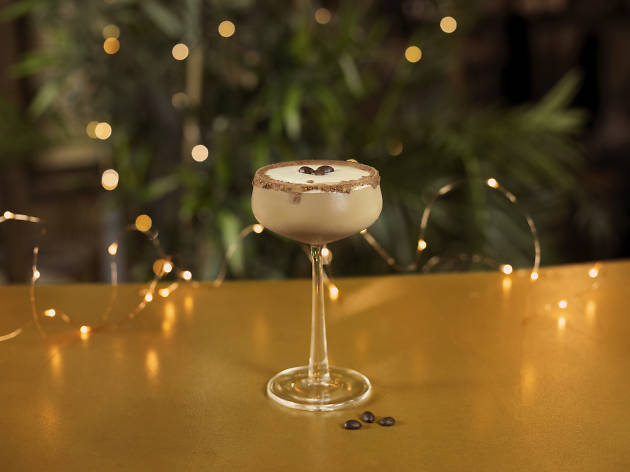 Salted Caramel Espresso Martini
Sometimes, combining great things doesn't make an even greater thing. In this case, however, it absolutely does: Baileys Original Irish Cream (awesome) + espresso martini (awesome) + salted caramel syrup (awesome) = sublime scenes. Merry Christmas, you.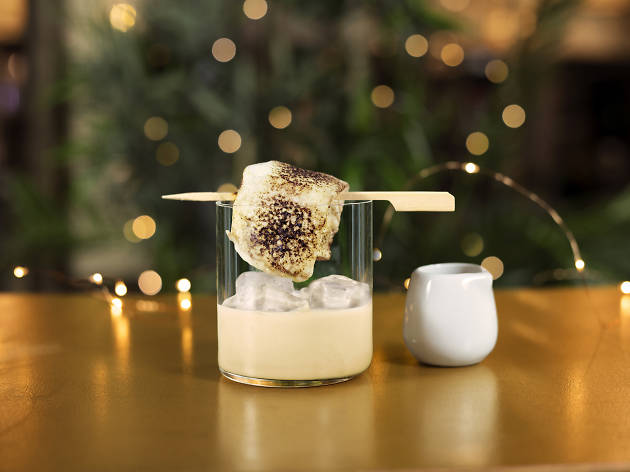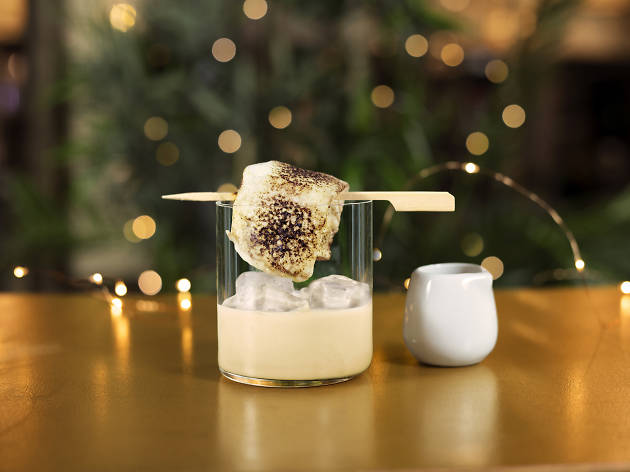 Toasting marshmallows around a campfire is all well and good, but here's an idea: instead, head to the Baileys Treat Bar and grab a Baileys Marshmallow serve, made with the Baileys of your choice, a good helping of ice and a lightly toasted marshmallow. Neat idea, right?