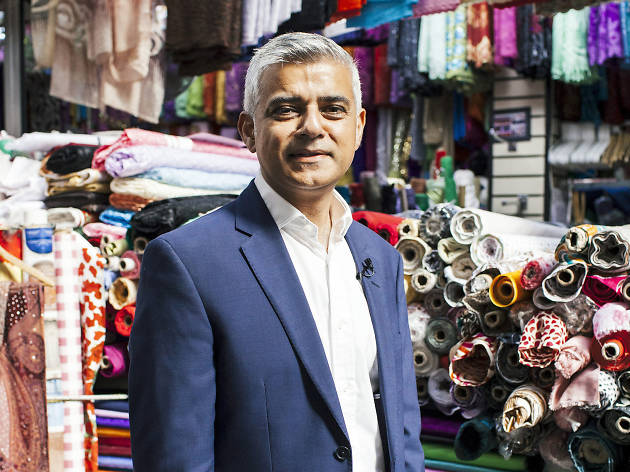 Sadiq Khan interview: 'I used to do stand-up comedy'
The Mayor's Office is supporting Time Out's Love London Awards. To celebrate, we hung out with Sadiq in his Tooting manor to talk gentrification and Jeremy Hunt's arse
It's a wonder that the Mayor of London ever gets anything done. As soon as Sadiq Khan arrives for our walk around Tooting Market, there are elderly Asian gents eagerly telling him they knew his dad, kids who want selfies, business owners who want selfies, buggy-pushing mums who want selfies, shoppers who want selfies and Time Out journalists who want selfies (everyone else was doing it!). In the hour we spend together, I'd estimate that there are no less than 30 occasions on which he's asked to work his cheek muscles for someone's smartphone.
Since you were elected, is it possible to go 30 seconds without being asked for a selfie?
'I get selfies taken everywhere. Everywhere. I can be in A&E and I'm still getting selfied. It's nice, though. It's a nice problem to have.'

You've lived your entire life in Tooting. Aren't you a bit bored of it by now?
'No, Tooting's great. I live and breathe it – I was born here, I was raised here, I studied here, I was married here and I'll probably die here as well. There's a real sense of community. We've got independent traders. No one can accuse Tooting of being a clone high street. Although there are challenges in terms of the number of pawnbrokers, betting shops and chicken shops.'
'Tooting has the biggest Chicken Cottage in the world. It's part of its claim to fame.'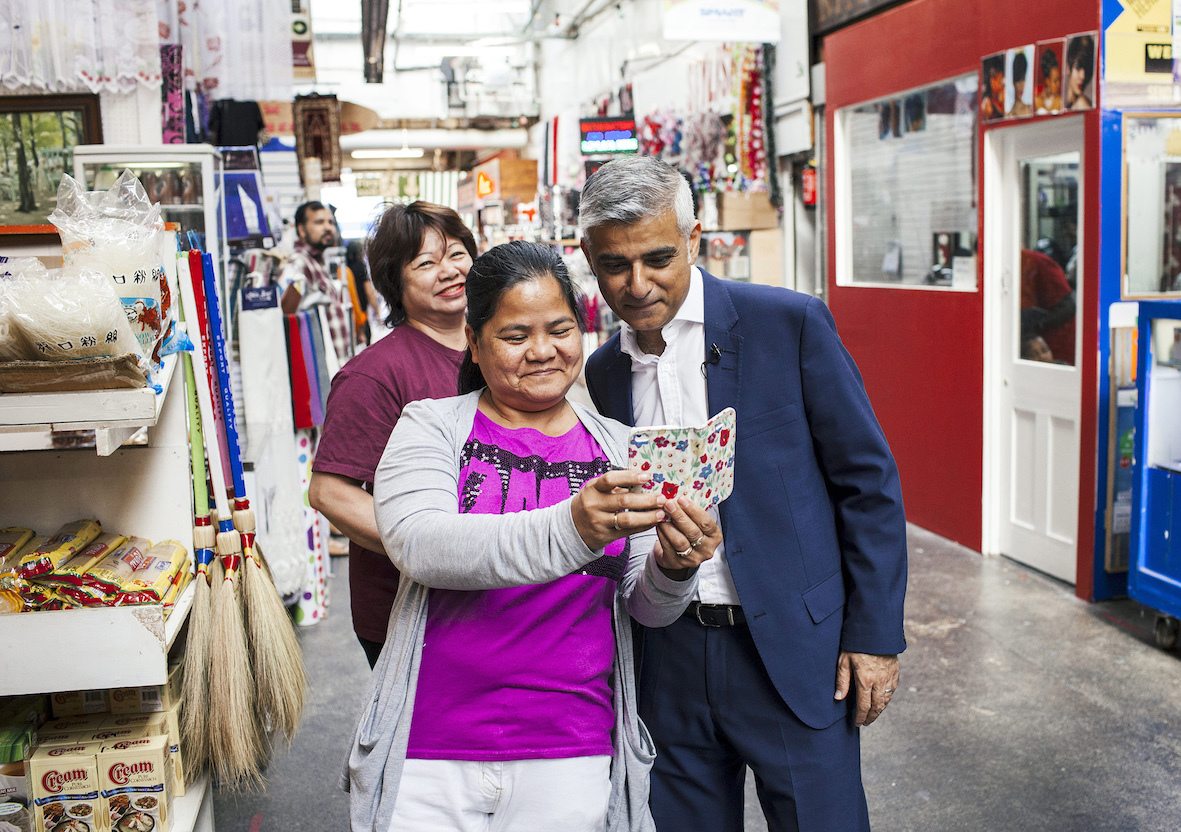 You don't like chicken shops?
'There are some good ones and some less good ones. Chicken Shop opened in Tooting recently: I like that place. Also we have what I'm told is the biggest Chicken Cottage in the world. Have I visited? Yes, I have. That Chicken Cottage is one of Tooting's claims to fame! Although I'm trying to watch my figure a bit now, so I'm more into grilled chicken. You can't beat a cheeky Nando's too!'

On the campaign trail you said you wanted to champion cultural hotspots outside Zone 1. Why?
'Because there are some real hidden gems. You can step out of your front door, walk ten minutes and you're somewhere that's bustling and vibrant. Just look at Tooting Market. We've got some of the best things in the world happening here.'

Given that we're standing in front of a rack of crisps at the moment, we'll assume you don't mean literally 'here'.
'Seriously, just look at what you've got here: we've got food from all around the world. These crisps – they're not the traditional sort of crisp advertised by Gary Lineker. Just look at the crisps – and food – we've got here! Admittedly, I've not tried this particular brand, Cheesits. I'm more of a prawn cracker person.'

How important is it to you that we keep London diverse enough to allow greasy spoons and trendy pop-ups to coexist?
'There's a word that's used as a euphemism for so many different things and it's "gentrification". It's not a bad thing for independent traders to come into a high street to mix things up, but what shouldn't happen is that the traders who were there before are priced out. If I'm honest, my heart and my belly are saying that you're more likely to find me in a greasy spoon than a pop-up, but some of this pop-up stuff is great!'

Did you try the naked restaurant pop-up?
'I didn't. I've been to that Farringdon one which is pitch black [Dans le Noir – not a pop-up]. That was great. I'm willing to try most things, but naked and food: I don't know about that. What happens if you spill your soup? Let's not even go there!'
'I went to Fabric when I was younger. It was a great night out.'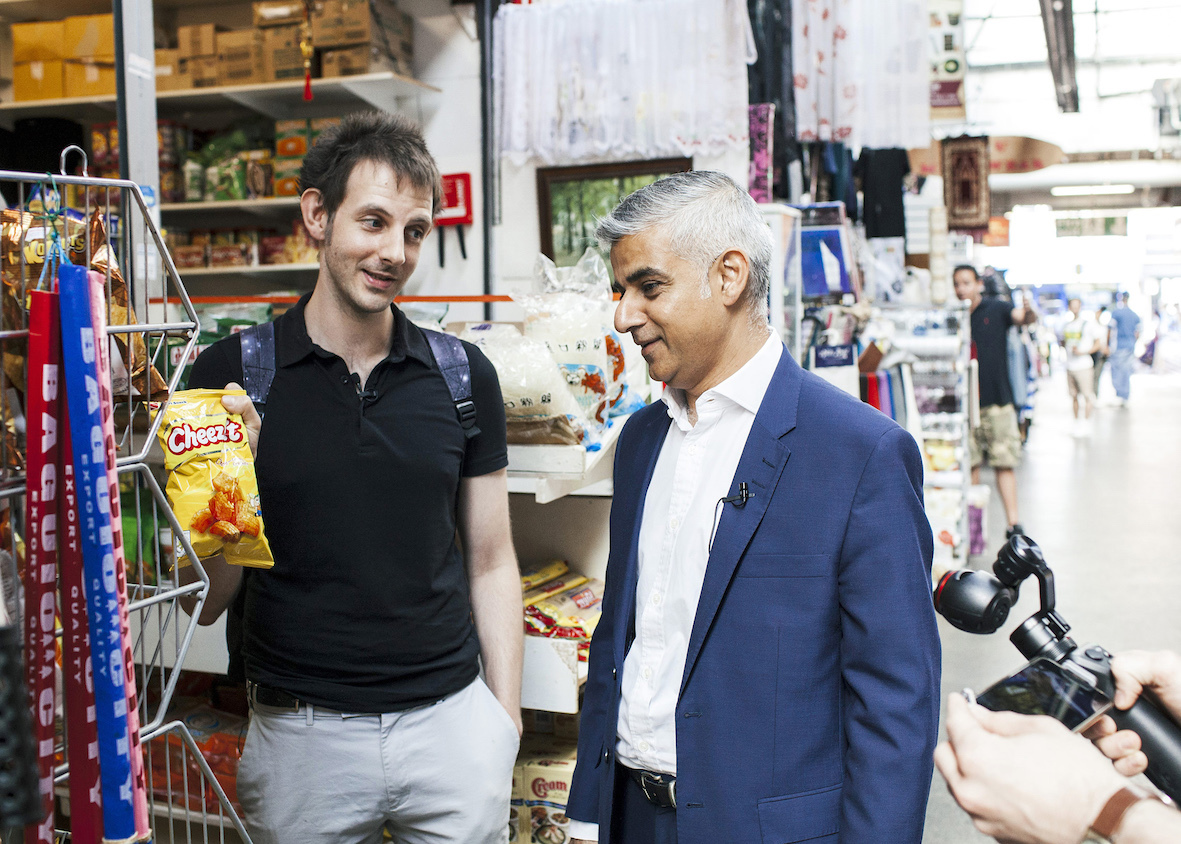 You launched the night tube a couple of weeks ago. The timing's a bit odd, isn't it, given that so many nighttime venues have closed recently?
'That's why we've just released an advert for a Night Czar. In the time that Boris was mayor, we lost 50 percent of live music venues and 40 percent of nightclubs have closed down. One of the issues is this: if you own a nightclub or a live music venue, you can make much more money by selling your land to a developer who builds luxury flats. So we're going to try to use the planning laws to make it much harder to change use. Also if a developer builds flats near a nightclub, I want them to pay for noise insulation in the flats. We've got to support our culture, our heritage, because it can't carry on this way.'

You're starting to sound like a proper nighttime party animal. Are you?
'Absolutely! My kids are at an age where me and my wife can start enjoying a social life again. So, yeah: that's a definite yes! Do I stay out really late? Erm, no. Listen: I'm middle-aged, man! Those days are behind me!'

A lot of people have urged you to save Fabric. But it's not actually under your jurisdiction, is it?
'Certain people have been given the impression that it's me pulling the levers with Fabric. It isn't, it's a local authority issue. I don't want Fabric closing down. I went there when I was younger. It was a great night out. I don't want nightclubs closing down – I want new nightclubs opening. And whilst I have no direct powers over Fabric, I can speak to the council and the police to see if there's a resolution to be found.'

As mayor, do you ever feel like people expect you to be Superman when in fact your powers are limited?
'Ha, I'd love to be Superman! I'm not pretending I have all the powers I want: I'm currently running a campaign to ask the government for more control over our city's destiny. New York City gets to spend 50 percent of the taxes raised there. Tokyo gets 70 percent, but London only gets 7 percent. When it comes to powers over skills, over health, over rehabilitation, over the power to borrow to build, we have very little power. But I don't mind people lobbying me on any issue at all. Listen, one of my concerns when I was running for mayor was that Londoners had the impression that the mayor can't do very much – that his job was to act the buffoon, walk the red carpet and tell a few jokes. Although I can do the last one, by the way.'
'I used to do stand-up, actually. I had a ten-minute routine.'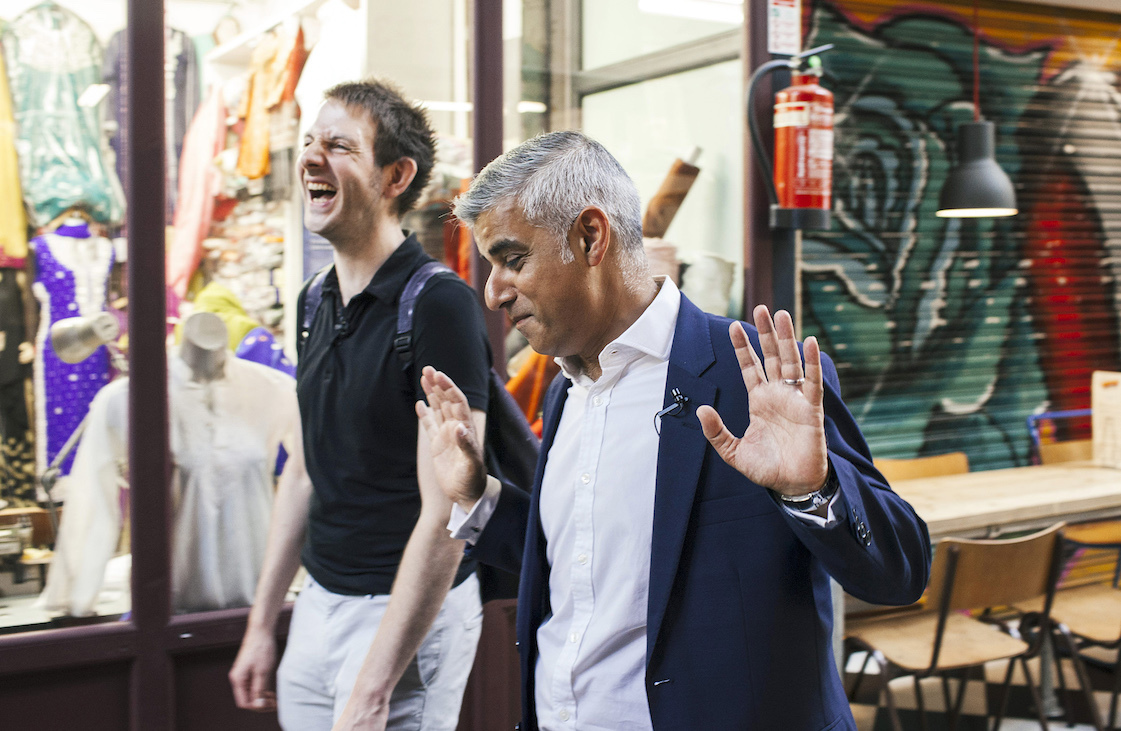 Go on then, tell us a joke.
'I used to do stand-up, actually. I had a ten-minute routine I did for a thing called "Stand Up for Labour" where we'd go around different seats and use comedy to raise money. I stopped doing this routine when I started running for mayor.'

Just tell us the joke…
'I went to visit St George's, my local hospital, and I asked: "Who are the easiest people to operate on?" One of the surgeons said: "It's librarians, because when you cut them open all the bits are in alphabetical order." Another one of them goes: "No, you're wrong. Actually, the easiest people to operate on are accountants because when you open them up, all their parts are numbered." But then the chief surgeon disagreed. She goes: "You're both wrong. The easiest are politicians." So I said to her: "Politicians? Why's that?" And she said: "Well, last week I had Jeremy Hunt in here for surgery. When we sliced him open he was gutless, spineless and heartless. Also his head and his arse were interchangeable." '
The Mayor's Office's support for Time Out's Love London Awards coincides with the #LondonIsOpen campaign to champion London's internationalism, creativity and entrepreneurism.
Have your say in the Love London Awards!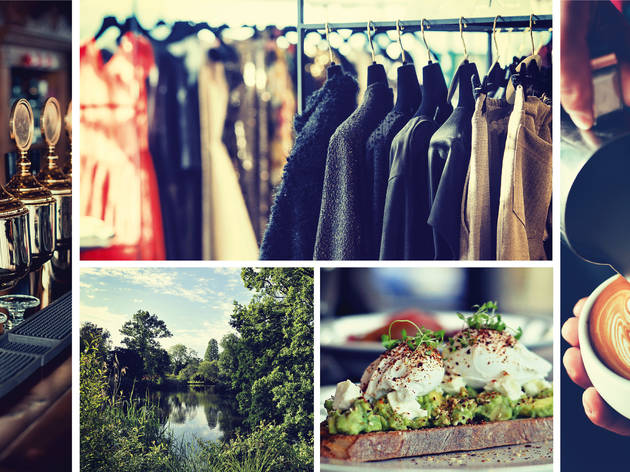 Last year's Love London Awards saw 16,000 nominations and 75,000 votes cast for 5,000 venues across the city. That, as Led Zeppelin once said, is a whole lotta love. Now, it's time to reward a whole new crop of venues for their dedication to making Londoners' lives better.
Best selling Time Out Offers
Support Time Out
We see you're using an ad-blocker. Ad revenue is Time Out's main source of income. The content you're reading is made by independent, expert local journalists.
Support Time Out directly today and help us champion the people and places which make the city tick. Cheers!
Donate now