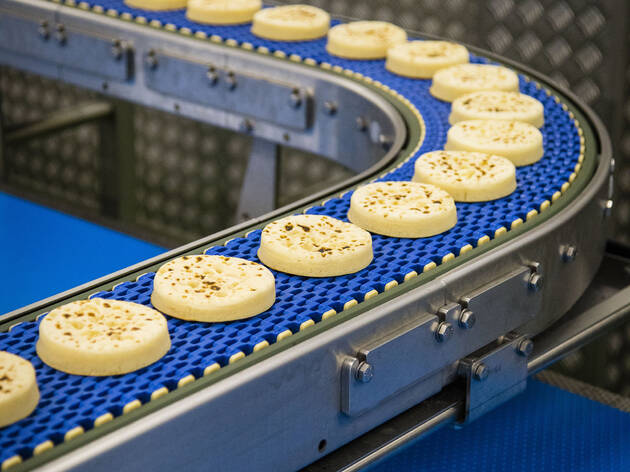 See how crumpets are made at a London factory
In the latest instalment of our 'Made in London' series, we head to Warburtons' Enfield factory to find out how crumpets are made
it's early on a Tuesday morning, I'm on an industrial estate in Enfield and I'm half-asleep. I'm also starving. But then… I suddenly perk up. My nostrils have been overwhelmed by the intense smell of freshly baked bread: I follow my nose, sniffing out the source, and eventually arrive at the gigantic Warburtons bakery.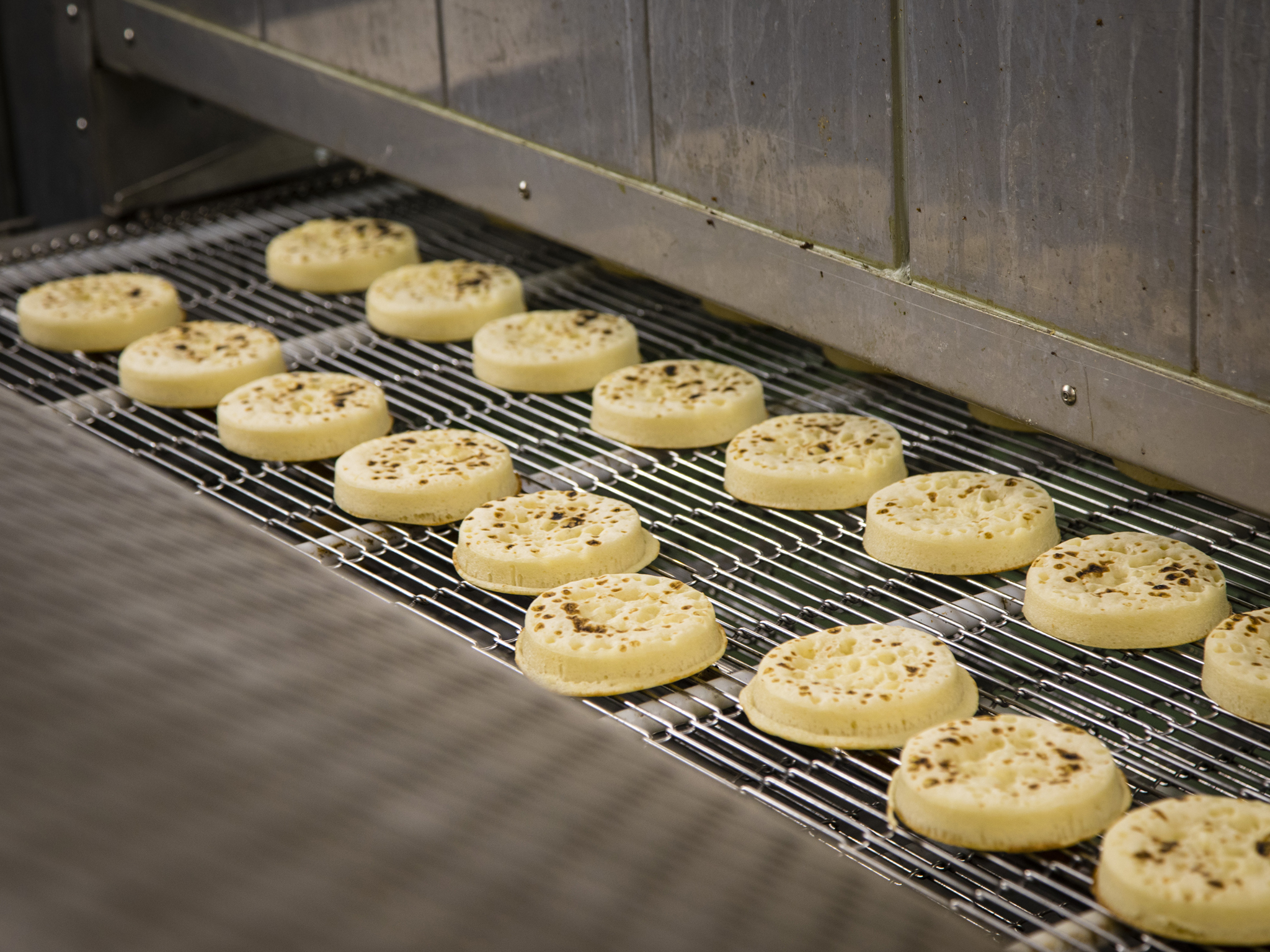 To be honest, it's not much to look at from the outside – just a giant grey corrugated metal shed with a huge, bright orange Warburtons sign. It doesn't even look like it's open. But inside, it's a different story. The factory floor is teeming with activity. Everywhere I look, workers are pressing buttons on machines and rushing from one production station to another. I'm bombarded with sounds: conveyor belts swirling above my head, beeping machines, whirring robot arms and blaring alarms.
Manufacturing manager Vasilis Nicolouzos shows me around. I'm still starving. 'Are you allowed to take a crumpet off the line?' I ask, trying to make myself heard above the din. Without a word, he leads me into another room where it's noticeably cooler – a bit like a walk-in refrigerator. He scoops a crumpet off the belt and hands it to me. 'That will be the best crumpet you'll ever eat,' he says. 'Trust me: you won't even need butter.' My eyes light up. I greedily take a bite. It's like eating a warm, spongy bread cloud. The base is still crispy from the hotplate and there's a subtle yeasty flavour. It's almost a holy holey experience.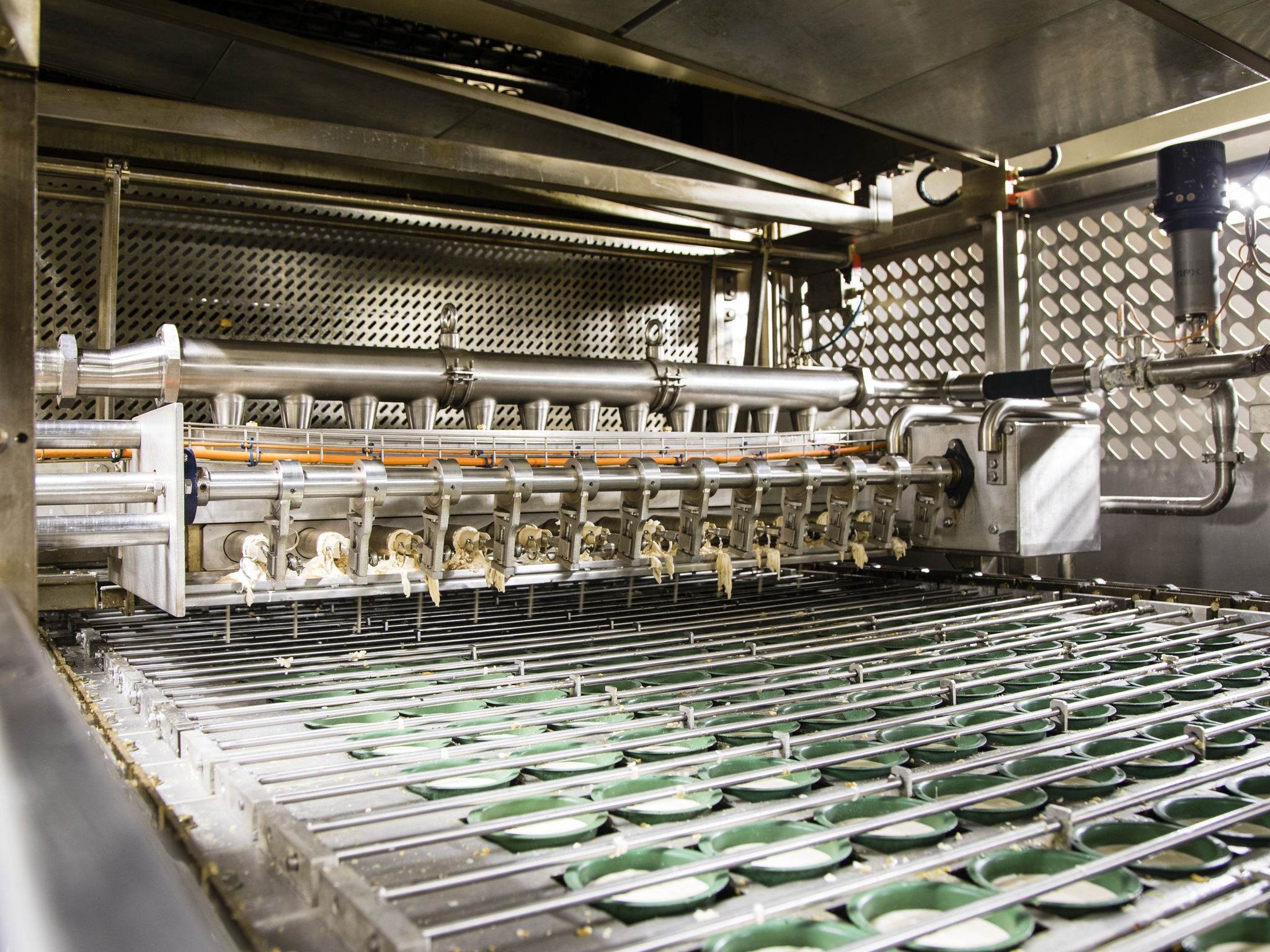 Warburtons' Enfield plant is the largest bakery in Europe, covering 45,000 square metres (that's more than six times the size of the football pitch at Tottenham Hotspur's new stadium, FYI). As Nicolouzos shows me around, it just keeps on going. The endless production line looks like a kind of organised chaos – mixers are mixing, hot-plate belts are cooking and robot arms are picking up dud crumpets with ruthless single-mindedness. It's seriously impressive and about a million miles from a sedate afternoon tea, but the Warburtons empire came from humble beginnings. Thomas Warburton and his wife Ellen opened a grocer's in Bolton in 1870, but it wasn't until six years later they turned their attention to bread. Before long, their hot loaves were selling like hot cakes and within two weeks their tiny shop had become Warburtons the Bakers.
Nowadays, it's still very much a family affair, run by the fifth generation of Warburtons – Jonathan, Ross and Brett. It has 12 bakeries and 14 depots employing 4,500 people across the UK – they all produce bread, but each specialises in other baked goods, including bagels, sandwich thins and tea cakes. The Enfield site focuses on one of Warburtons' bestsellers: crumpets.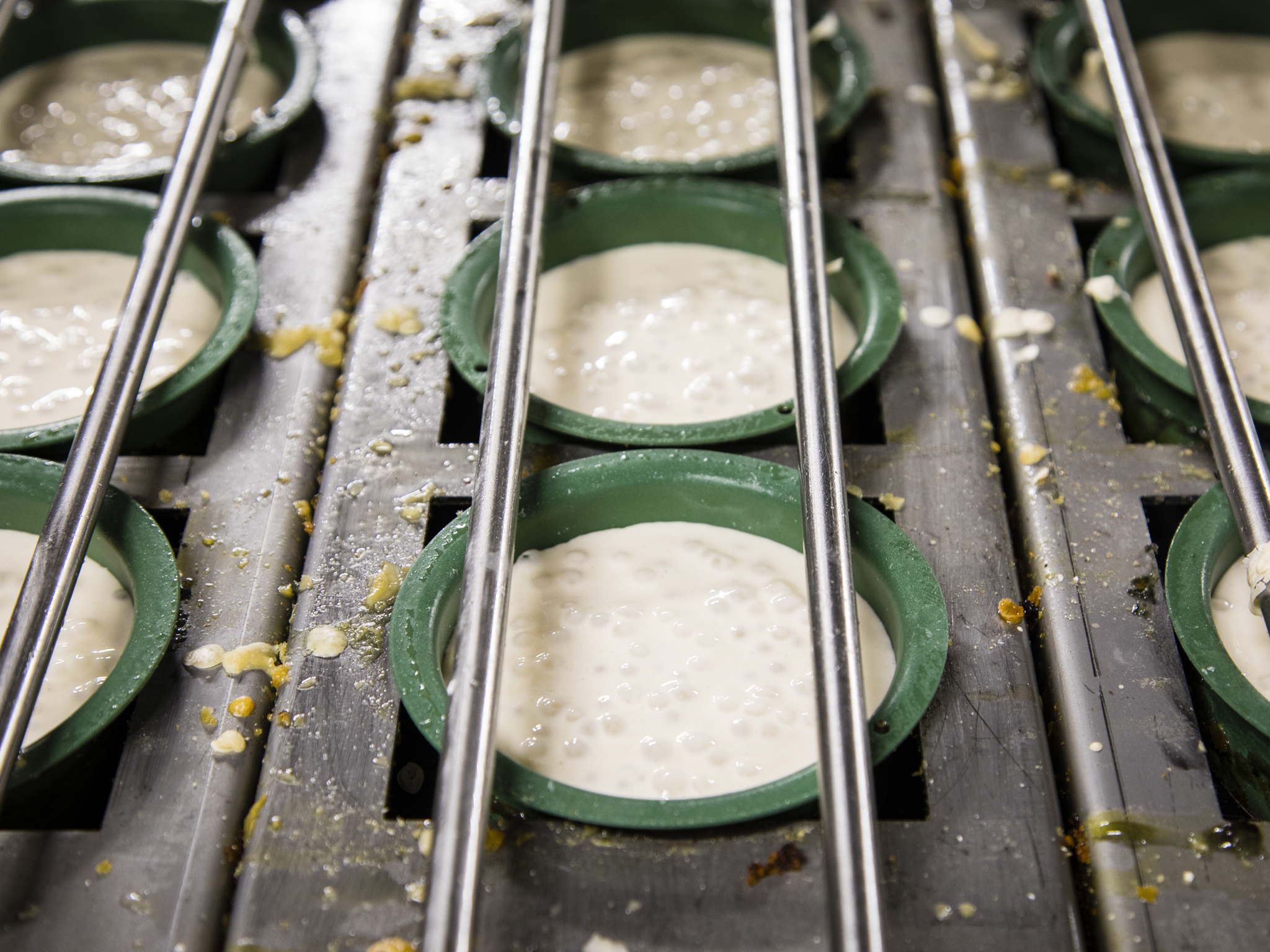 The crumpet I snaffle off the production line is just a drop in Warburtons' ocean of dough: the bakery churns out 2.2 million products every day, and nothing hangs around for long. 'Everything we make today will be out the door before eight in the morning,' says Nicolouzos. I climb the steps to overlook the distribution hall where thousands of stacked goods are waiting to be shipped out. One thing's for sure, there's no loafing about here.
How crumpets are made
Dough with the flow
A computer system weighs out a mixture of flour, water, yeast and brine, which is mixed at high speed for 20 seconds. It's then put into a fermentation tank for about 20 minutes at 40C. This process forms the bubbles which will eventually create the holes that give crumpets their trademark appearance.
The hole truth
The batter is fed through to metal rings on a hot-plate conveyor belt to cook at 200C for five minutes. The heat causes the bubbles in the batter to expand until the steam escapes, creating those all-important holes. On average, Warburtons makes 10,600 crumpets every hour and each one has about 140 perforations. Hole-y moly!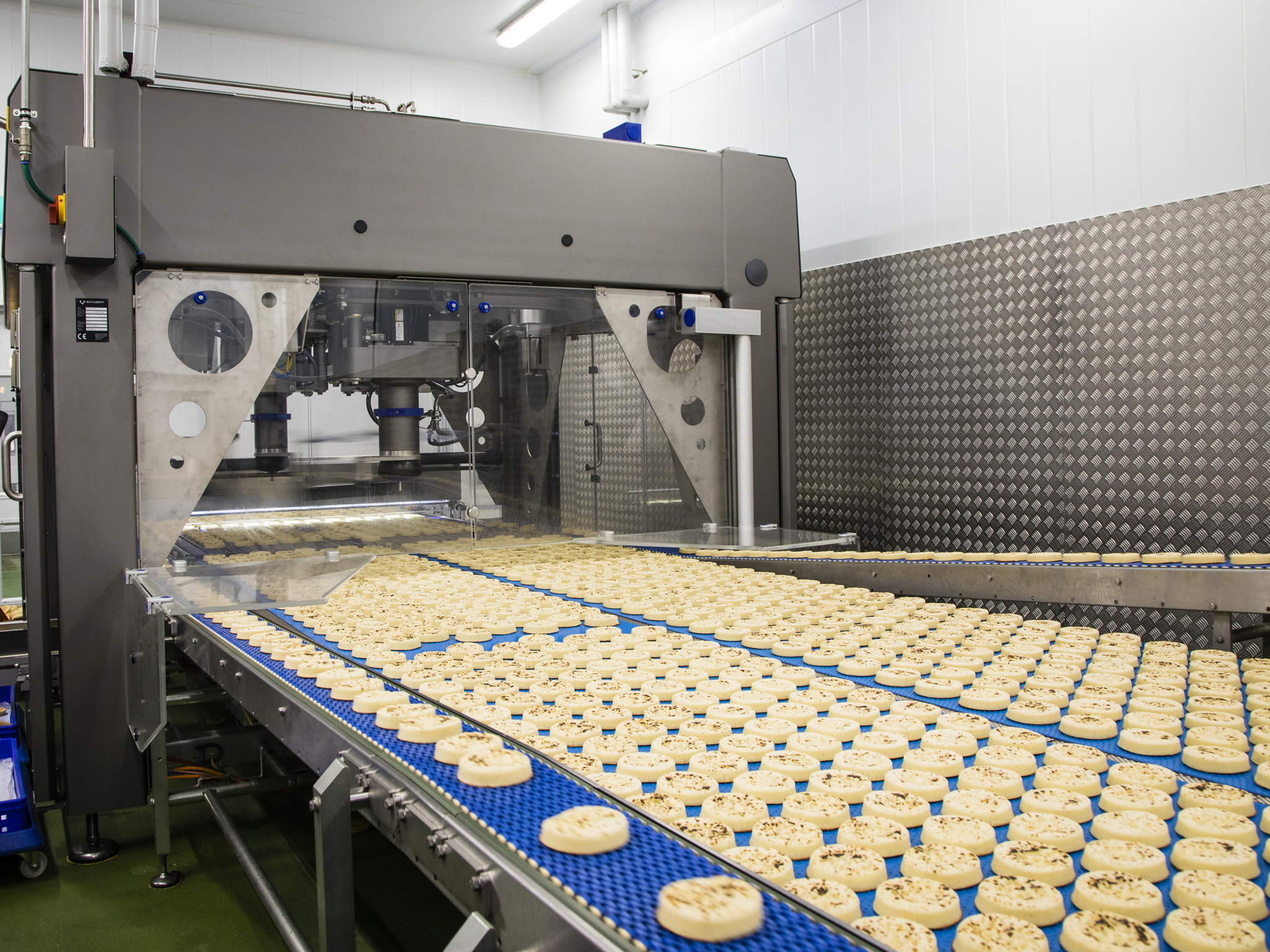 The cool down
After cooking, the crumpets go through two cold rooms, one slightly chillier than the other, so they can cool down gradually. If they're just blasted with icy air they'll become dry, but they must be below 25C before being packaged to avoid condensation and Mary Berry's ultimate pet peeve: the dreaded soggy bottom.
Bake to the future
Once cooled, the crumpets are scanned and robot arms pick out the good from the bad. More robot arms bend and fold cards while stacking crumpets on top of them ready for packaging. Any chance that they could come up with a crumpet-buttering robot arm next?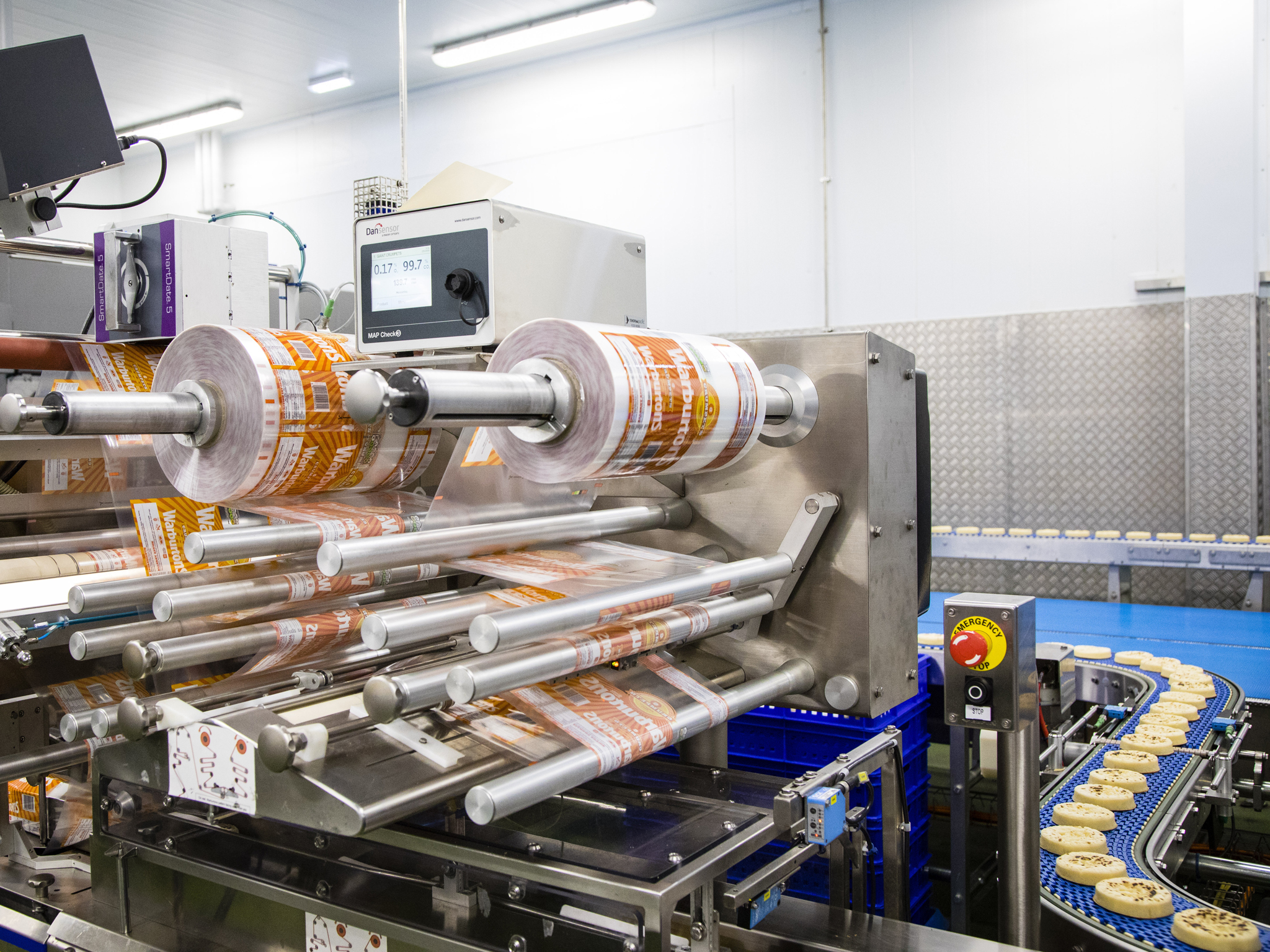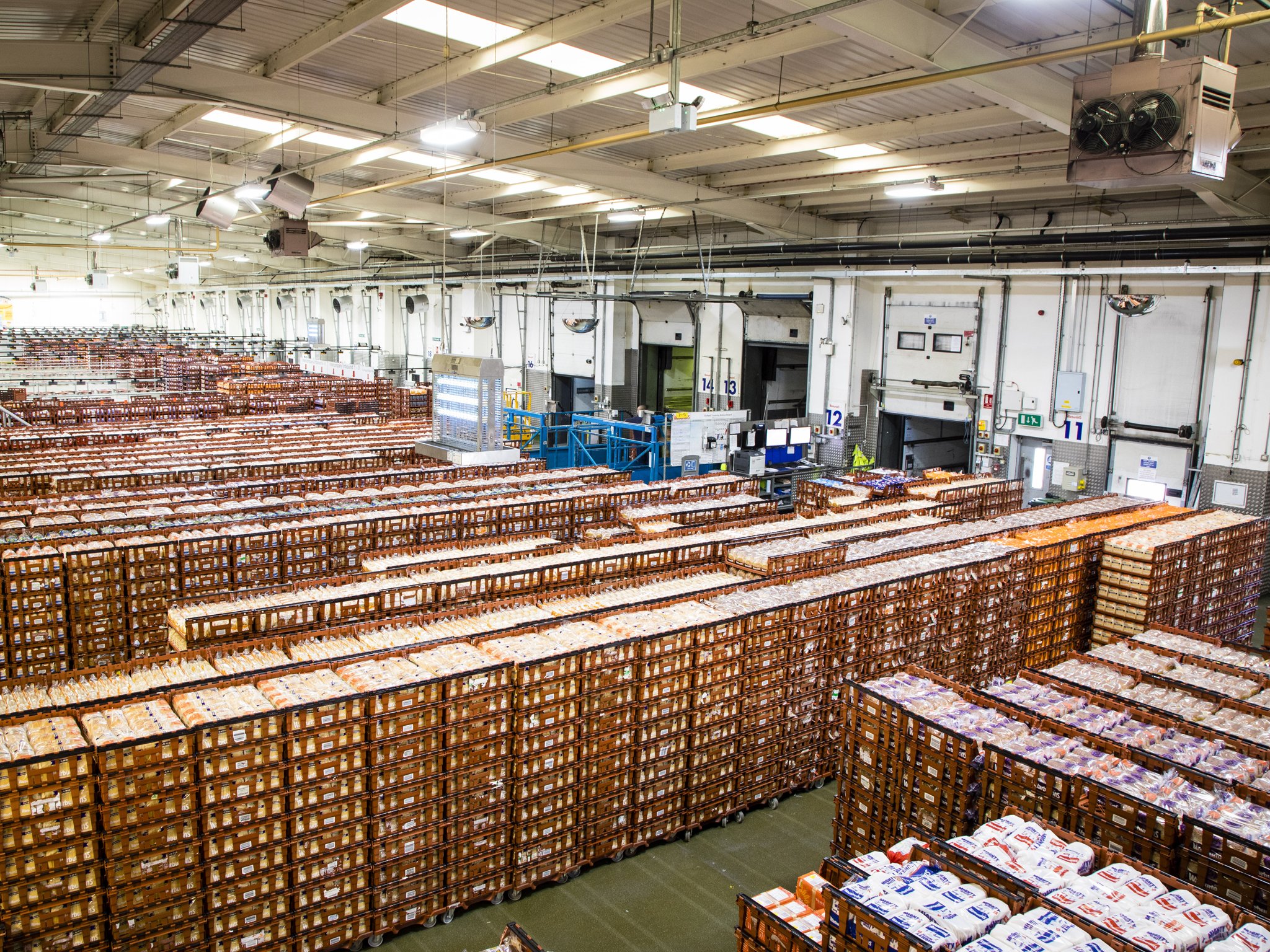 Hungry for more?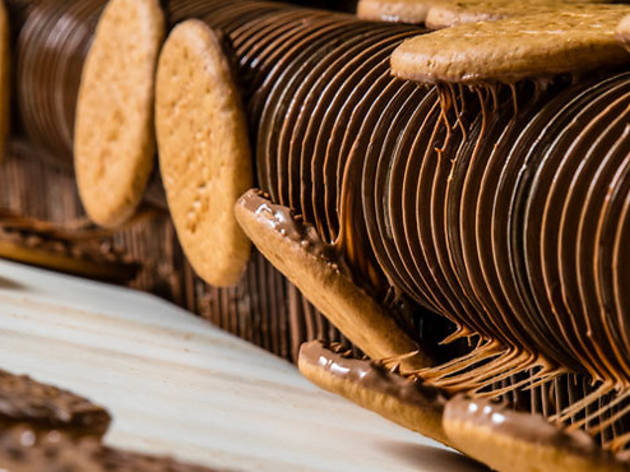 In the second of our series going behind the scenes at London's remarkable manufacturers, we find out how the cookies crumble at McVities.
Best selling Time Out Offers
Support Time Out
We see you're using an ad-blocker. Ad revenue is Time Out's main source of income. The content you're reading is made by independent, expert local journalists.
Support Time Out directly today and help us champion the people and places which make the city tick. Cheers!
Donate now