Heads up! We're working hard to be accurate – but these are unusual times, so please always check before heading out.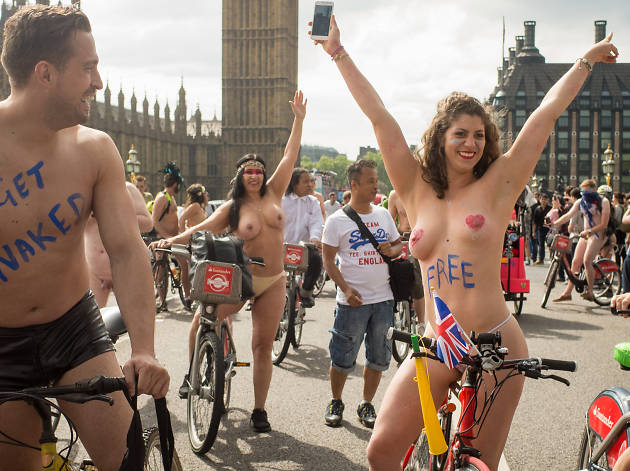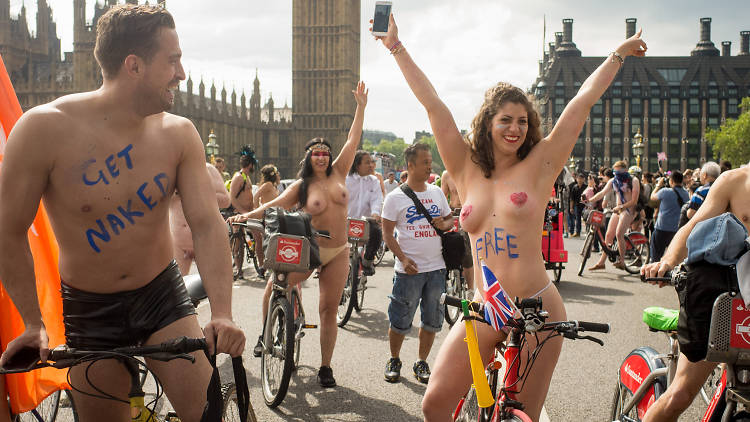 Six places you can strip off in London
Bare Londoners take part in the World Naked Bike ride every year, but there's more than one way to get starkers in this city. Have a crack at these ideas for getting naked all year round
Unless you're a committed 'never-nude', everything feels that little bit better when you're in the nip. Sleeping, sunbathing, swimming: they can all be improved by stripping off. In the buff cycling, though? That's next-level nudity. And yet every year, hundreds of Londoners channel that Queen video for the annual World Naked Bike Ride; all in protest at oil dependency and our car-centric culture. We know propping your privates on a Boris Bike isn't everyone's idea of fun, though, so we've sought out some other ideas for those with the naked ambition of getting their kit off in London.
1. Derobe for dinner at The Bunyadi restaurant
Last year The Bunyadi pop-up brought new meaning to 'naked lunch' with a restaurant that allowed you to dine in the buff by candlelight. It turned out a whole lot of Londoners were willing to risk spilling soup on their areolae: before The Bunyadi closed its doors in SE1, the waiting list was around 46,000 people long. Its founders are now fundraising for a permanent London site.
All will be revealed on thebunyadi.com.
Free the nipple at this 1920s art deco Turkish bathhouse in Bayswater. Nudity is welcome at the single-sex sessions, where you can wander buck nekkid in the sauna and steam room or enjoy a good schmeissing. Sadly the spa is under threat from its new operators, who aim to focus on mixed gender sessions, which would mean covering up (boo!). Devoted spa users have started a Change.org petition to maintain the building as is and keep its nudie status quo.
Men only: Mon, Wed, Sat. Ladies only: Tue, Thu, Fri. Non-member entry £28.55. Members £21.20.
3. Do a starkers downward dog
Yoga sessions usually involve getting face to face with a stranger's lycra-clad backside, so Altogether Yoga's male-only naturist classes are not for the fainthearted. Participants will knot, twist and contort their naked bodies into unfathomable shapes, and witness their perineums from never-before seen angles. You'll need to bring your own mat (make sure it's nonslip) and an open mind.
Urdang 2. Mon and Thu. £14. Also at Synchronicity Studios. Every Wed. £15.
4. Go skinny dipping in Bloomsbury
There's nothing more freeing than a slippery naked swim, but we can't all live like we're on spring break: 'legal skinny dipping' is a bit of an oxymoron in this city. If you're really hanging to dip-your-nip, try Energybase in Bloomsbury, where Naturist London hold a regular Sunday Swim from noon-2pm. No membership required, just turn up and wear nothing but a smile (while you're in the water, that is).
Energybase. Goodge St. £10.
If you're comfortable showing the dark side of your moon, you could try a turn as a life model. It's strenuous (be prepared to tremble sweat as you hold the same pose for 45 minutes) with payment £10-£20 an hour. Most drawing schools source their models online.
Register of Artists' Models: modelreg.co.uk.
Rio's naturist spa in Kentish Town has undergone a bit of a refurb after suffering a fire in 2016 when one of the punters accidentally poured oil over the sauna's hot coals instead of water. Now it's back in action with two new steam rooms, a Jacuzzi and plunge pool open to both couples and singles on a 'pay as you use' policy. If you're flying solo, avoid Saturday nights between 6pm and 12am, when the spa is couples only (and a popular haunt for swingers).
Rio's. Mon-Sun, 11am-7am. From £8-£53.
Looking for less innocent naked fun?
Prudes, beware – we've rounded up London's naughtiest bits and put them right here for your titillation. Discover the best adult fun to be had in London.