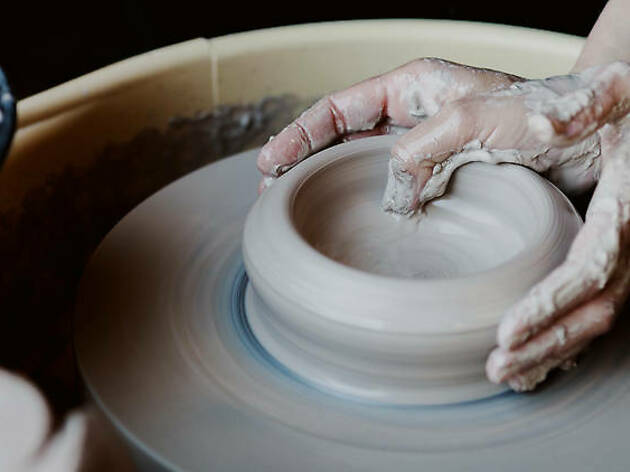 Time Out says
When work gets too stressful or your every day feels mundane, do you often think 'That's it! I'm quitting and going to become a potter!'? That's exactly what Danish lawyer Stine Dulong did. Sick of her day job in the City and doing pottery as a hobby, Stine decided to take the leap and carve out a clay-based career for herself. She rented a beautiful light-filled studio in De Beauvoir which she filled with plants, her gorgeous creations and her cute labrador and started selling her stylish Scandinavian minimalist ceramics to the likes of Nigella Lawson, Ottolenghi and Tom Kerridge.
Sounds like the good life right? Well let's be real, most of us probably can't jack in the day job just yet. Luckily, Stine now opens up her studio for 12-week pottery courses for all levels from beginners to advanced where you can get a real idea of the joys of playing with clay. Over the weeks you'll learn hand building techniques including pinch pots, slabbing, coiling and how to combine them. You'll also get expert hands-on tuition on the pottery wheel (not in a creepy 'Ghost' way!). You'll then finish off your pieces by trimming and glazing them, and at the end of the course you'll leave with lots of lovely wonky creations.
The classes are for 12 people maximum so you get lots of attention but also freedom to experiment. Surrounded by Stine's beautiful designs, you can create your own Skandihus-inspired pieces or just freestyle. The vibe of the class is concentrated but relaxed: you start by learning the techniques and then you can drink coffee, listen to music and chat with your fellow potters as you work. It's a gentle and productive way to start your weekend or spend an evening, and for anyone who sits at a computer all day, it's a welcome treat to get a bit messy and create something with your hands. Plus, it's the perfect chance to work out if you should give up your day job just yet.
Once you've finished the course, if you've caught the ceramics bug, there's also open access every Sunday from 10am-1pm where you can continue work on your own clay creations.
SkandiHus now has a second studio at Unit 4, Tilia Rd, E5 8JB.
SkandiHus Pottery Studio says
SkandiHus provides amazing 12 week pottery classes for all levels from their beautiful studio in De Beauvoir in Hackney. The studio can also be hired for private events at really affordable prices.
Details
Best selling Time Out Offers