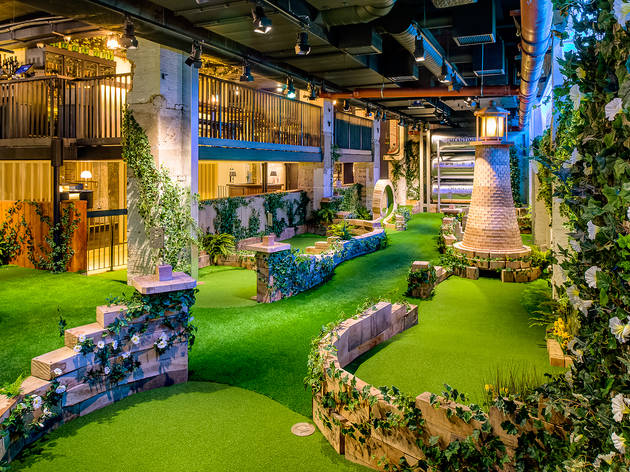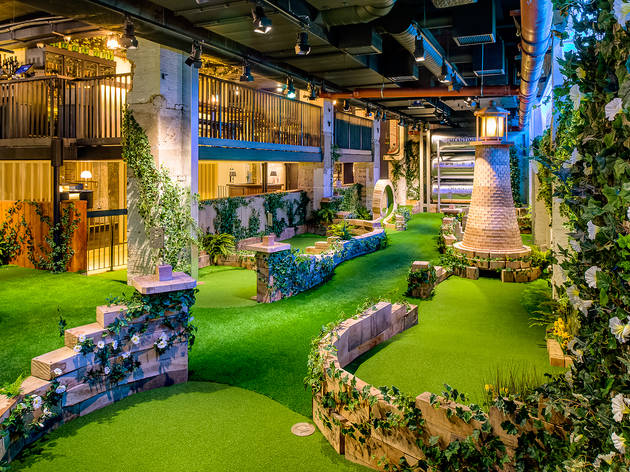 1/9
Paul Winch-Furness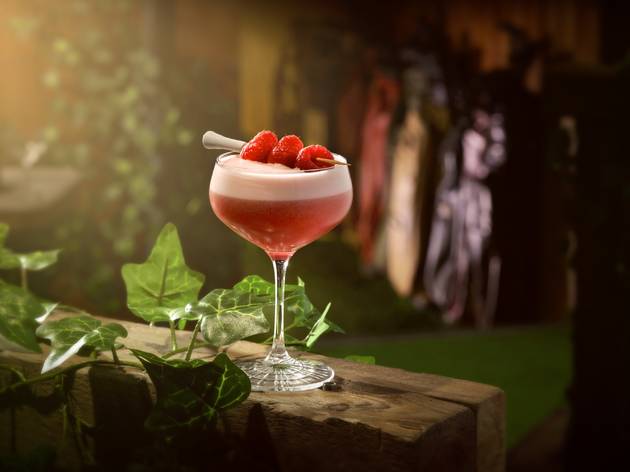 2/9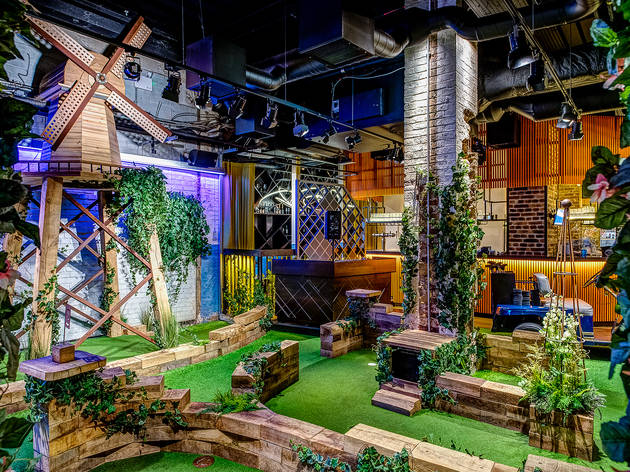 3/9
Paul Winch-Furness Photographer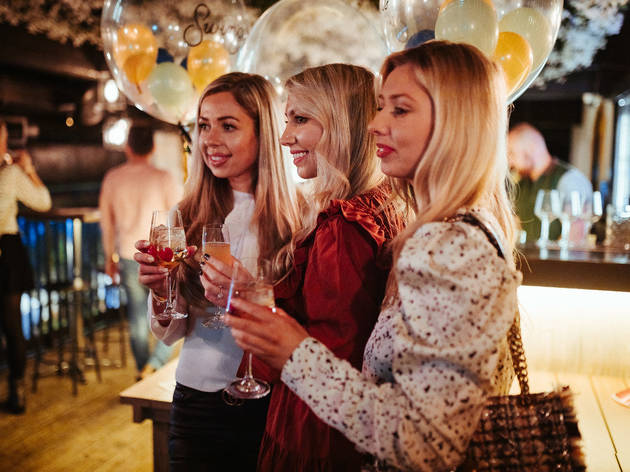 4/9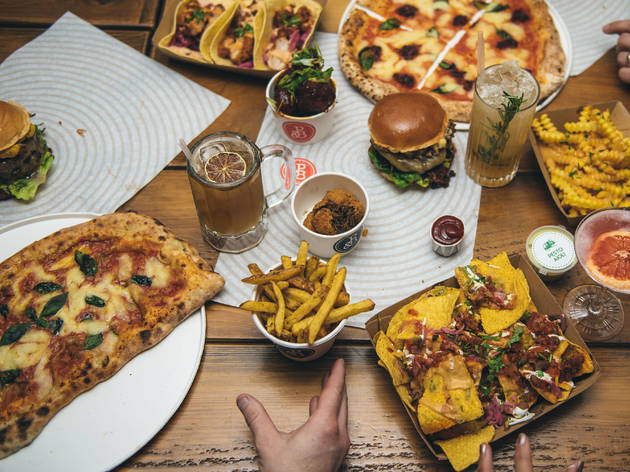 5/9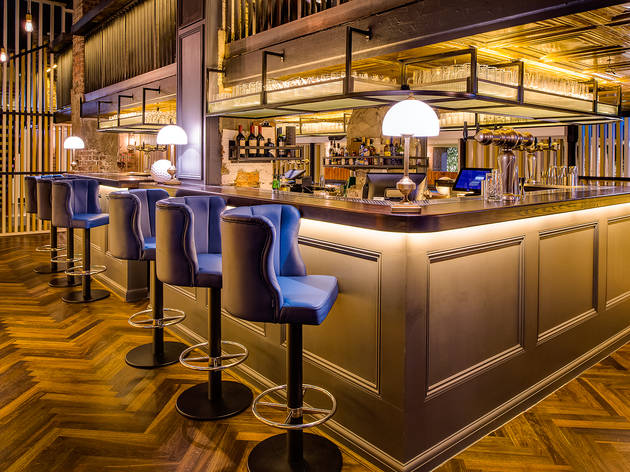 6/9
Paul Winch-Furness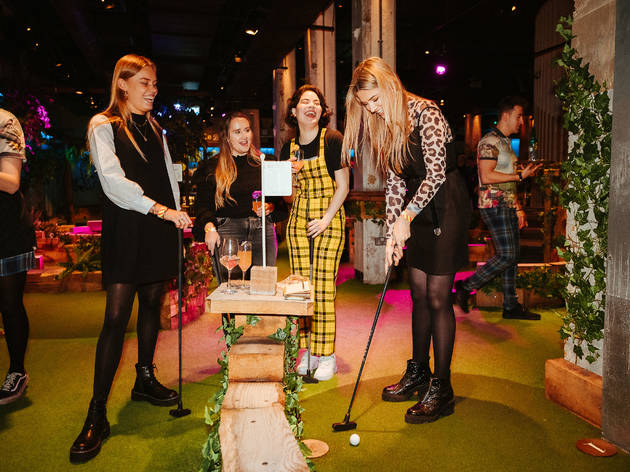 7/9
LAURENCE HOWE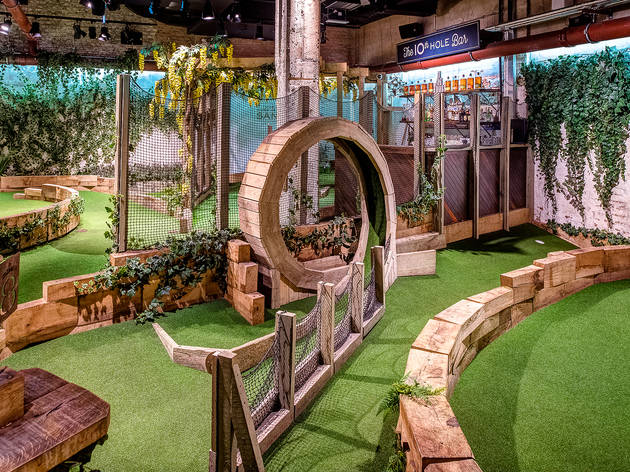 8/9
Paul Winch-Furness Photographer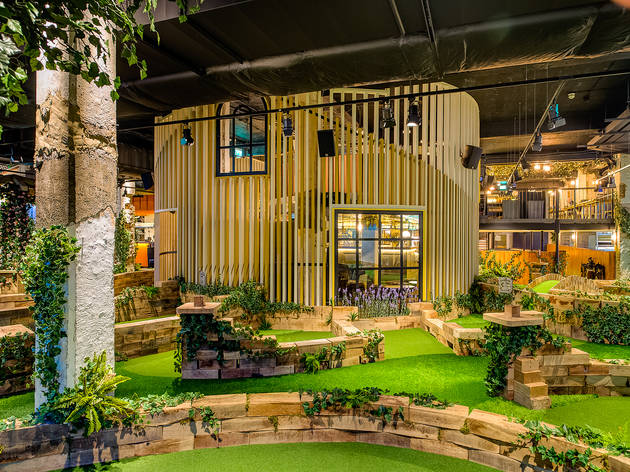 9/9
Paul Winch-Furness
Time Out says
A crazy-golf club in the heart of the City, where players can enjoy 16,000 square feet of 1920s themed golfing. There are two bespoke, nine-hole courses, five (count 'em) bars, a trio of street food vendors (currently Pizza Pilgrims, Patty & Bun and Breddos Tacos), DJs and a two-storey clubhouse with a terrace. All this in an fairly innocuous office block beside the Gherkin.
Tickets are priced £10-£13.
Swingers City says
Comprising two 9-hole crazy golf courses with three incredible street food vendors, five cocktail drenched bars and a two-storey clubhouse, Swingers is the ultimate destination for a spot of competitive socialising.

Swingers is based on a 1920's golf-club set in the bucolic English countryside. The venue is just a stone's throw from the Gherkin in the heart of London and features the following:

• Two bespoke nine-hole crazy golf courses
• Five cocktail drenched bars
• Three of London's best street-food vendors: Patty&Bun, Pizza Pilgrims and Breddos
• A two story clubhouse with gin terrace
• The Swingers scorecard app
• Nightly DJs

Please note: Swingers is an over 18 years old venue & guests will need to provide valid photo ID.
Details
Address:
8 Brown's Buildings
London
EC3A 8AL

Transport:
Tube: Aldgate
Contact:

New

Private events:

This venue has areas available to hire for private events

More info

Do you own this business?
Average User Rating
4.5 / 5
Rating Breakdown
5 star:

15

4 star:

13

3 star:

0

2 star:

0

1 star:

0
This was an incredible find for a first date. We arrived and ate at the street food stalls (it was a shame Patty and Bun wasn't open), which was delicious and reasonably priced.
It's useful to know there's a free cloakroom, so you can play with ease! The staff in the whole venue were so lovely, and the woman who explained the golf was so friendly and cheerful we had a lovely chat with her.
The golf itself is fun, and the whole venue aesthetic alone is almost worth the entry price!
I give it 4 stars, because the venue was actually a little loud. As well as the other punters trying their skills at crazy golf, they were playing too-loud pop music accompanied by flashing lights, which feels quite jarring.
However, I have already recommended it to my flatmate for a unique date-night. I also have many friends who I think would love it.
Great place to spend a nice, fun evening with friends over a game of crazy golf.
Good choice of food, with Pizza Pilgrims and Patty & Bun amongst others, combined with a wide range of drinks to choose from.
I would definitely recommend swingers if you want a fun day out! It gets pretty busy so I would advise booking in advance but they do also take walk-ins. We had booked a slot but we still had to wait for our tee-off time. After our golf session had some drinks and food in the upstairs bar which is a cool space to get away from the craziness of the golf! They have food stalls of restaurants that are usually busy so it's quite a clever way to visit any of the restaurants without having to queue! We loved the golf so much that we had another round on the other course!
For a fun evening with friends that's a bit different, this is one of those London discoveries that's like gold dust! Opposite the Gherkin the sprawling venue is decked out with a themed crazy golf course and offers an evening of hilarious entertainment as your friends get competitive and show off their golf moves! With nine holes and two courts each course is quite a good length of time; and there's a food court with popular names like Pizza Pilgrims and Hoppers for when you're recuperating between games.
Going on a Thursday evening the place was full and buzzy without being packed; as I imagine it is at the weekends; and from experience it seems that smaller groups of 2 - 4 are probably preferable if you're all wanting to play on the course at the same time. The place has a real energy about it and the staff are all extremely helpful and enthusiastic; if you run out of drinks you can also ask them to bring more to the course for you, there's a great cocktail list to help get your evening started!
Love love love the music here, and think it's just a great place to eat, catch up, hang out or play golf. I think it's got such an ideal location - a stone's throw away from Liverpool Street station but it's one of my favourite places in London. It can be as cheap as you want it, with a great selection of all my favourite food places: P&B and Pizza Pilgrims, I just can't recommend it enough honestly!
Pre booked this awesome venue 3 months prior when I first heard about it. Got a deal of £25 each which included one round of 9 hole crazy golf & 2 drinks! Absolute bargain. As soon as you walk in this pop event - it definitely wows with every detail from the green green turf to the food & banging tunes played by a live dj. One of my friends also got a hole in one & was rewarded with a free shot 🎉🎉I would advise pre booking to avoid disappointment.
Great fun in the heart of London, went for Father's Day and enjoyed it a lot. The floating bar staff were especially useful, ensuring plentiful booze while you swing.
The whole thing was 9 holes, which felt a little short, but the bar and pop up food stalls meant that you can hang around and just soak up the atmosphere. Swanky toilets too, making you feel like a country gentleman about town.
Loads of fun putting round the greens, nice drinks, good food, sexy bar staff. What's not to like? The best bit was bumping into some guy from Made in Chelsea and asking if he was from The Only Way is Essex :-D
The new Swingers has a permanent home at the foot of the Gherkin. It is really well organised, great food and fab drinks. Would recommend for a fun night out with friends.