Heads up! We're working hard to be accurate – but these are unusual times, so please always check before heading out.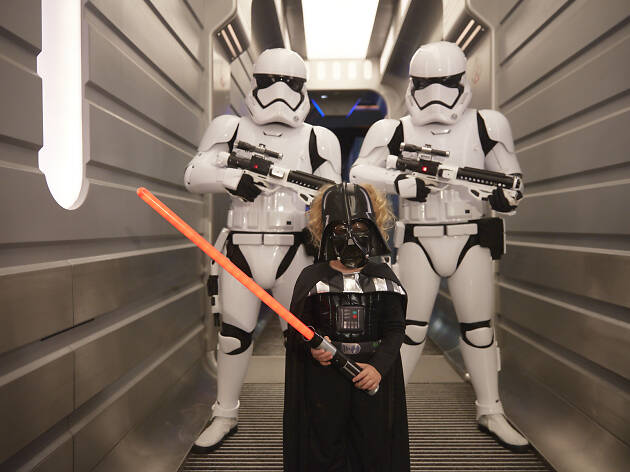 Take the family out of this world with the Ultimate Star Wars experience at Disneyland®Paris
If you and the kids are bored with the same old family holidays, take them somewhere a bit special: to a galaxy far, far away...
Good news for intrepid adventurers: travelling to another galaxy doesn't mean mastering hyperspace travel. You just need to hop over to Disneyland Paris and enjoy Legends of the Force – A Celebration of Star Wars.
Taking place from January 12 until March 17, 2019, this thrilling new season has something for everyone, whether you're a Star Wars fan (no matter how casual) or a complete newbie. Guests can explore the Star Wars universe as a family, making the most of a range of spectacular shows, immersive experiences, exciting rides, attractions and much more.
In fact, the kids will be having so much fun at Legends of the Force that they won't want to leave – and neither will mum and dad, to be honest. But don't worry, because when you do step out you'll be in Disneyland Paris, meaning there's another whole world of wonderful adventures to lose yourself in.
Jean-Claude Coutausse/© Disney © & ™ Lucasfilm Ltd.
You'll have a dizzying choice of restaurants to choose from, including tons of venues that the kids will love, from the classic Café Mickey (where they can meet their favourite Disney heroes) to Captain Jack's Restaurant des Pirates, where they can get into the swashbuckling spirit. And then there are the shopping options,with goodies to suit everyone, from toys to clothing to homeware to foodie gifts to art. Don't forget to visit the Star Traders store, which will be selling a whole galaxy of Star Wars-themed clothing, accessories and gifts. It's like shopping in a Star Destroyer.
Getting to Disneyland Paris to make the most of all this really couldn't be easier. You can reach the parks by Eurostar, by flying to Paris from select UK airports (by plane and not an X-Wing Starfighter, remember) or by car, via a ferry or Eurotunnel Le Shuttle to Calais
Once you're there, parents can rest easy that the kids won't just be entertained by Legends of the Force, they'll be absorbed in every minute of this epic journey – as will parents themselves, because you're never too old or young to join the Rebel Alliance. Here's just a taster of how you can give the family a truly unforgettable holiday. And remember that Legends of the Force is only on for a limited time – January 12 to March 17, 2019 – so start planning your holiday now. The Rebel Alliance needs you!
And remember that you can win a two-night holiday package to Disneyland Paris to experience Legends of the Force in all in its glory. For information on the prize and entry details, visit www.timeout.com/legends.
5 ways to take the family out of this world
© Disney © & ™ Lucasfilm Ltd.
1. Sign-up the whole family for a high-octane mission in Star Tours: The Adventures Continue
Hop aboard StarSpeeder 1000 and get ready for a fast-paced 3D adventure that'll whisk you all across fascinating planets from the Star Wars universe in incredible 3D detail. You'll think you're right there in the action at every turn and bump, and luckily C-3P0 makes an appearance along the way to give some helpful – well, helpful-ish – advice for your mission.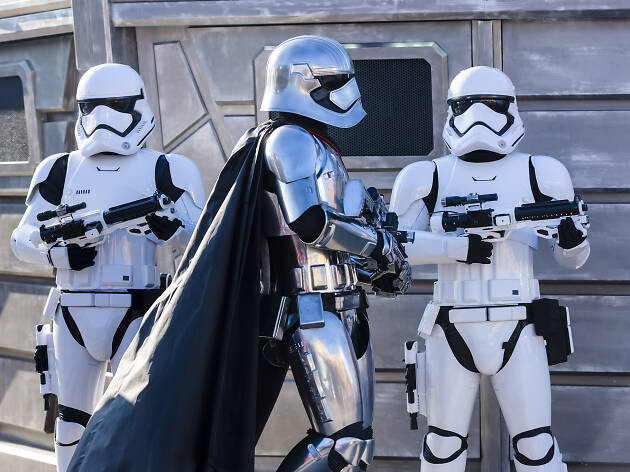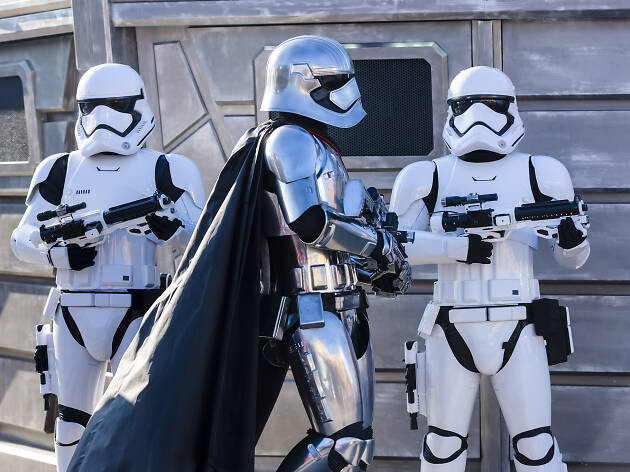 © Disney © & ™ Lucasfilm Ltd.
2. Come up with a family cover story when you're questioned by Stormtroopers
Watch out for battalions of Stormtroopers while you're exploring Legends of the Force, as they'll be on patrol to search for members of the Rebel Alliance. Remember to keep your cool if they question you and, most importantly, come up with a cover story for the family beforehand. If you manage to convince them, you might just be able to grab a sneaky selfie with a Stormtrooper.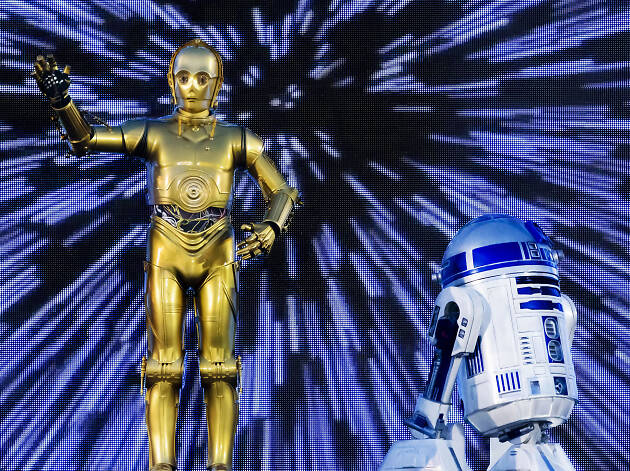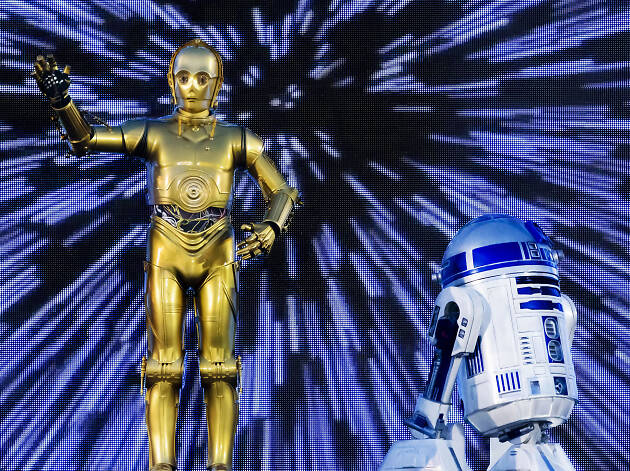 © Disney © & ™ Lucasfilm Ltd
3. Hum along to the musical score during Star Wars: A Galaxy Far, Far Away
One of the many things that makes Star Wars so epic is its dramatic musical score. The good news is that the family can hum along to all those timeless tunes in – hopefully – perfect harmony as you watch unforgettable moments from the Star Wars saga at this magical show. Look out for characters on both sides of The Force, including Kylo Ren, Rey, Darth Maul and – shudder – terrifying bounty hunter Boba Fett. But don't worry about Fett bothering you and the family – he's way too busy looking for a loveable rogue named Han Solo. Best pretend you haven't seen him if you do catch a glimpse.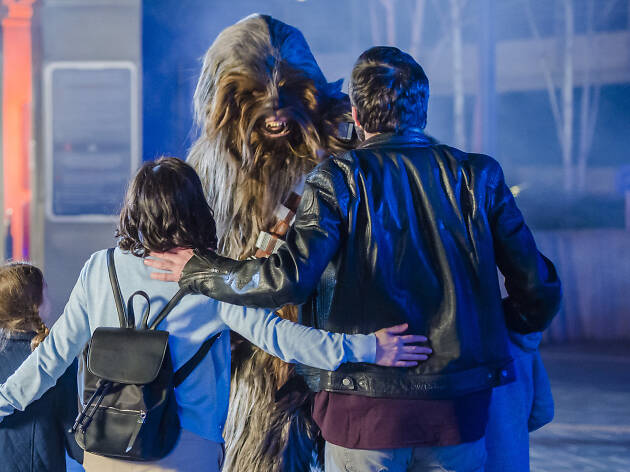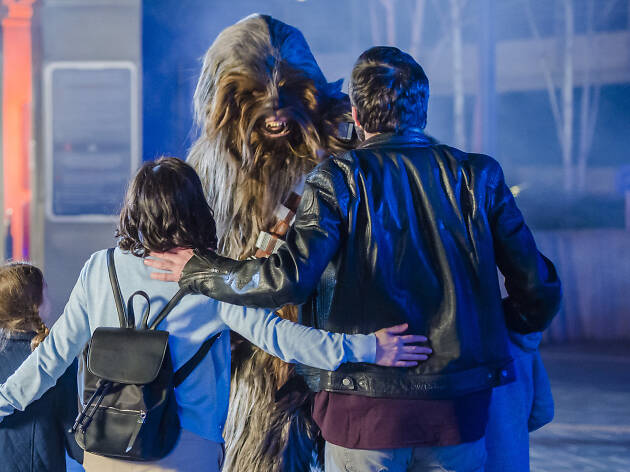 © Disney © & ™ Lucasfilm Ltd.
4. Get a furry group hug from Chewbacca
Everybody loves Chewbacca. As in, literally everybody. Even if you've never seen any Star Wars films, one look at this wonderful, towering wookiee and you'll be won over. Chewie will be out and about at Legends of the Force, so you'll get the chance to meet him and say hello – preferably in your best wookiee wail. Fear not if you can't quite master the noise, as he understands human languages, too. Best of all, his ginormous arms might just fit around your entire family when he gives you a group hug.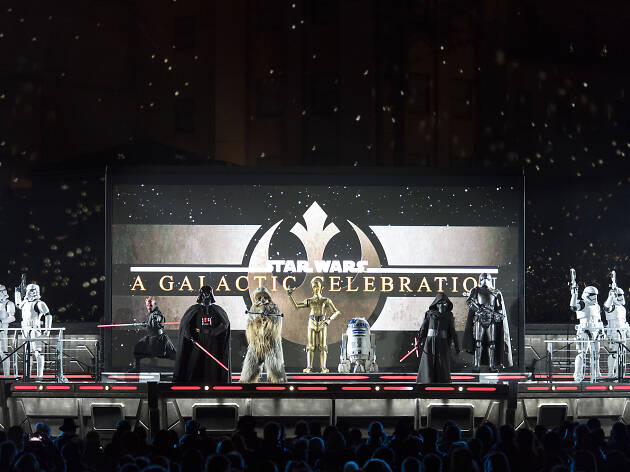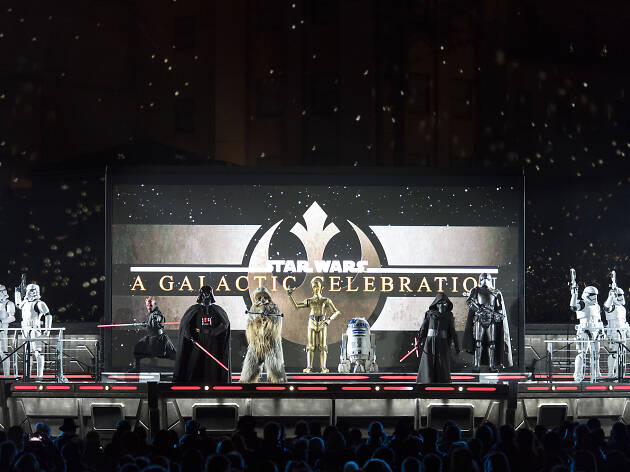 Bertrand Guay/© Disney © & ™ Lucasfilm Ltd.
5. See the whole family be awestruck by Star Wars: A Galactic Celebration
As evening draws in and you think you've seen it all, get ready for the entire family to be blown away by another huge event. This incredible show takes place at dusk for extra atmosphere and features sequences inspired by classic scenes, including highlights from 'Star Wars: The Last Jedi', which is projected on the Twilight Tower of Terror. There'll be lightsabers, there'll be droids, there'll even be an appearance from The Empire. Just remember that Star Wars: A Galactic Celebration is only on for a limited time during the season, so don't miss out.