Heads up! We're working hard to be accurate – but these are unusual times, so please always check before heading out.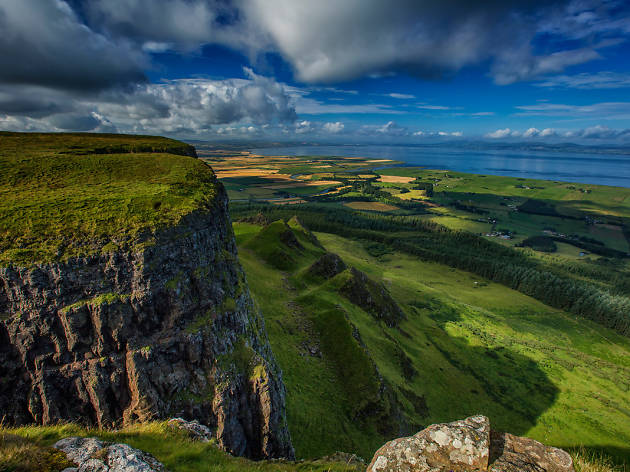 Taste the Greatness of Northern Ireland
A four-day pop-up at Borough Market is showcasing some of the world-class food and drink of Northern Ireland. Get down there for gin, cheese, oysters and more. Oh, and a great St Patrick's weekend!
If you're looking for a bit of inspiration for great things to do around St Patrick's Day in London that steer well clear of the clichés, take yourself down to Borough Market, where you'll have the opportunity to Taste the Greatness of Northern Ireland in a fantastic four-day culinary pop-up. From March 14 to 17, some of Northern Ireland's most highly regarded food and drink producers will be congregating in SE1 to wow Londoners with some of their most celebrated flavours.
There's stuff you might expect (oysters, cheese and freshly baked potato bread, smothered in melted butter) and stuff that might surprise you (Lough Neagh eels, dulse and seasalt butter, and almond butter cups). All the producers featured in the event, though, have one thing in common: a passion for the quality and diversity of the food and drink from Northern Ireland and the culture and landscape which helps create it.
The vibrant Borough Market is the perfect immersive setting to experience these authentic flavours. As a focus of London's internationally renowned artisanal food scene, it's also a great place to reflect that quality and provenance are at the heart of all great ingredients and – ultimately – all great restaurants.
Northern Ireland has a blossoming reputation as a producer of world-class gastronomy; its experts mix time-honoured tradition with cutting-edge approaches, giving a distinctly twenty-first-century twist to their products. Londoners have just been introduced to this mix first-hand at Derry-Londonderry chef Niall Ferguson's celebrated Nuala restaurant and bar, which both showcase Northern Ireland's unique modern reimagining of its culinary heritage.

Along with a chance to sample some unbelievably delicious products from Northern Ireland, visitors to Borough Market can catch a live cookery demonstration from top chef Paula McIntyre. Paula is a great champion of produce from Northern Ireland and will be showcasing delicacies such as smoked Lough Neagh eels. St Patrick mythically rid Ireland of snakes, driving them into the sea, where they became eels. So what better way for Londoners to remember him this year than with some eels (of the non-jellied variety), and an authentic taste of Northern Ireland? Here are some other highlights you shouldn't miss.
Krazi Baker
Great Taste Award-winner Mark Douglas is mad for bread. All kinds of bread. His stall is a regular fixture at street-food markets in Belfast, where people queue up for his yeast-free, fresh-off-the-griddle soda farls, pancakes and potato bread. Basically, Mark cooks bread right in front of you, and it doesn't get much fresher than that. If there's still a nip in the air come St Patrick's Day, beat a path to the Krazi Baker.
Photo: Michael Burch
Burren Balsamics
You might not think that the sunkissed Mediterranean warmth of a top balsamic vinegar
is the kind of thing being produced in Northern Ireland, but you'd be dead wrong. Burren Balsamics is located in the heart of County Armagh, the 'orchard county'. The fresh fruit of the area is used whole in the vinegar, giving it amazing flavour. Who needs Italy?
Irish Black Butter
In the interests of full disclosure, Alastair Bell's innovative Irish Black Butter involves no dairy, though it is great on toast. Made from Armagh bramley apples, cider, brandy and treacle, plus spices, this unique conserve is truly versatile. You can use it as a jam, but it's also great with cold meats and cheese, to pimp-up an apple pie or over ice cream. Bell's inspiration came from memories of picking apples on the family farm, along with the apple jelly of Ballymoney. The result is a truly original taste that's unique to Northern Ireland.

Shortcross Gin
Coals to Newcastle? London is famous as the spiritual home of gin, so if you're going to bring one all the way from Northern Ireland to Borough Market, it better be something special. Luckily, Shortcross Gin definitely is. Northern Ireland's first craft gin is winning awards for its unique qualities, the product of a marriage between the varied flora and botanicals of the landscape that creates it and some innovative distilling technology. The result is a gin that can hold its own in London with the best of them.
Photo: Michael Burch
Echlinville Distillery
In 2013, Echlinville became the first licensed distillery to open in Northern Ireland in more than 125 years. That's historic enough in itself, but that wasn't all. Echlinville's avowed aim is to produce whiskey that 'will tell the story of the land from which it originates, and of those who brought it to life'. To that end, it even grows its own barley, ensuring that local provenance is present in every stage of the distilling process. Its state-of-the-art glass still house reminds you that although the fertile landscape and salty air are key to Echlinville's complex whiskey, it is very much a twenty-first-century distiller.
If you're inspired by the authentic flavours of Northern Ireland that you experience at the Borough Market St Patrick's weekend pop-up, believe us, it's just a taster. Northern Ireland has an incredible diversity of food and drink producers, reflecting its varied landscape and proximity to the Atlantic Ocean, its climate and culture. Add in some Michelin-starred restaurants and some amazing culinary hidden gems and you've got a foodie destination and a half. Plus, it's famous for its warm welcome and laidback hospitality, so make it your next gastronomic destination.
For more information and culinary inspiration head to www.ireland.com/NorthernIrelandFood.