Ten beautiful and hidden UK beaches
Fancy a day by the coast without holiday-makers clogging up your sunbathing space? Check out our pick of the best off-the-beaten-track UK beaches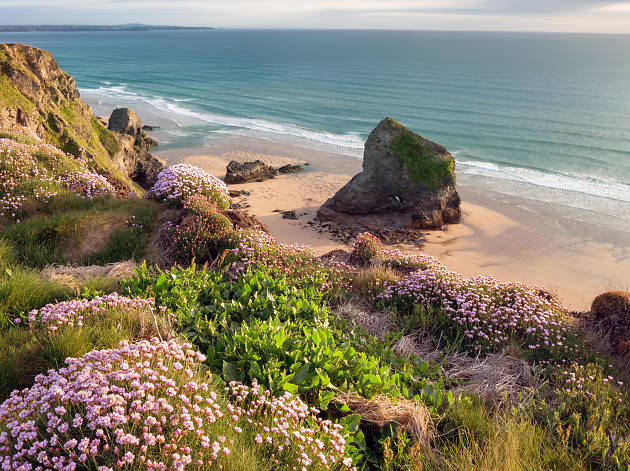 Nothing ruins a lovely day at the beach like other people being there. Bad weather, too many pebbles and over-priced ice creams can also turn a seaside sour but, if we're honest, sunbathing with half the population of Brighton is enough to send us packing. Thankfully, the the UK has some beaches up its sleeve where there are more sand grains than holiday-makers. Check out our pick of hidden UK beaches below and just try not tell everyone else, alright?
The best off-the-beaten-track UK beaches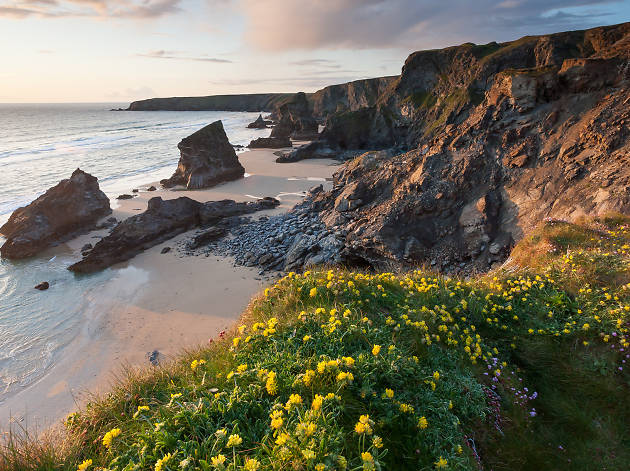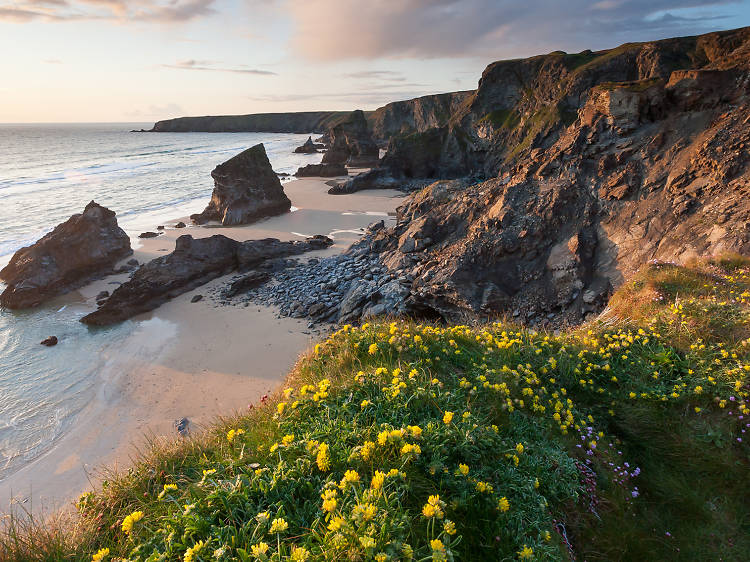 Kynance Cove, Cornwall
Where is it? On the south coast of Cornwall, two miles north-west of Lizard Point
Why go? In the rush down the A3083 to Lizard Point, many people miss the discreet sign on the right pointing them to Kynance Cove. This is a shame, because this dramatic spot is heavenly. The spectacular contrast between the white sand beach studded with outcrops, arches and caves and the colourful 200ft cliffs behind them are reason enough to visit; add in the brilliant turquoise tones of the sea on a sunny day and you have, to our minds, the best beach in Cornwall. If you're on the north coast, Bedruthan Steps' crags and peaks are equally dramatic.
Nice neighbours: Poldhu Cove, Kennack Sands
Getting there:
300 miles/six hours from central London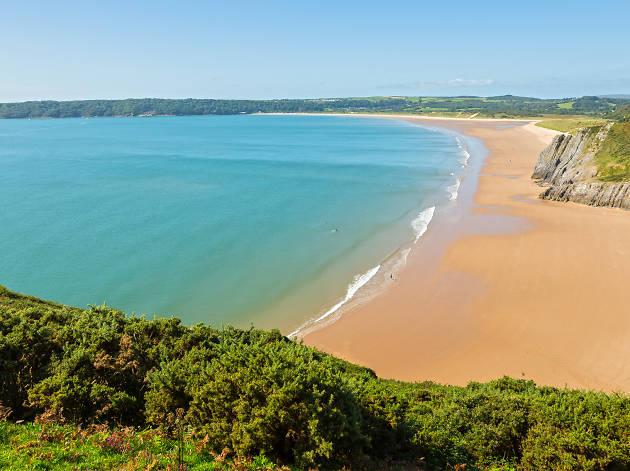 Oxwich, Wales
Where is it? On the Gower Peninsula
Why go? The Gower coast is filled with gorgeous beaches, but we love Oxwich for the alluring mix of sand dunes, salt marshes and woodland that back its two-mile sandy stretch, and for the pretty village of Oxwich. Around the headland, Rhossili is staggering and dramatic, but Oxwich is gentler, with rolling hills behind it and safe shallow waters. These do make it a popular spot during the summer, but walk east, towards Tor Bay and Three Cliffs, and the crowds give way to walkers, twichers and cyclists making the most of the glorious expanse of hard-packed sand.
Nice neighbours: Rhossili, Broughton Bay, Cefn Sidan Sands
Getting there:
200 miles/four-five hours from central London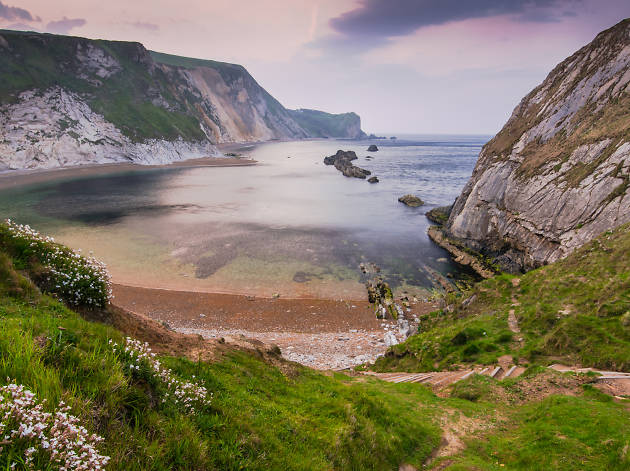 Man O'War Beach, Dorset
Where is it? On the Jurassic coast
Why go? Thanks in no small part to its arresting array of limestone-carved arches and amazing views of them from the South West Coast Path, Dorset is a deserved chart-topper when it comes to outstanding beaches. For our money, Man O'War beach tops that list for being a respite from the crowds of more famous and more accessible spots (it's a steep 800-metre long footpath from the cliff-top car park, with 150 steps), for being a great (and safe) swimming spot, for its appealing mix of sand and fine pebbles, and for its clean, shallow waters.
Nice neighbours: Lulworth Cove, Studland Bay, Chesil Beach
Getting there:
130 miles/three+ hours from central London
Runswick Bay, Yorkshire
Where is it? Nine miles north of Whitby
Why go? Despite its glorious sweep, Runswick Bay is invisible until the last minute, when you crest an unassuming hill that leads down to it. From this point, surprises and hidden treasures unfold before you; the impossibly sweet village, comprising some 90 cute honey-coloured cottages capped with red tiles, doesn't appear until you reach the bottom of the hill, packed in as it is under the shelter of the cliffs rising up Lingrow Knowle. Closer inspection of the beach and bay, stretching north to the head of Kettleness, reveals wooden huts, rock pools, picturesque staircases carved out of the cliffs and, in the latter, impressive fossils dating back 180 million years.
Nice neighbours: Sandsend, Whitby
Getting there:
275 miles/five+ hours from central London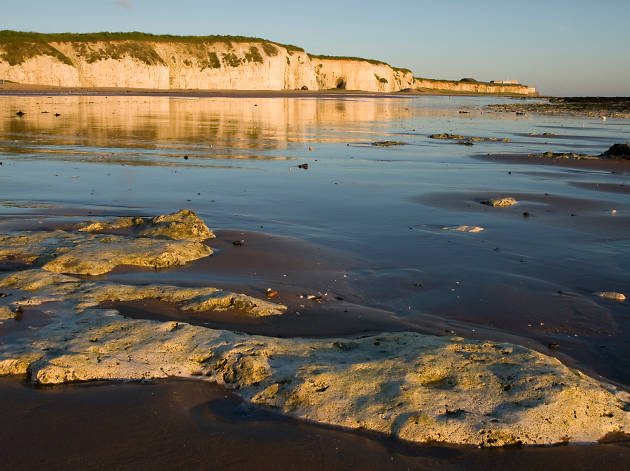 Botany Bay, Kent
Where is it? Half-way between Margate and Ramsgate
Why go? Older visitors will be humming 'there'll be bluebirds over, the white cliffs of Dover' as they take in the chalk cliffs backing this lovely bay, but younger ones will be goggling at (and probably trying to scale) the towering stacks that characterise Botany Bay, and hunting for fossils at low tide. This is when the beach is at its best, revealing rock pools, an extensive chalk reef that's deemed to be one of the best in Britain, and a hugely enjoyable shoreline walk to Broadstairs, an hour away. Stock up on sarnies and fizzy drinks from the friendly folk at the kiosk.
Nice neighbours: Viking Bay, Joss Bay, Minnis Bay
Getting there:
78 miles/two+ hours from central London
Winterton Beach, Norfolk
Where is it? Nine miles north of Great Yarmouth
Why go? It's not on the north Norfolk coast and you'll be hard-pressed to find cold-pressed coconut oil, but what you will find at Winterton is one of Norfolk's best-kept secrets. Wind your way through the picturesque village to a huge expanse of beach, complete with a ridiculously cute holiday park whose Hobbit-like round huts were inspired by huts in South Africa's Hermanus Bay, dunes and grasses that are home to all manner of wildlife, and an ace caff that does do huge slabs of homemade cakes and excellent Eccles cakes.
Nice neighbours: Great Yarmouth, Cromer, Holkham beach
Getting there: 135 miles/three hours from central London
West Wittering, Sussex
Where is it? Halfway between Portsmouth and Bognor Regis
Why go? This Blue Flag beach is backed not by brash amusement arcades but a 20-acre expanse of grasses, wetlands and reedbeds filled with butterflies and birds, and beyond that lie the gently undulating South Downs. The sand dune spit of East Head, reached from the far western end of the West Wittering beach car park, makes for a great bit of exploration as an SSSI (site of special scientific interest), as do the shallow pools that emerge at low tide. Pack a picnic and you've got the perfect day out from London.
Nice neighbours: East Wittering, Bracklesham Bay
Getting there:
88 miles/two and a half hours from central London
Bamburgh, Northumberland
Where is it? 19 miles south of Berwick-upon-Tweed
Why go? If a pristine white sandy beach set beneath a properly perfect twelfth century castle isn't enough, there are also lovely views of the Farne Islands, the pretty Bamburgh village, a three-mile walk at low tide from the lighthouse at Harkness Rocks to Seahouses, and boat trips from there to the Farnes, where seals and seabirds make the most of the remoteness and serenity. Nearby, Ross Back Sands offers three more serene miles of unspoiled dunes and beach – with a one-mile walk from the nearest car parking, you're likely to have it all to yourself.
Nice neighbours: Holy Island, Embleton Bay
Getting there:
340 miles/six hours from central London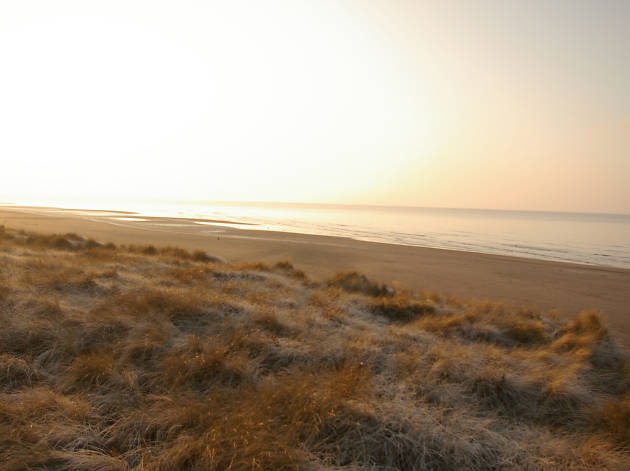 Aberlady Bay, Scotland
Where is it? 18 miles east of Edinburgh
Why go? The stretch of coastline east of Edinburgh is filled with some lovely beaches, but Aberlady is a standout for its nature reserve, great views of Arthur's Seat and the wreck of a submarine sitting ethereally on the expanse of golden sand. It's a beautifully desolate spot that's transformed into a riot of activity in autumn, when thousands of pink-footed geese descend.
Nice neighbours: Gosford Sands, North Berwick
Getting there:
390 miles/seven-eight hours from central London
Saunton Sands, Devon
Where is it? Near Barnstaple on the north Devon coast
Why go? You'll need strong legs to get to Saunton Sands, hidden as they are behind the largest dunes in Britain, but once you've conquered Braunton Burrows, what lies before you will have been well worth the effort. Three miles of gorgeous golden sands pounded by Atlantic breakers make it very popular with surfers, but video and film-makers have recognised its beauty too – as might you, from Robbie Williams's 'Angels' video or Powell and Pressburger's 'A Matter of Life and Death'.
Nice neighbours: Lee bay Beach, Wildersmouth, Mortehoe
Getting there:
220 miles/four+ hours from central London
Visit London's version of a beach
Sunbathing and sand sculptures are all very well, but when the city hots up nothing beats a refreshing dip in the open air. Make a splash with our guide to London's lovely lidos and outdoor pools.
Read more