Ten things you didn't know about marathon running
You don't have to run the marathon to know what it's all about. Without breaking a sweat, read our ten marvellous marathon facts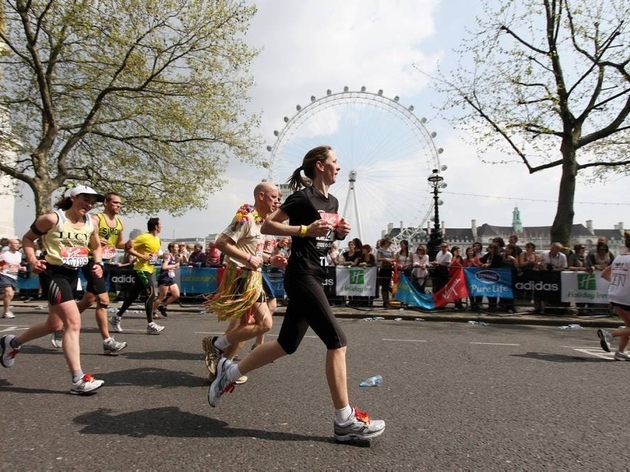 From cheering crowds to the obligatory runner in a chicken suit, year on year the capital gears up for the great day out that is the London Marathon (which takes place on Sunday April 24 2016). Whether you're limbering up to take part or just out for the fun of it, discover some amazing marathon facts as Blue Badge Tourist Guide Marc Belben tells tales of marathons past.
RECOMMENDED: Read our winner's guide to the London Marathon 2016
Our ten marvellous marathon facts
1
Taking part could be bad for your health
The name 'Marathon' originates from the legend of Pheidippides, who in 490BC was said to have run from the battlefield of Marathon to Athens, a distance of 24.8 miles, to announce the victory of the Greeks over the Persians. Pheidippides was so exhausted that he collapsed and died.
2
It's an elastic business
Today's race of 26.2 miles dates back to the 1908 London Olympics. It is said that the original distance was extended to enable members of the royal family to watch the start of the race from the East Terrace at Windsor Castle and the end of it from the royal box in the Olympic stadium at White City.
3
It's not just about the winning
One of the most dramatic moments in Olympic history took place in the 1908 marathon. On a very hot and humid day, the diminutive Italian runner, Dorando Pietri ran into the stadium in first place. Suffering from exhaustion, he collapsed four times but was helped to his feet by British officials and somehow got over the finishing line to win the gold medal. However, the American Johnny Hayes, who had finished second, complained that Pietri had been unfairly helped. Pietri was stripped of his gold medal but was later given a special gold cup for courage by Queen Alexandra.
4
Cheating's fine, as long as it's funny
One of the great Olympic scandals came in the 1904 marathon in St Louis, USA. American athlete Fred Lorz, suffering from stomach cramps, hitched a lift for 11 miles, then got out and ran into the stadium to be crowned Olympic champion. He was later disqualified and banned for life – but the ban was lifted when Lorz claimed he had done it as a joke.
5
The world's oldest marathon celebrates a British defeat
The Boston Marathon is the world's oldest annual 26 miler, dating back to 1897. For the centennial race in 1996, a world record 38,708 runners competed. Today, it's still one of the big five city marathons together with London, Berlin, New York and Chicago and is held on Patriots' Day (third Monday in April) which commemorates the beginning of the American War of Independence.
6
Going barefoot could cause a stink
The first black African to win an Olympic gold medal was the Ethiopian athlete Abebe Bikila, who won the marathon in Rome in 1960. Much to the dismay of shoe sponsors Adidas, Bikila ran the race barefoot. He returned to his country a hero, and one of the newspaper headlines the following day ran, 'It took a million Italians to invade Ethiopia but only one Ethiopian soldier to conquer Rome.'
7
It hurts
One of the great long-distance runners of all time was the Czech Emil Zatopek. Nicknamed the 'Czech Express', at the Helsinki Olympics in 1952 he won the 5,000m, 10,000m and the marathon gold medals – the only athlete ever to have achieved this feat. Asked about his pained expression when running marathons, he replied, 'It's not ice skating or gymnastics'.
8
Women were once deemed too delicate for marathon running
The first all-women's marathon was held in Waldniel, West Germany in 1973 and the first women's Olympic marathon was at the 1984 Los Angeles Olympics, won by Joan Benoit of the USA. Because some women collapsed during the 1928 Olympics 800m race, it was decided that 200m would be their maximum distance as anything beyond that would be too strenuous. This rule would continue until 1960 when the 800m race was reintroduced.
9
It's not over till it's over
The greatest British female marathon runner is Paula Radcliffe. She's still the world record holder, having run 2hr 15min 25sec at the London Marathon in 2003. She won eight of her first ten marathons. But the two she didn't win were the Olympic races at Athens and Beijing.
10
There's a 24-hour time limit
The London Marathon, founded by Chris Brasher in 1981, is the largest annual fundraising event in the world. During the last 30 years runners have made more than £500m for various charities. One of the most eccentric charity runners has been Lloyd Scott who took five days to complete the course wearing a deep-sea diving suit. He has also dressed as Indiana Jones, St George and a snail. New regulations for the marathon state that the race must be completed in one day.
Find more fun things to do this month
April in London means that the city finally comes alive with warm weather, outdoor pursuits and a whole heap of energetic things to do.
Read more
Sponsored listing
Burger & Lobster Leicester Square
Please note, Burger and Lobster's menu is now full a la carte and prices have changed. Time Out Food editors, January 2018. This Leicester Square branch of Burger & Lobster is set over two floors and swishly laid out, with plump red banquettes to effuse its proximity to China Town. Born from the minds of four schoolmates on a rooftop in London, this restaurant chain grew from a pop-up in a Mayfair boozer to ten branches London-wide, and more to boot around the the world. In case the name isn't enough of a hint, these guys specialise in lobsters and burgers. It might come across gimmicky, but ignore that initial impression because if you're after good lobster, you'd be hard pressed to find it at better value for money than here. You can get a lobster (boiled, grilled or in a brioche roll with mayo) with a substantial salad and french fries for £23-£31, depending on how you have it and which branch you're in. For a smaller budget, the beef burgers will set you back £16.
Venue says: "Simply the best burger and lobster in town!"