The Cheapside Hoard: London's Lost Jewels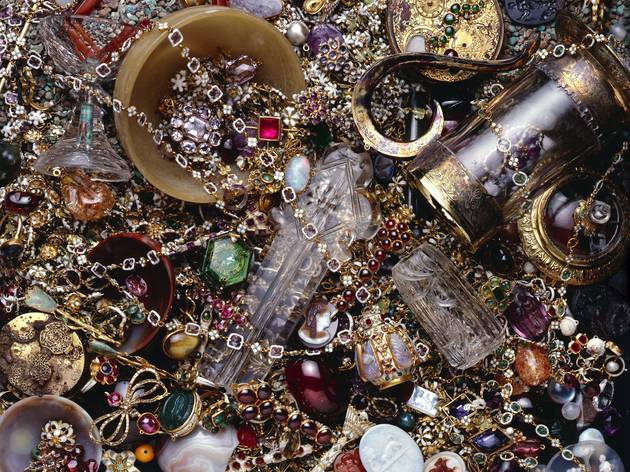 1/12
© Museum of London
Selection of items from the Cheapside Hoard. The Cheapside Hoard was uncovered by workmen during demolition work at 30-32 Cheapside in 1912.
2/12
© Museum of London
3/12
© Museum of London
Gold scent bottle enamelled white and set with opaline chalcedony plaques, rubies, spinels and diamonds, with a gold suspension chain. Part of the Cheapside Hoard. This richly decorated bottle was designed to contain perfume made from flower distillations
4/12
© Museum of London
5/12
© Museum of London
6/12
© Museum of London
7/12
© Museum of London
8/12
© Museum of London
9/12
© Museum of London
10/12
© Museum of London
11/12
© Museum of London
12/12
© Museum of London
This major new exhibition at the superb Museum of London showcases one of the most remarkable finds in London's long history. The Cheapside Hoard – discovered in a cellar only a few hundred metres from the museum itself in 1912 – is a priceless cache of some 500 late-sixteenth and early-seventeenth century jewels and gemstones.
Who owned the Hoard? Why and when was it hidden? Why was it never reclaimed? The museum will try to solve these longstanding mysteries using cutting-edge research, using the precious artefacts as a jumping-off point for an exploration of Elizabethan and Jacobean London, demonstrating how the city became a centre of craftsmanship from both Old and New Worlds, and the effects of the cataclysm that was the English Civil War.
Rating Breakdown
5 star:

2

4 star:

0

3 star:

0

2 star:

0

1 star:

0
I was not sure what to expect but what I did find was fascinating. The jewellery was amazing, some of the pieces were so delicate. How did they make such tiny tiny intricate pieces of jewellery? We tend to think that only the immediate Royal family wore such expensive necklaces, rings and earrings but this exhibition brought the times right to our doorstep, it was an insight into how the merchant class was rising in wealth and aped the more richer in their society. The Emerald watch was one of the pieces that I could not take my eyes from, the exhibition supplied magnifiying glasses which helped to see close up how wonderful they all were. Even my 12 year old grandson thought it was "really interesting". I think the the portraits were particularly helpful as you could see how the jewellery was used, but seeing the real thing was magic.
I was lucky enough to see the preview of this exhibition. Although I have zero interest in jewellery, just about every single item in the collection saw me repeating the words 'fantastic' and 'unbelievable'. The wonder lies not in the size but in the delicacy - necklaces formed from dozens of tiny enamelled flowers; a salamander created from emerald and gold, just a couple of inches long but which looks like it could skitter off on its crafted legs; earrings made crafted from rubies and garnets to look like fat, juicy grapes but mere millimetres across. It seems the exhibition is made up of dozens of tiny, dazzling universes. Trying to choose your favourite piece is practically impossible - I could only narrow it down to a tiny squirrel, a tiny parrot, a decorative purse in the shape of a delightful frog, and a Swiss pocket watch with alarm and calendar from 1600 (!). I'm utterly inexpert on this subject but what I saw dazzled me fit to blast my eyes from my sockets. I thoroughly recommend.