The Great Exhibition Road Festival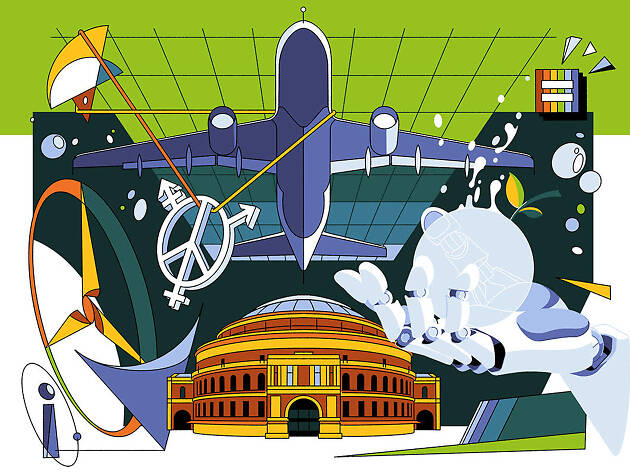 Time Out says
Friendly warning! We're working hard to be accurate. But these are unusual times, so please check that events are still happening.
We'll never know for sure if Prince Albert had 'the piercing'. But he's remembered for more than his potential penis ring. He also helped devise the Great Exhibition, an embarrassment of world riches and inventions that drew 6 million visitors to Hyde Park in 1851. Those eager Victorians assembled to marvel at displays of locomotives, printing presses, an envelope-folding machine and a steam-powered hammer.
Held in a giant glass building called The Crystal Palace (which was moved and rebuilt on Penge Common, where it was later destroyed in a fire) the exhibition made £186,000 profit, a hefty sum for 1851. Prince Albert used those funds to help develop the V&A, the Natural History Museum, the Royal Albert Hall – pretty much every grand institution on Exhibition Road – creating his 'Albertopolis'. That is a tough act to follow, but this weekend, many of those grand institutions are joining forces to launch The Great Exhibition Road Festival, three days and 150 events inspired by the 1851 bonanza.
Almost everything is free (if you register), and the programme is as mixed as a family bag of Revels. You can take a tour of objects in the V&A related to queer and transgender history, see an experimental orchestra on the Royal Albert Hall's Expression Stage or challenge a robot to a game of air hockey at Imperial College. The area will be split into ten interactive 'zones', where you can focus on design, space, robotics and nature. Like the original Great Exhibition, the weekend is all about looking to the future. Instead of steam hammers, you can test AI technology, try on a robot exoskeleton, debate the plausibility of life on Mars, and travel to the moon via a VR headset.
Who knows? Maybe the fest will be so revolutionary, someone will be referencing it in Time Out in 168 years time, in an article transmitted straight into the prefrontal cortex of every Londoner. And maybe they'll sit there in there, in their shiny exoskeletons, laughing about how we were all oh-so-impressed by a robot playing air hockey.
Details