Heads up! We're working hard to be accurate – but these are unusual times, so please always check before heading out.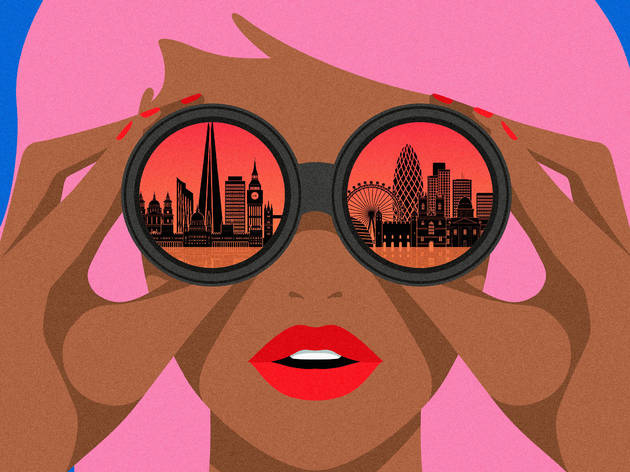 This is what London will look like in 12 months' time
A vision of summer 2021, as predicted by experts
The high street as we know it will cease to exist
Mark Kleinman, professor of public policy at King's College London, says:
'Covid-19 is accelerating trends which were going to happen anyway. High street retail was already in a lot of trouble before the pandemic. Now, it's had an almighty push to online. A change that might have happened over ten years has happened over a few months! Where does that leave the high street? There'll be fewer shops, and the shops that remain will become destination experiences. The lower value stuff will just disappear. In a place as vibrant as London something else will always come in as a replacement. Perhaps, spaces will be reused temporarily to deliver cultural experiences. Meanwhile, the roads themselves will look different too. People are wary of using public transport, which means they're driving, but councils are also taking away road space to make more room for pedestrians and cyclists. How is that going pan out? Ways will be found to deal with it, but it could mean a long-term change for London's high streets.'
We'll have fewer independent restaurants, cafés and bars – but more street food
Jonathan Downey, bar owner and founder of Hospitality Union, says:
'It just feels like we're all going to be fucked. There's already been a lot of casualties. I think 25 percent of UK hospitality operations are gone, no matter what. And unless we get a deal on rents, there's a risk of losing another 25 percent. Too many hospitality businesses were operating on too fragile a business model: stupid rents, not charging enough for properly sourced food, slammed with duty on drinks. I think that we'll still have most of our pubs and chain restaurants, but the absolute best of London – our coolest bars and restaurants, the independents – are most at risk. That said, I think business models will change, and we could see the return of the cover charge. So if you go to Hawksmoor or Lyle's, for example, it could be £3 to sit down. We'll also see more use of outdoor space, and we could see more street-focused events in Soho and parts of the City.'
We'll experience theatre in entirely new ways
Tarek Iskander, artistic director and CEO of Battersea Arts Centre, says:

'If I had one prediction, it's that we will definitely see more work outdoors. At places like the BAC, that have big open spaces and rooms arranged almost more like galleries, we're thinking about how we can open in a socially distanced way – maybe with more promenade staging [theatre which moves from location to location]. But as an industry we're also discovering ways to work in a digital space, and that's really exciting. I think we'll continue to see more of that. At the BAC, we're setting up a digital house where artists can come in and film their own shows and put them online. We've been able to be really responsive to critical moments in our country's history. For example, with Black Lives Matter, we've been able to commission young Black people in our community and young Black artists to express themselves creatively in whichever way they want to respond to what's happening. These are things we've always done, but having the pressure of selling tickets taken away suddenly gives us room to really amplify what's happening and to support people to help address issues of loneliness, grief, coming together and joy.'
We could have a vaccine, but it won't solve all our problems
Duncan Stephenson, deputy CEO of the Royal Society for Public Health, says:
'Oxford seems very optimistic about the vaccine being available in September, but others have said it's unlikely to happen this year. I think that even if we get a vaccine that works – and they're working at breakneck speed to get it through clinical trials – there are going to be issues. One will be around the public's readiness and willingness to have a Covid-19 vaccination. Back in April, in the height of the pandemic, we polled the public and found that one in five said that they wouldn't have a vaccination if it became available, because of fear of side effects or concern it wouldn't work. Covid-19 has brought the anti-vax movement again to the fore, so there needs to be work done to persuade the public. Our other concern is that it needs to go through all the correct clinical trials: for example, Black and minority ethnic populations are at an increased risk, so will that be reflected in the clinical trials to ensure BAME audiences are proportionately tested? As for other hygiene and safety measures, one positive that we should take from this is that most people are now aware of the need to practise good hand hygiene, and I think that's here to stay. But with social distancing, you have to appreciate that there's going to be a deterioration in the implementation of it. I can't see how you'll continue to enforce that.'
More people will need help, and Londoners will step up
Mark Curtin, CEO of The Felix Project, one of London's largest food redistribution charities, says:

'Before Covid-19 came along, we already had a huge task on our hands in terms of tackling hunger and malnutrition in London: in 2019 we estimated there were 1.5 million adults and 400,000 children at risk. Then, when the crisis struck, hundreds of thousands of additional people in London were less able to access food… and we're expecting that in 12 months' time, there'll still be a lot of people suffering as a result of the economic impact. This means we need to continue to grow to meet the demand. But what we've seen in the past few months is that people are really driven to stepping up to help their community. We've had hundreds of new volunteers from absolutely everywhere: furloughed airline pilots, van drivers, hospitality workers – they just wanted to make a difference. And I think that will continue.'
We'll find ways to remember what we've been through
Beatrice Behlen, senior curator at the Museum of London, working on its 'Collecting Covid' project to keep a record of London during the pandemic, says:
'We are doing rapid collecting – basically, asking Londoners for artefacts from this time. It's the first phase in what's going to be a year-long project to compile objects and recordings. We're interested in objects that allow us to tell experiences. The response to the public call-out has been overwhelming. I've found it interesting that a lot of people have reacted to the epidemic by writing poetry. We've also been offered a lot of photographs of empty London, and a lot about what people have been spending their time doing at home: learning new skills, occupying their children, who've made things in support for key workers. Signs, little sculptures, things like that. But one of the challenges of this project is that the early stage of lockdown was very much about absence. Absence of food, absence of toilet paper and, more tragically, absence of PPE. And how do you document something that isn't there? We also want to talk about the way that funerals have been done differently, but we haven't decided how we will deal with that. We're trying to tread very carefully. We don't have concrete plans yet for an exhibition (although I'm not ruling it out), but we will have objects that we can use to talk about this time in the future.
We'll keep going to virtual parties
Xandice Armah and Scarlett Langdon, co-founders of queer dance party Gal Pals, say:
'When lockdown happened and it became apparent that we weren't going to be able to run our upcoming party, we decided to run an online party on Zoom. We didn't realise how much we needed it. It was almost like being in the club with everyone, and seeing the regulars on Zoom really made us feel connected again. We decided to continue doing them fortnightly, and we had people who followed us internationally for years tune in from everywhere: France, Germany, Australia. So, we've been thinking about how we can still maintain an online space even when there's no more social distancing. We'd love to keep that sustained. There are a lot of barriers that stop disabled people from accessing nightlife, and we know there are a lot of disabled people within the LGBTQ+ community who tuned in to Gal Pals who wouldn't have been able to come otherwise. We don't want to just stop that support. Of course there's also potential for innovative IRL solutions for clubbing (I've seen videos of outdoor parties where there's warning tape in between each person and you dance in your little square!), but we haven't thought about anything on that scale.