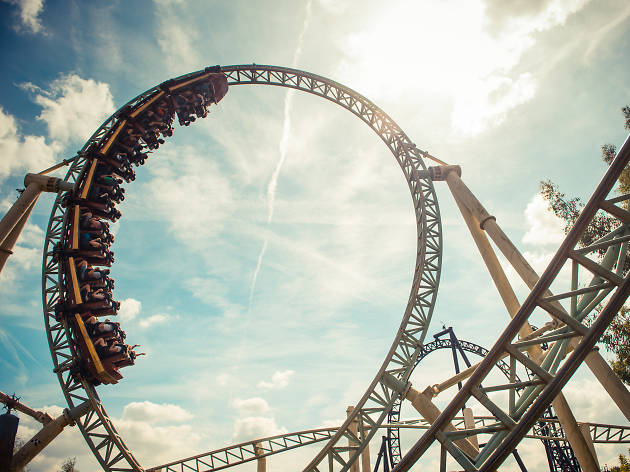 Thorpe Park Fright Night rides ranked in order of fear factor
We ranked all the Thorpe Park Fright Night rides in order of shriek scale, rage rating and fear factor
Pure terror is what you sign up for at Thorpe Park Fright Nights, the park's annual Halloween event which runs on selected dates in October (Oct 9-11, Oct 16-18 and Oct 23-Nov 1 2015). It's a brilliant way to squeeze maximum thrills out of one of London's closest amusement parks as it will be open until 10pm with the chance to ride the five big rollercoasters in the dark. To help you make the most of your trip, Time Out's resident coastermonger Ben Williams rode and ranked all the Thorpe Park roller coasters open during Fright Night. Strap in and prepare to shriek - or if you prefer your parks without any fear-inducing roller coasters, here's our round up of London's best parks.
RECOMMENDED: Read the full Halloween in London guide
Thorpe Park Fright Night rides ranked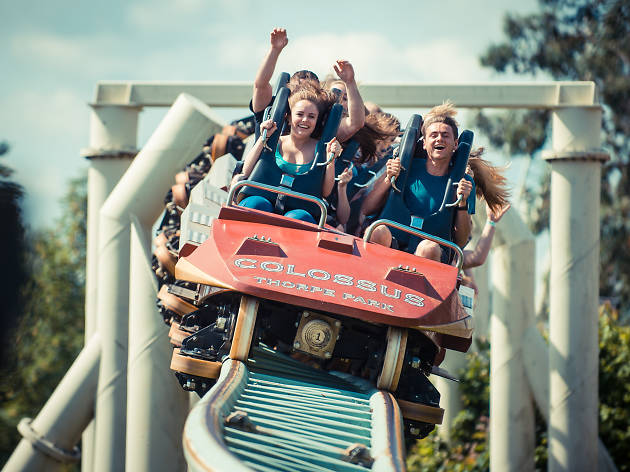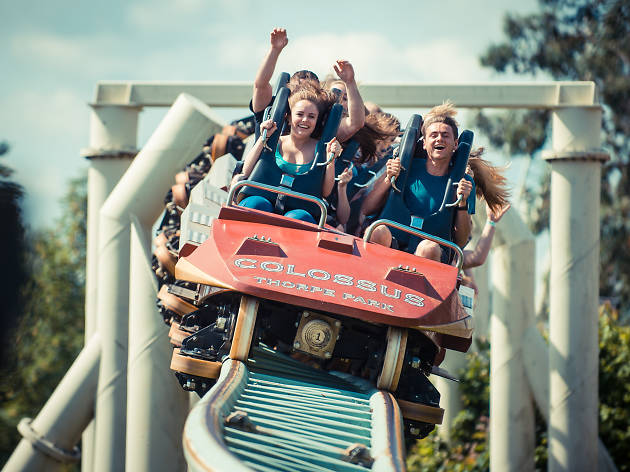 © Daniel Lewis
Unless you're after a throbbing headache, Colossus is one for the 'skip' list. When it opened in 2002, with its record-breaking ten loops, it intimidated even the toughest thrill-seekers. But it's a rough 90 seconds, neither fun nor comfortable. Our advice: have another ride on Nemesis Inferno instead.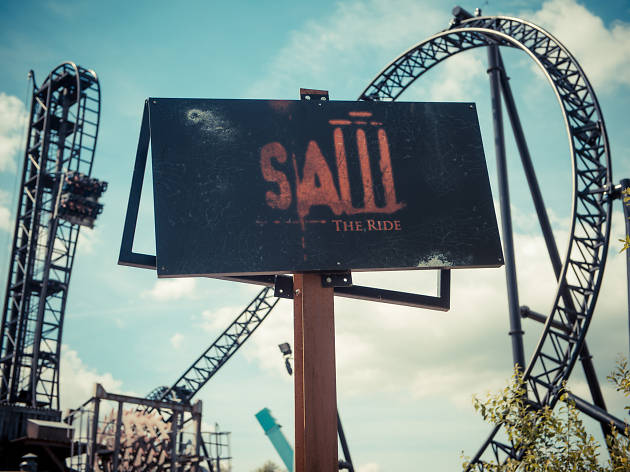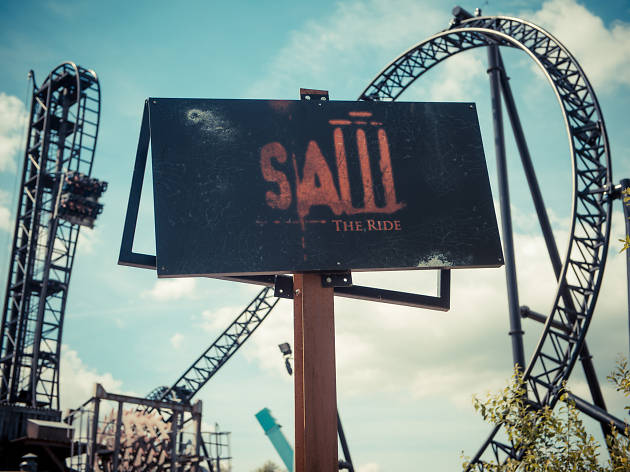 © Daniel Lewis
What do teenagers love? Horror franchises! Thorpe Park went all out in 2009, spending £13.5 million to build the world's first (and only) roller coaster themed to a horror movie. Before Saw the Ride plummets down its daunting 101 degree drop (that's more than vertical, folks), it has a nifty indoor section with gory effects, creepy lighting and a steep, unexpected drop. It's scary from beginning to end. Just like being a teenager.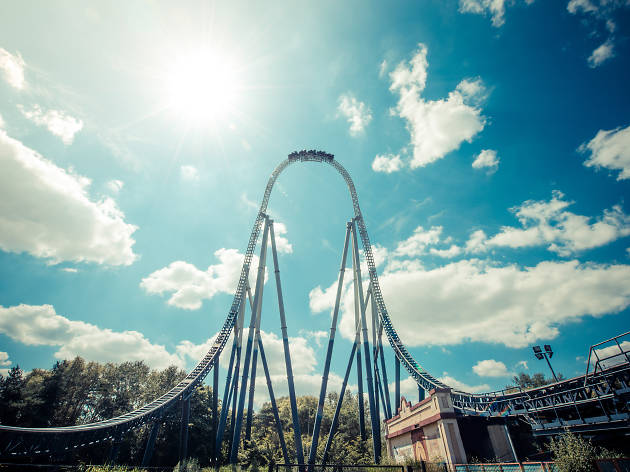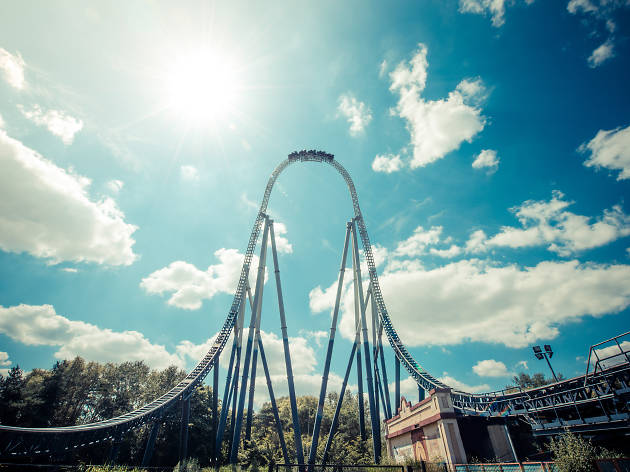 Short but sweet, a ride on Stealth only lasts a few seconds. At 205 feet tall, it's twice the height of any other coaster at the park. It's the fastest, too: Stealth starts by launching trains from 0 to 80mph in 1.8 seconds, then zooms vertically up a tower, drops back towards earth and hops over a little hill before gently slowing to a stop. It packs a punch, and is the most thrilling ride at the park. But it really could do with a re-name: a 200-foot pile of metal that towers over the rest of the park? Hardly stealthy…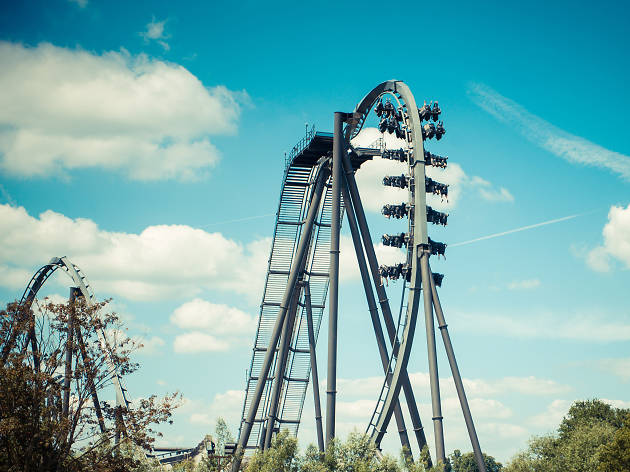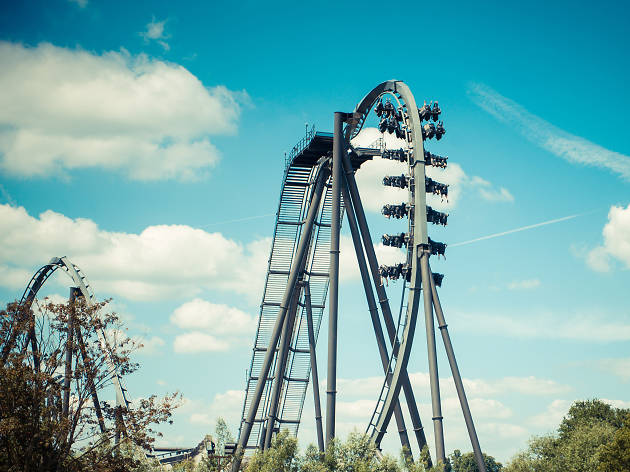 © Daniel Lewis
The newest member of Thorpe Park's coaster catalogue, The Swarm opened in 2012 as the UK's first 'wing coaster' (they really do love a 'first', eh?) Basically, that just mean riders don't sit on top of the track, or hang below it, they sit beside it with their feet dangling and nothing above their heads. The Swarm takes full advantage of riders being so exposed, squeezing them through narrow gaps and 'keyholes'. It has a great theme: a massive disaster zone, full of crashed planes and flipped ambulances, even a crumbling church. Oh, and the ride itself is ace: intense, fast and smooth as silk.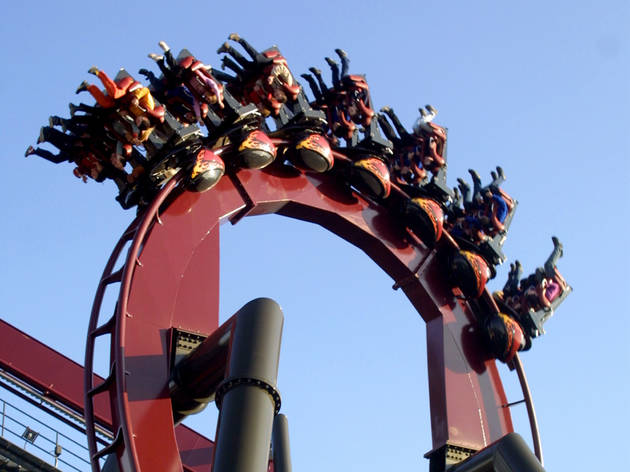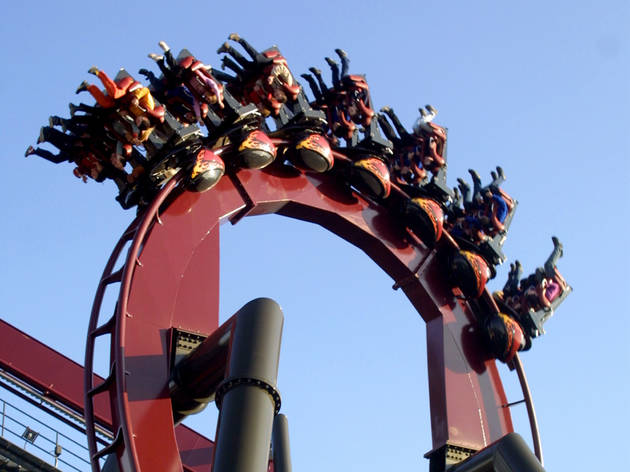 Can a roller coaster have a sequel? Thorpe Park seems to think so. Nemesis Inferno opened in 2002 as a sister coaster to Alton Towers' original Nemesis, a fellow 'inverted' coaster, where riders hang below the track. While it's not quite as good as its older sibling, Nemesis Inferno is easily the best ride at Thorpe Park. It starts inside a huge, smoking volcano, drops out of the station and twists through a cave – and that's all before the ride's properly started. The £8 million coaster doesn't have the most impressive stats: it's only 95 feet tall, and barely reaches 50mph, but Nemesis Inferno makes up for it by hugging the ground between intense loops, spirals and interlocking corkscrews, making it feel a lot faster than it is. There isn't a dull moment, either, from the first twisted drop to the final, G-forced heavy corner. Hot damn.
Support Time Out
We see you're using an ad-blocker. Ad revenue is Time Out's main source of income. The content you're reading is made by independent, expert local journalists.
Support Time Out directly today and help us champion the people and places which make the city tick. Cheers!
Donate now