1/11
HUSH by Freyja Sewell
2/11
Plumen 002 by Hulger
3/11
Capo Chair by Doshi Levien
4/11
Dandelight by Studiodrift
5/11
Rising Chair by Robert van Embricqs
6/11
Tip Ton chair by Barber Osgerby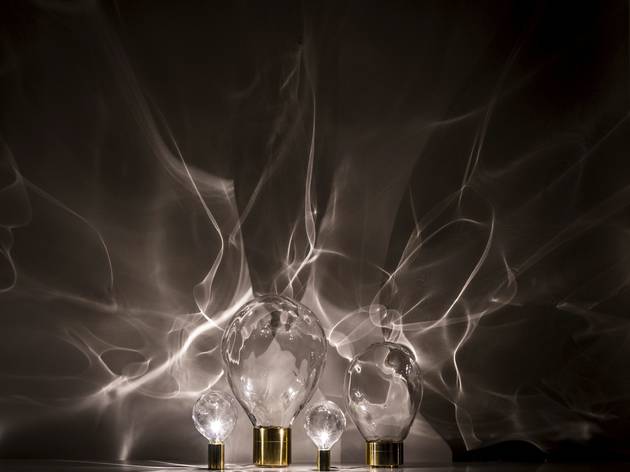 7/11
© SHIKAI TSENG
Ripple light by Poetic Lab
8/11
Another Colour by Tracy Kendall
9/11
10/11
Branca Chair by Industrial Facility
11/11
Tip Ton Chair by Barber Osgerby
This exhibition of forward-thinking interior designers celebrates the Geffrye's centenary as a museum (and tricentenary as almshouses). Everything from furniture and textiles to funky lighting and humble wallpaper will be on display in the museum – as well as the best new garden furniture outside among the Geffrye's lovely flowerbeds. Leading international designers will be on show, but there will also be plenty of high-quality local design.
The Geffrye is always good at programming subsidiary events: expect talks from the curator and designers as well as workshops and children's activities.
Rating Breakdown
5 star:

0

4 star:

1

3 star:

0

2 star:

0

1 star:

0
How refreshing: an exhibition of future-forward homewares without a single mention of an internet-enabled fridge. This compact but high-quality exhibition at the Geffrye Museum showcases work by up-and-coming furniture and interior designers, many of them from the local area near Shoreditch.
The star of the show is the simply breath-taking (and remarkably comfortable) Rising Chair by Robert van Embricqs. This incredible chair folds flat into a single sheet of bamboo slats - it must be seen to be understood, and tested to be believed. The lovely thing about this exhibition is that you can do just that - with a few exceptions, you can touch (or even sit on) many of the exhibits. This makes it really engaging, and will appeal to kids big and small.
Another nice curatorial feature is the short iPad video that accompanies many of the pieces. This is useful in understanding the production process, particularly for David Steiner's very homemade tableware. Replicating industrial processes using kitchen equipment, Steiner makes very elegant, if rather fragile, plates and cutlery by hacking his microwave, blender and oven. The end results are lovely, but might not be worth losing your deposit over.
There are plenty more examples of very useful, very beautiful, items, including tables and chairs, wallpaper, storage and lighting. This exhibition provides a great insight into the near future after exploring our distant past.
For more art in plain English, check out http://www.curatedlondon.co.uk