Heads up! We're working hard to be accurate – but these are unusual times, so please always check before heading out.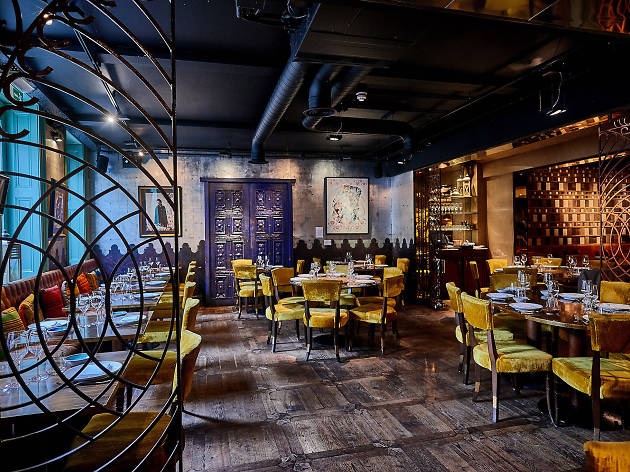 Where to find superb sake and food harmonies in London
London is full of great food, and it's also full of great sake to go with it
Here's an idea. Next time you're eating out, instead of sticking with your usual glass of red or white to accompany your meal, why not branch out a little and order sake? It's perhaps not widely known that sake doesn't only complement Japanese cuisine and actually harmonises beautifully with a whole range of foods – including a few options you probably weren't expecting.
All of which means that it's really not a wacky idea to order a sake with your meal, especially when you consider the variety of great sakes available, all boasting unique flavours and characters.
Plus, London's rich and diverse culinary scene helpfully means that you're spoilt for choice when it comes to finding the perfect food to match with a high-quality sake. Many of the city's restaurants offer fantastic options across a range of global cuisines, which can be lifted by a wonderful sake – which there's also no shortage of in London.
The venues below offer some particularly excellent choices, but remember there are many more across the city, so go forth and find your perfect food and sake harmony!
Find out more about sake and why it harmonises with so many different cuisines.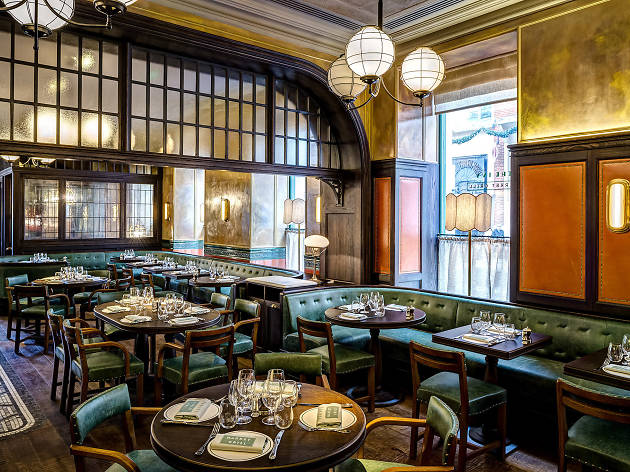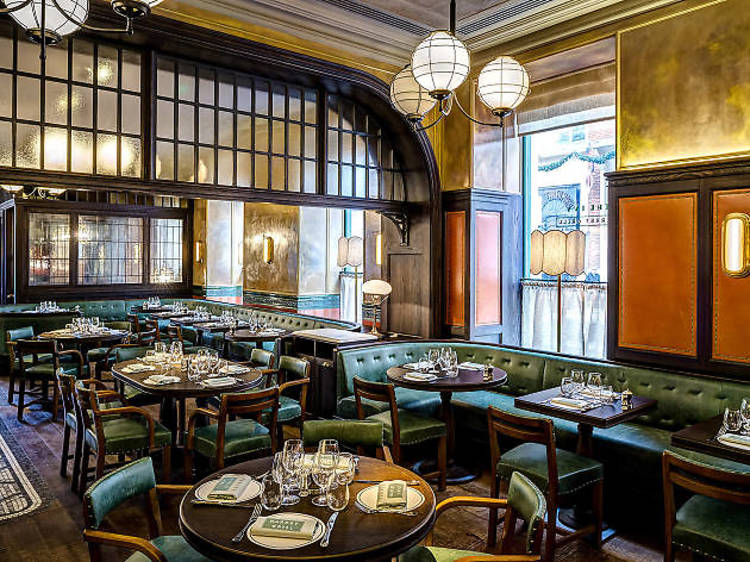 Paul Winch-Furness
Sake with fish and chips: The Ivy Market Grill, Covent Garden
The Ivy's sibling restaurant doesn't mess about with this British favourite – it just serves it really well: battered cod, thick-cut chips, mashed peas and tartare sauce. And guess what? It tastes even better accompanied by the venue's sake: Hakurakusei Tokubetsu Junmai from Niizawa Brewery, a soft and fruity sake that won't overpower the delicate flavour of the fish.
1a Henrietta St, WC2E 8PS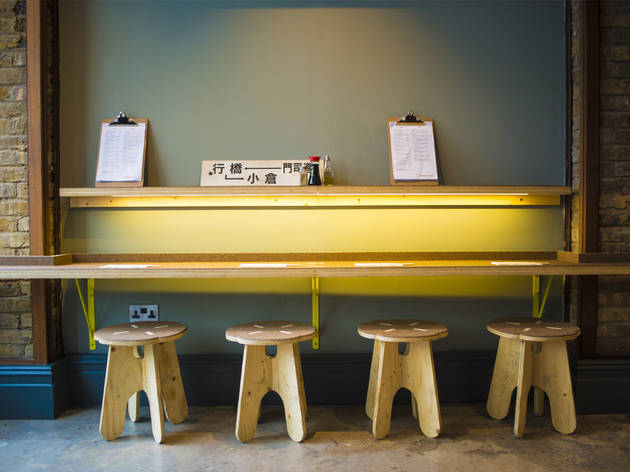 Jamie Lau
Sake with cheese: Nanban, Brixton
Former MasterChef winner Tim Anderson is an expert at creating innovative Japanese dishes with a Western twist, including the brie katsu that occasionally appears on the menu at his popular 'Japanese soul food' joint: double-breaded, deep-fried brie with umeboshi-shiso (essentially a sauce of pickled plum and perilla leaf) and walnuts. As you'd expect, the venue serves a range of premium sakes, but if you're looking for a great match for your brie katsu, try the Mio, a lightly sparkling sake that harmonies perfectly with rich, creamy flavours.
426 Coldharbour Lane, SW9 8LF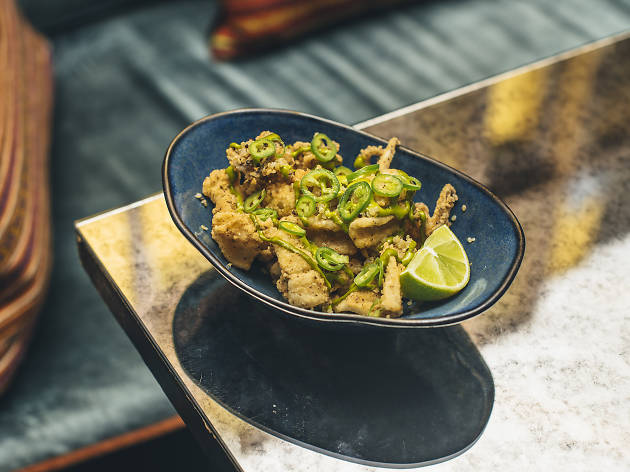 Sake with calamari: Coya Mayfair
Head to this ultra-cool upmarket Peruvian restaurant to enjoy a seriously uplifting combination: Calamares con Ocopa (Peruvian-style calamari) with Peruvian marigold and quinoa, accompanied by Urakasumi Honjikomi Honjozo, a smooth, sweet and refreshing sake that doesn't overpower the delicate flavour of the calamari and provides light notes of fruit to balance out the saltiness.
118 Piccadilly, Mayfair, W1J 7NW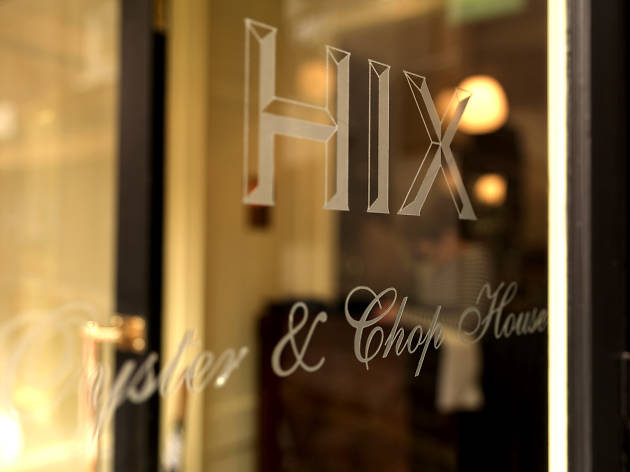 Jason Lowe
Sake and oysters: Hix Oyster and Chop House, Farringdon
The clue is in the name here: Hix Oyster and Chop House is a sleek, modern venue that offers four types of high-quality UK rock oysters. As they're a speciality of the venue, you can't really go wrong with any of them, and luckily their choice of premium sakes is just as impressive: Dewazakura Dewasansan (floral and peachy) and Dassai 50 (clean and full-bodied with hints of berries), both of the junmai ginjo variety, both premium sakes and both perfect for harmonising with the bold flavour of an oyster.
36-37 Greenhill Rents, Cowcross St, EC1M 6BN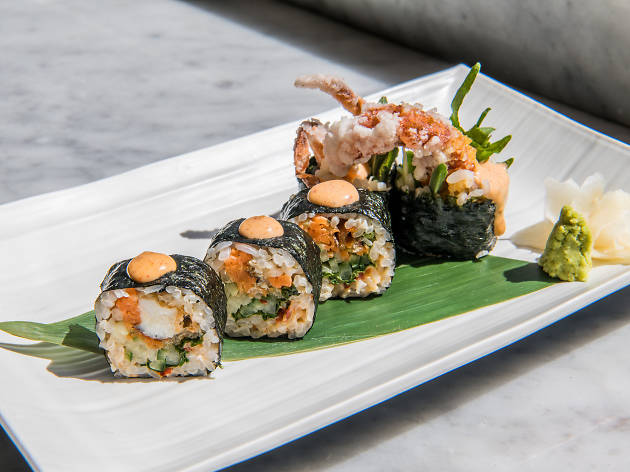 Nic Crilly-Hargrave
Sake and sushi: Shack-Fuyu, Soho
Of course we couldn't not give you somewhere in London to go and eat great sushi and drink amazing sake. Hip, buzzy and set in the middle of Soho, Shack-Fuyu serves a wide variety of sushi classics with a modern twist (think avocado roll to tuna tacos) alongside an extensive range of speciality sakes, including Shirakabegura Junmai Daiginjo, a seriously premium variety that's super-smooth and slightly sweet – with hints of banana and melon – and known for accompanying sushi just perfectly. Take your pick from the list and settle in for some truly memorable flavour combinations.
14a Old Compton St, W1D 4TJ