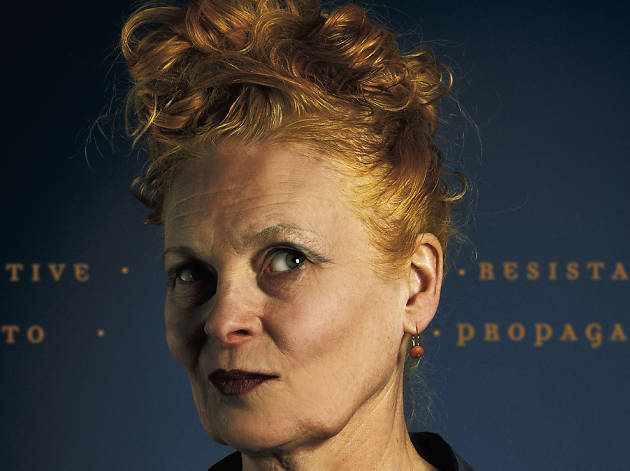 1/4
Vivienne Westwood © Christian Shambenait
2/4
Wei Sun Christiansen
3/4
Skin © Danny Payne
4/4
Kirsty Wark
Whether it's shoulder pads, twinsets or a dress made of meat, what a women wears is one of her most complex forms of self-expression. Influential women throughout history have used fashion to their advantage. This exhibition looks at the wardrobes of 25 exceptional women, who've made their names in politics, culture, business and fashion, with each of them contributing an outfit. The women featured include Dame Vivienne Westwood, Kirsty Wark, Joan Burnstein and Pearl Lam, with highlight outfits including an Yves Saint Laurent 'Le Smoking' suit, one of Zandra Rhodes' 'Conceptual Chic' punk wedding dresses, one of Thatcher's suits and a dress by Jacques Azagury that was worn by Princess Diana. The clothes will be supported by photographs, archive film and interviews. Visitors will also be able to explore an immersive visual timeline documenting the last 150 years of feminine fashion trends.
Average User Rating
2.5 / 5
Rating Breakdown
5 star:

0

4 star:

3

3 star:

0

2 star:

0

1 star:

3
A great small exhibit highlighting the way women's fashion has changed in the last 100 years. Especially enjoyed the highlight of the exhibition where key inspirational women from politics, business, culture and fashion had been asked to donate a signature outfit with meaning to them.
A little pricey for a small exhibit, but still thoroughly enjoyed it. Would have liked to see more.
Crazy expensive and absolutely nothing there. I went with a big group and we were all hugely disappointed. I would not recommend and would probably not bother to go back to the museum.
Great idea, terribly executed. Way too expensive for the two or three interesting things they have. Mostly random pieces scattered around cliff notes from a history book. Went with high hopes and came out terribly disappointed. Don't waste your time and money.
With high hopes, I and my teen daughter walked into the museum. With bare white walls and bright fluorescent lights the main entrance as well as the rest of the building gave the feeling of being in a Hospital and by no means a design museum. The exhibition itself, despite its brilliant concept, did not deliver at all. The pictures were extremely mismatched in size and themes; the items were scattered across; again bare white walls and bright industrial lights were overwhelming. Many pictures where too small to be noticeable; item borrowed from celebs and others were ordinary and bland with no story behind; a collage of magazine cuts and tacky posters were not enough to make a statement either about power, or women, or fashion. We read many interesting resumes though with no relevance to fashion or anything else. We left within half an hour feeling rather empty; all I can remember is empty white walls. I think the image of Dame Westwood was oversold to promote this exhibition; full marks for publicity. Can we have our money back please?