1/4
Yinka Shonibare, 'Fake Death Picture (The Death of Chatterton - Henry Wallis)', Photograph courtesy of James Cohan Gallery
2/4
Yinka Shonibare, 'Fake Death Picture (The Death of Chatterton - Henry Wallis)', Photograph courtesy of James Cohan Gallery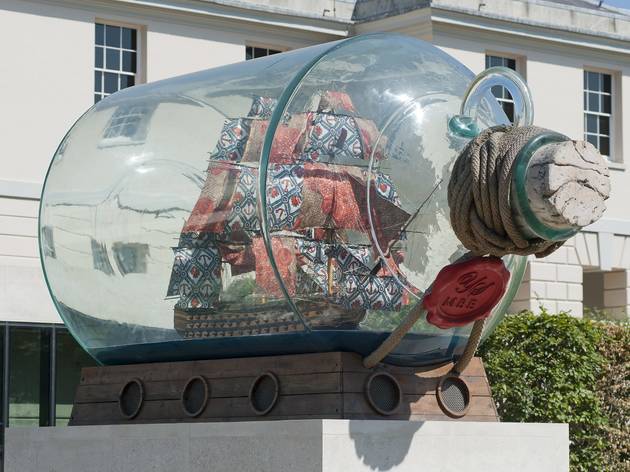 3/4
© National Maritime Museum
Yinka Shonibare, 'Nelson's Ship in a Bottle'
4/4
Yinka Shonibare, 'Fanny's Dress'. Photo by Jason Mandella, courtesy of James Cohan Gallery
Perhaps most famous for his installation 'Nelson's Ship in a Bottle' on the Fourth Plinth, Turner Prize-nominated artist Yinka Shonibare will have sculptures (including a new commission and work never before seen in Britain) displayed right across the extensive Royal Museums Greenwich site in this exhibition.
'Nelson's Ship in a Bottle' is already on permanent display at the park entrance to the National Maritime Museum, while the Queen's House will host 'Nelson's Jacket' and 'Fanny's Dress', both made from Shonibare's trademark bold African fabrics, as well as the 'Fake Death Pictures' (five versions of Nelson's fatal wounding), shown here in association with objects the artist has selected from the museum collections.
On the lawn outside the Queen's House, another piece in bright batik colours, 'Wind Sculpture', will be visible right across the Thames. The final sculpture, up the hill in the Astronomer Royal's apartments of Flamsteed House, is the new commission: 'Cheeky Little Astronomer'. Note: although the other venues are free, there is a charge to enter Flamsteed House.
Rating Breakdown
5 star:

0

4 star:

1

3 star:

0

2 star:

0

1 star:

0
Historically Contemporary Anglo-African Admiralty Death by g(l)ory A weightless windfull Above and below the waves Windswept sensation Global head of the house Star covered wonder Observing a Flamsteed observer Past contrasts Present