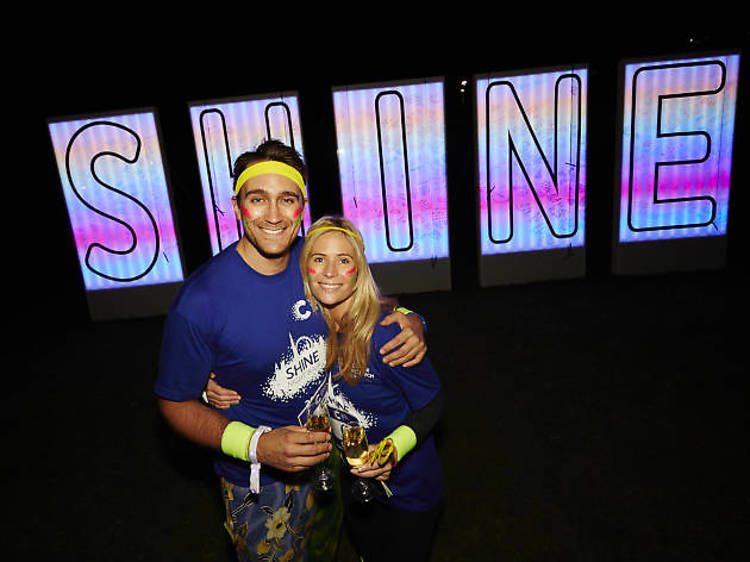 We spoke to Harry Vickers from London about his very special engagement celebration – on Cancer Research UK's Shine Night Walk 2014.
You had to cancel your original engagement party under sad circumstances. What were they?
Just two weeks before the engagement party, my dad, Tony, nearly lost his battle with cancer. The next day, I saw an ad for the Shine Night Walk and noticed the date – it was the same as our party. My soon-to-be wife Ems and I felt we couldn't have a party with Dad so ill, and so it all fell into place.
How did your friends and family react?
The response was phenomenal: 65 people we knew signed up and did a lot of fundraising of their own. Also, the amazing staff at Cancer Research UK got us all registered and ready in a very short space of time.
Did you do much training?
We didn't have any time! I would definitely recommend doing a bit of training, as we were exhausted by the end, but the sheer warmth and enthusiasm of all the participants helped carry us over the line.
How much money did you raise?
Our original target was £1,000, but Dad told me I should aim higher. The final total was £20,000. Dad was right.
What are your top three tips for Shine Night Walk newbies?
1. Talk to the people around you, especially the volunteers. Being amongst people doing something positive to fight cancer is very humbling.
2. Tell everyone about your achievement. We received donations from the unlikeliest of places and people.
3. Wear something bright and shiny. Celebrate the fightback against this terrible disease.