Heads up! We're working hard to be accurate – but these are unusual times, so please always check before heading out.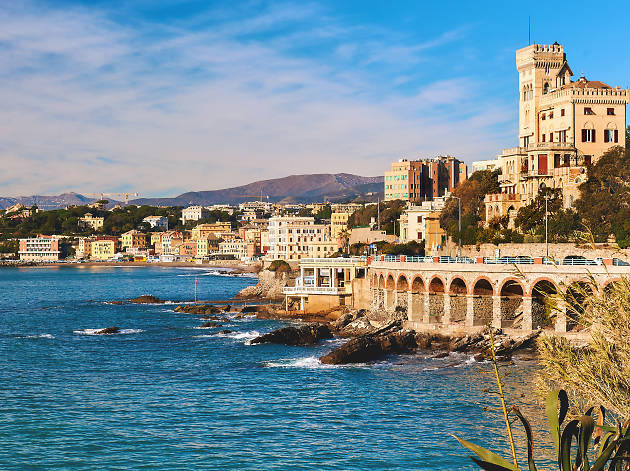 Ten great things to do in Genoa
From breathtaking views to divine gelato, here's what not to miss in the capital of Italy's Liguria region
This Italian port town is packed with appeal but often misses out on the attention it deserves, eclipsed by its more famous city counterparts in the south. Aside from being home to Italy's oldest football team, and the site of Europe's – arguably the world's – first bank, Genoa has bags of medieval charm, complete with cathedrals, tiny alleyways and hidden piazzas. It also sits at the heart of the Italian Riviera – meaning that from its working port you can escape to charming fishing villages and magical coves. The city that the scholar Petrarch described as 'La Superba' has plenty to offer...
The essentials in Genoa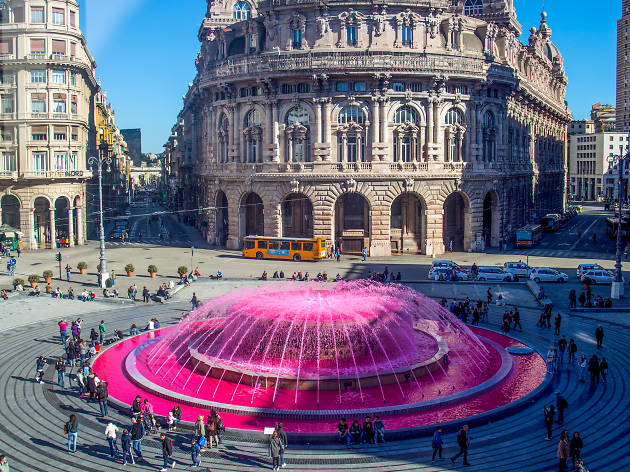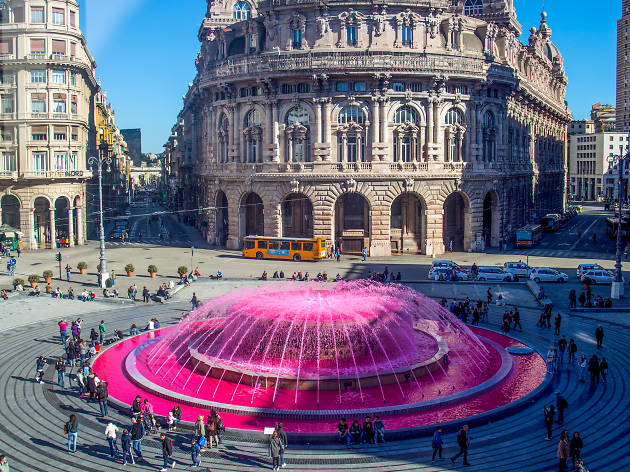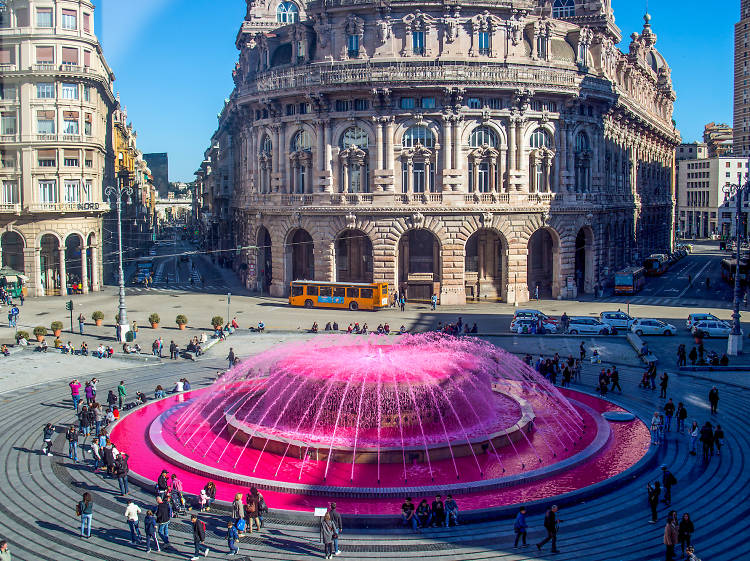 Shutterstock
1. Roam around the medieval sights
To get to grips with the city's history you'll want to check out the 12th century city gates in the east – Porta Soprana – which are also close to the supposed birthplace of Christopher Columbus. From here head towards the centre of town where you'll pass through atmospheric cobbled alleyways leading to the main square, Piazza de Ferrari with its grande bronze fountain, before coming to the beautiful Cattedrale di San Lorenzo and its zebra-like striped façade.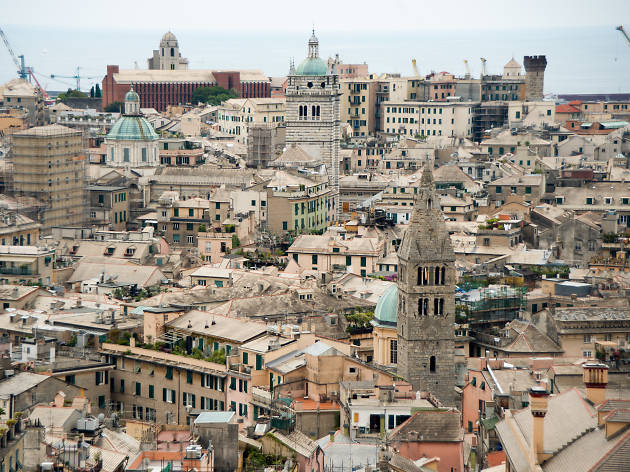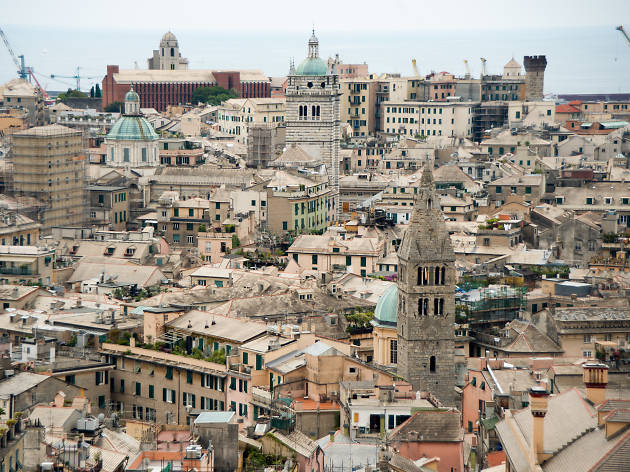 mstyslav-chernov.com/Wikimedia Commons
Genoa has the largest medieval centre in Europe, thanks to its success as a Maritime Republic during the Middle Ages. The old town especially is a maze of alleyways ripe for exploration. It's also where you'll stumble across excellent coffee shops and gelaterias. Try Caffetteria Lomellini for an espresso and pastry while people watching over the small but bustling Piazza Fossatello, or head to Profumo di Rosa on Via Cairoli for an Italian favourite – pistachio ice cream.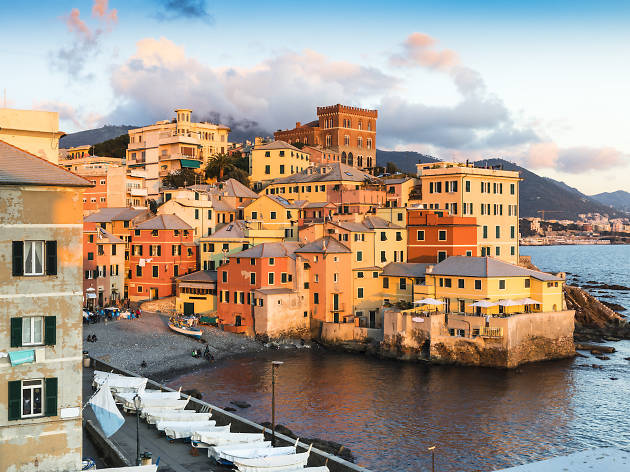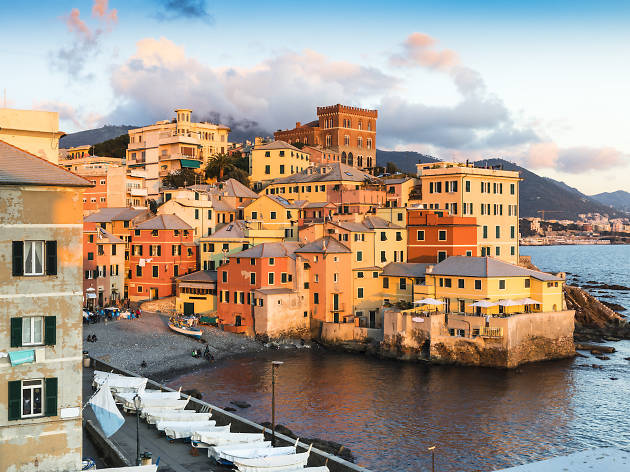 Shutterstock
3. Take things slow in a picturesque fishing village
Take a breather from city life and head to the fishing village of Boccadasse, a short bus, train or taxi ride from Genoa's centre. This inlet, with a pebble beach, boasts a scattering of multi-coloured houses and is the perfect spot for watching the sunset. The area comes alive at dusk when groups of families, friends and couples make their way to the little ice cream parlour by the shore, Antica Gelateria Amedeo. Be prepared to get messy – the scoop sizes are seriously generous. However, if ice cream is not your vice but you're still hankering for something cold, head over to the gelateria's yoghurt shop, just a few short steps away on Via Aurora. The colourful array of handmade lollies will leave you spoilt for choice.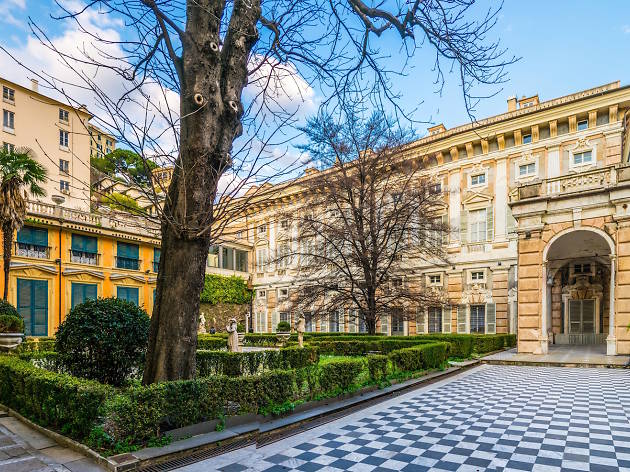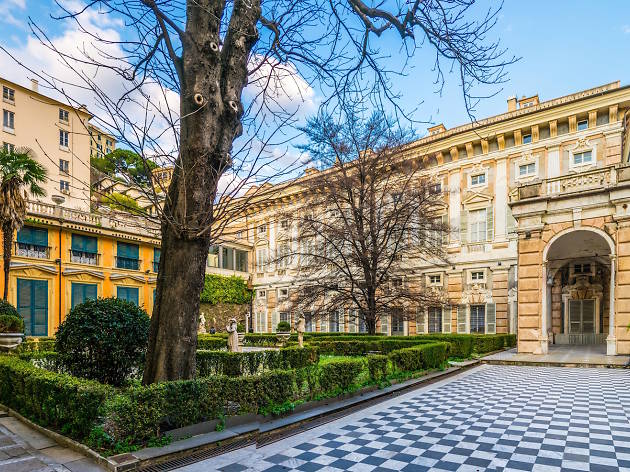 Shutterstock
4. Experience the life of a duchess
Whether you're a gallery buff or not, the Strada Nuova Museums on Via Garibaldi are an enchanting destination – these buildings are magnificent former palaces. Owned by the duchess of the Brignole-Sale family up until the 19th century, the Palazzo Rosso and Palazzo Bianco, built in Renaissance and Baroque styles are now galleries containing art collections, halls and gardens, which have received the UNESCO world heritage stamp of approval. And the Palazzo Tursi, now the City Hall, also holds one of Paganini's violins as well as, reputedly, Christopher Columbus' bones.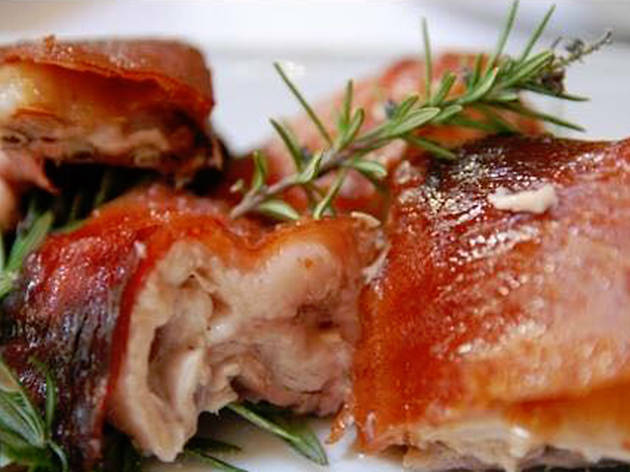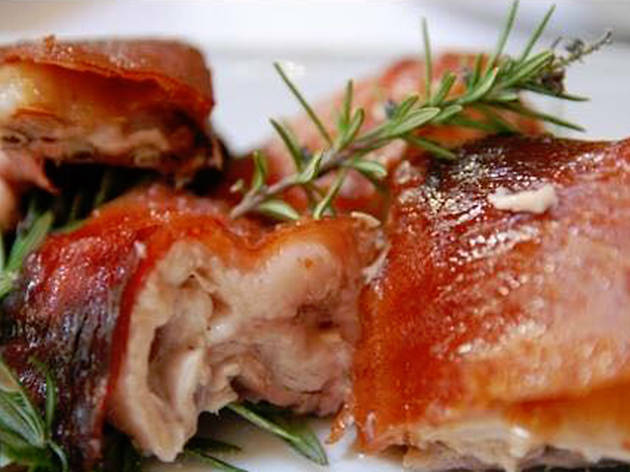 5. Sample the pizza - and pesto
Like any Italian city, Genoa has an abundance of great eateries. Gorge yourself on pizza and pasta but make sure you sample some local pesto dishes too – this area is believed to be the birthplace of the sauce. Tucked away on Via David Chiossone, is the small Trattoria San Carlo, which has a superb homemade pesto pasta on its menu. Or if you're looking for a vibe that mixes old school glamour with modern design, find a table at the Caffe Meridiana on Piazza della Meridiana, which dishes up excellent seafood, in interiors beautifully adorned with sketches of boats and gramophones.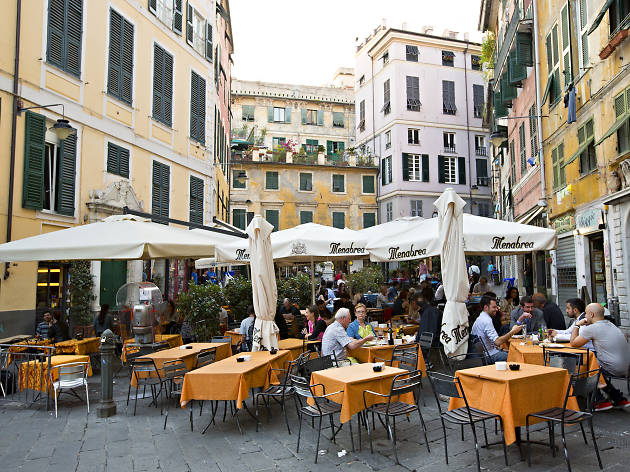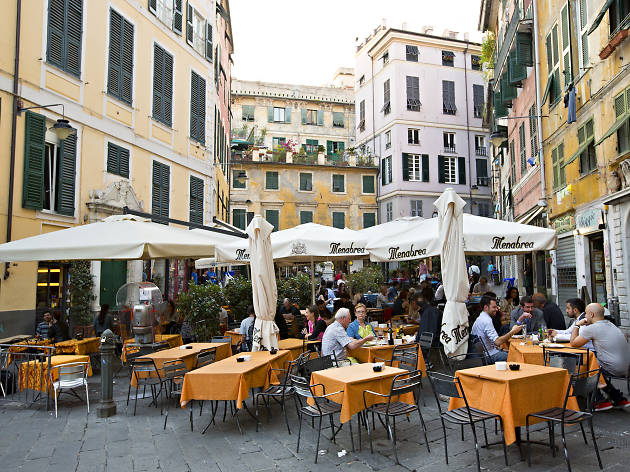 Shutterstock
6. Discover after-dark drinking spots
Drinking and the seaside go hand in hand. Find a magical spot for a bevvy on the walk along Genoa's main promenade, Corso Italia, where there are several bars with DJs, decking, plush white sofas and of course sea views. In town, search out the cute Piazza delle Erbe where a cluster of bars provide al fresco drinks into the night – Bar Berto is the destination for home-brewed beer.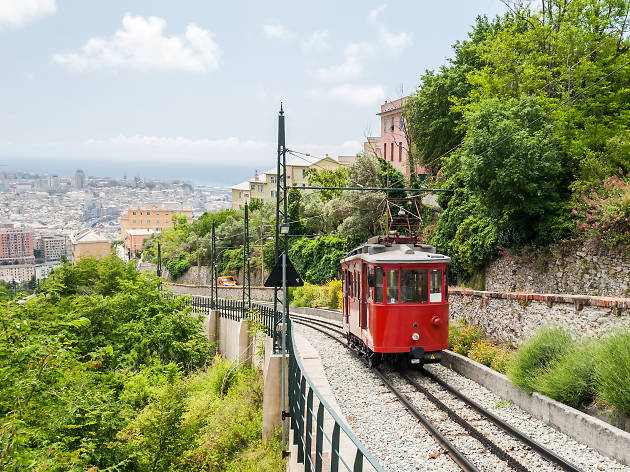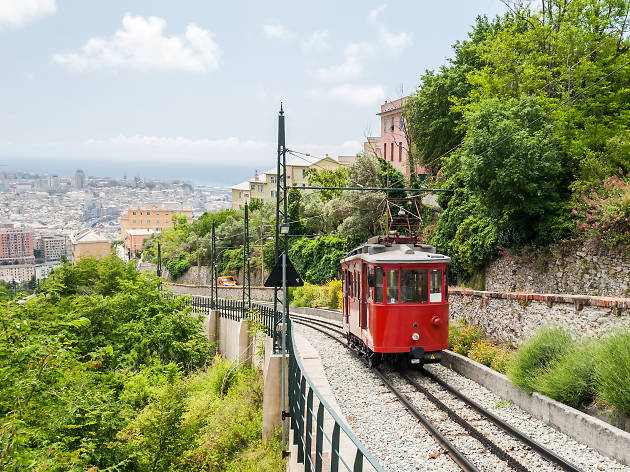 Shutterstock
7. Take a ride into the sky
For the child-like thrill of ascending above the city on a cliff railway, catch one of the funiculars up the hillside. The Zecca-Righi route, which starts at the tip of Via Cairoli, is the most popular and transports both visitors and locals to the Parco Urbano delle Mura at the top, where you'll also find the ruins of the Castellaccio and Sperone military forts, built between the seventeenth and nineteenth centuries.
Wikimedia Commons
8. Get the panoramic perspective
For an easier-to reach viewpoint, make the steep but short walk up to the Spianata Castelletto platform where you can get 360° views of the city and port below. Or if you're feeling less adventurous there is also the option of taking the Art-Noveau style public lift, accessible from Piazza del Portello.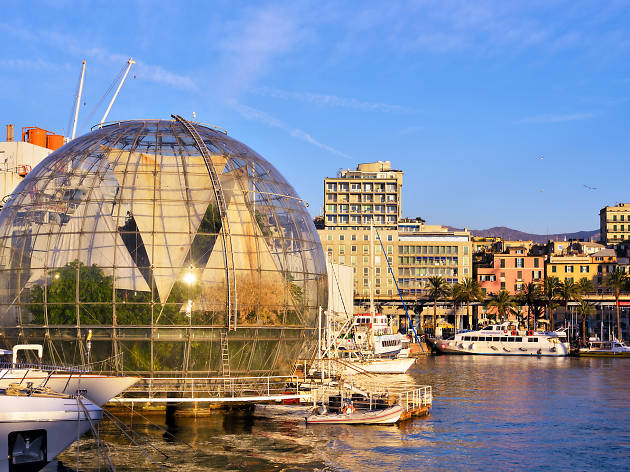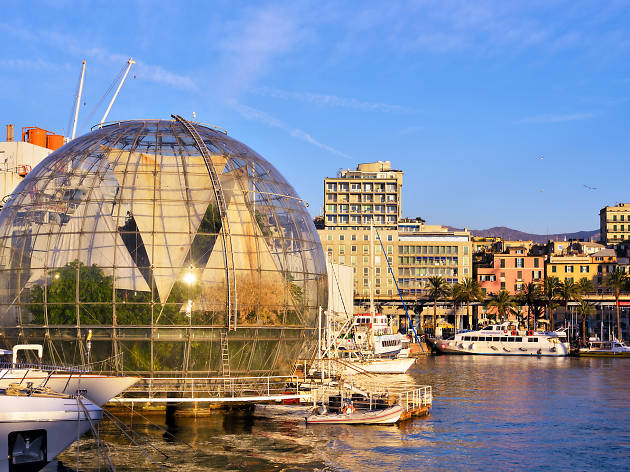 Shutterstock
9. Wander amid the cruise ships
Porto Antico, the city's harbour, has been in operation since 500 BC, take a stroll amid the cruise ships and have lunch at one of the restaurants. Look out for La Biosfera, a giant, spherical glass and steel greenhouse designed by Renzo Piano, which makes for a great Crystal Maze-esque photo opportunity.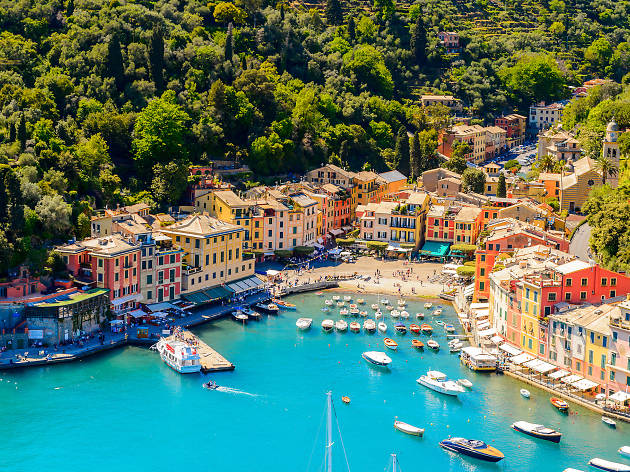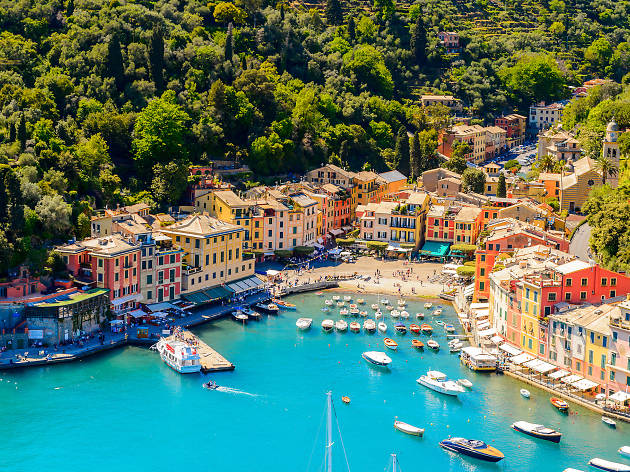 Shutterstock
10. Venture to wealthy Portofino for the day
Portofino is a small nearby harbour famed for its wealthy visitors who moor their yachts within view of the town's picturesque cobblestone square. If you've cash to splash you're spoilt for choice with the numerous luxury shops and high-end restaurants. Alternatively you can just sit and soak up the opulence. Many boat trips to Portofino also stop at the petite green and rocky cove of San Fruttuoso – a great spot to have a beer and a free dip in the sea.
Explore Europe by train
You don't need to fly to flee London – travelling by train is a relaxing and prettier way to journey. Here are five European trips with vistas to write home about.