Vegas
Thur Feb 14, 10-11pm, Sky Atlantic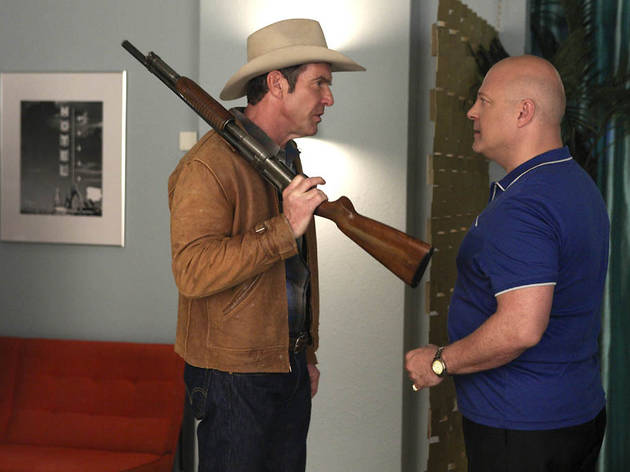 Series one, episode one
Not every US TV import is 'The Wire'. In fact, not every US TV import is even 'Pan Am' or 'CSI: Miami'. Take 'Vegas', for example. This new CBS drama serial feels like a throwback to a dumber, more predictable era of telly, when robbers wore stripey tops and every punch was a knockout blow. On the face of it, it's not unpromising. Michael Chiklis is the gangster looking to move in on Sin City; Dennis Quaid is the cowboy-turned-lawman trying to stop him.

Potential for a clash between urban and rural, modern and traditional, fedora and stetson? Probably, but this just feels like a leaden procedural with a case a week (we suspect a murdered girl will become standard). Quaid's Sheriff Ralph Lamb has a dozy son – essentially Dougal to his Father Ted – who exists purely for expositionary purposes; to point out to slow-witted viewers that yes, that means the bikers didn't do it. And the dialogue manages the neat trick of being simultaneously overblown and flatter than Norfolk. Not good.
Sponsored listing
Le Relais de Venise l'Entrecôte
This Soho branch is one of four London restaurants from a group that kicked off with a Paris original, back in 1959. That one's still going strong, and the expansion has now taken in New York, too.  They've made their name with the only dish on the main menu: steak-frites. It's preceded by a simple green salad with walnuts and a mustard vinaigrette – and there are a few French desserts and cheeses to follow – but most head here solely for the USP.   The steak is cooked to order and served not with the traditional herb butter, but with their own 'secret' sauce, apparently guarded closely by the daughter of the original owner, Paul Gineste de Saurs. It comes accompanied by a bucket-load of top-notch fries. A short selection of wines is offered, too.