Vegas
Thur Feb 14, 10-11pm, Sky Atlantic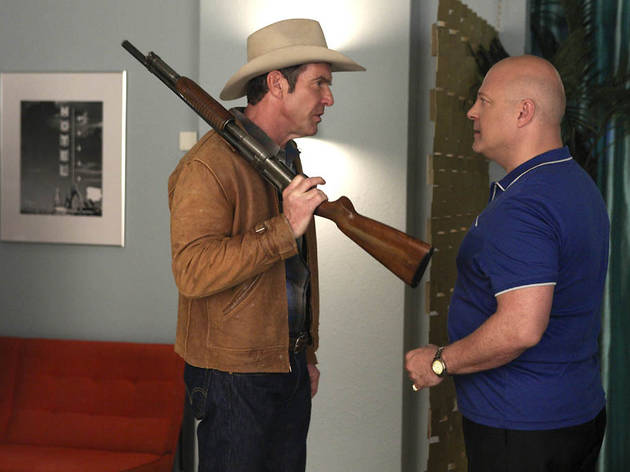 Series one, episode one
Not every US TV import is 'The Wire'. In fact, not every US TV import is even 'Pan Am' or 'CSI: Miami'. Take 'Vegas', for example. This new CBS drama serial feels like a throwback to a dumber, more predictable era of telly, when robbers wore stripey tops and every punch was a knockout blow. On the face of it, it's not unpromising. Michael Chiklis is the gangster looking to move in on Sin City; Dennis Quaid is the cowboy-turned-lawman trying to stop him.

Potential for a clash between urban and rural, modern and traditional, fedora and stetson? Probably, but this just feels like a leaden procedural with a case a week (we suspect a murdered girl will become standard). Quaid's Sheriff Ralph Lamb has a dozy son – essentially Dougal to his Father Ted – who exists purely for expositionary purposes; to point out to slow-witted viewers that yes, that means the bikers didn't do it. And the dialogue manages the neat trick of being simultaneously overblown and flatter than Norfolk. Not good.
Sponsored listing
Le Vieux Comptoir
Francophiles thanks to France's food and drink might quite like this Marylebone venue. It's a wine bar, wine shop, restaurant, deli and grocery, with everything sourced from French producers. Even the coffee and tea comes from France.  The dining menu includes a daily terrine, escargots, two types of foie gras, confit de canard, beef tartare and a selection of French salads and omelettes. Seafood comes from the île d'Yeu, and charcuterie and cheese from farms in Lyon, Savoie and the French Basque Country.   Each of the wines on the all-French list is available by the 125ml or 250ml glass, alongside Champagnes and other French sparkling wines. And if you can't wait to try your bottle bought from the cellar? They'll let you drink it on-site for a £10 corkage. Bar nibbles (Provence olives, bread and butter, charcuterie and cheese) are available at the bar, too. Keep an eye out for wine tastings, grower showcases and other special events.
Venue says: "The season of cheese fondue and raclette has started at Le Vieux Comptoir! A taste of regional France, in Marylebone."