Vegas
Thur Feb 14, 10-11pm, Sky Atlantic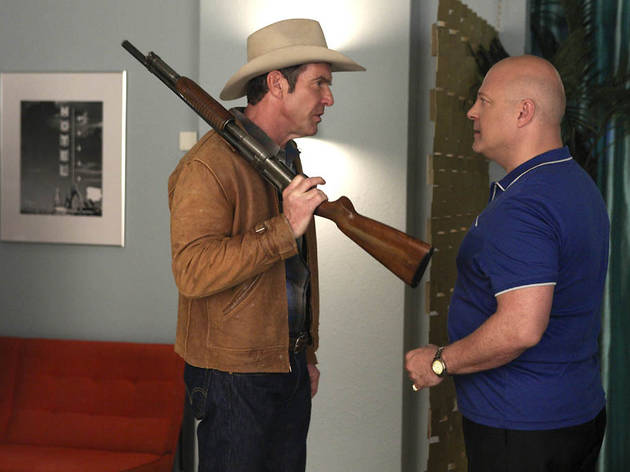 Series one, episode one
Not every US TV import is 'The Wire'. In fact, not every US TV import is even 'Pan Am' or 'CSI: Miami'. Take 'Vegas', for example. This new CBS drama serial feels like a throwback to a dumber, more predictable era of telly, when robbers wore stripey tops and every punch was a knockout blow. On the face of it, it's not unpromising. Michael Chiklis is the gangster looking to move in on Sin City; Dennis Quaid is the cowboy-turned-lawman trying to stop him.

Potential for a clash between urban and rural, modern and traditional, fedora and stetson? Probably, but this just feels like a leaden procedural with a case a week (we suspect a murdered girl will become standard). Quaid's Sheriff Ralph Lamb has a dozy son – essentially Dougal to his Father Ted – who exists purely for expositionary purposes; to point out to slow-witted viewers that yes, that means the bikers didn't do it. And the dialogue manages the neat trick of being simultaneously overblown and flatter than Norfolk. Not good.
Sponsored listing
Burger & Lobster Leicester Sq
This Leicester Square branch of Burger & Lobster is set over two floors and swishly laid out, with plump red banquettes to effuse its proximity to China Town. Born from the minds of four schoolmates on a rooftop in London, this restaurant chain grew from a pop-up in a Mayfair boozer to ten branches London-wide, and more to boot around the the world. In case the name isn't enough of a hint, these guys specialise in lobsters and burgers. It might come across gimmicky, but ignore that initial impression because if you're after good lobster, you'd be hard pressed to find it at better value for money than here. You can get a lobster (boiled, grilled or in a brioche roll with mayo) with a substantial salad and french fries for £23-£31, depending on how you have it and which branch you're in. For a smaller budget, the beef burgers will set you back £16.
Venue says: "Simply the best burger and lobster in town. See our Facebook page for the latest news and updates."