Heads up! We're working hard to be accurate – but these are unusual times, so please always check before heading out.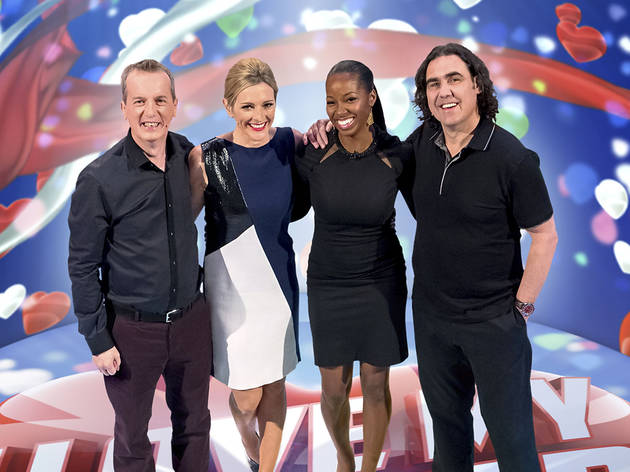 I Love My Country
Sat Aug 3, 7.30-8.20pm, BBC1
Episode one
It's a year on from the rah-rah street-party fantasyland of the Olympics. Since then 'we've' won Wimbledon. There's a new royal baby. Somebody's won the Tour de France. Brian May on top of Buckingham Palace. Olympians. Fish'n'chips. Bobbies on the beat. The 'Great British' something or other. Olympics. Erm… The Battle of Waterloo. Village greens. Yorkshire pudding… Did we mention the 2012 Olympics?

If the BBC's new Saturday night shiny-floor nightgasm of patriotic tub-thumping and mindless jingoistic cheer (cf. Berlin, 1933) were a sketch-show parody of opportunistic summertime quiz-show fluff, you wouldn't buy it. Mickey Flanagan and Frank Skinner – who, to be fair, both do their best to keep things bouncing – attempt to rearrange the deckchairs on a titanically predestined parade of overzealous flag-waving and 1950s xenophobia masquerading as nationalistic fervor.

Low points? Could it be outwardly-agreeable 'Miranda' hunk Tom Ellis thinking that there are 28 letters in the alphabet? A televised game of Pass the Parcel (for some, surely BBC-mandated, reason rechristened 'The Party Game')? A 'Guess the Weight of the Mayor of High Wycombe' round? The arbitrary 'All You Need Is Love' audience singalong (chorus only, naturally)? Or is it host Gaby Logan rallying the audience to laugh really loudly if Skinner gets an answer wrong?

And then, of course, there's the title. Is a show titled 'I Love My Country' really the way to go? Especially when the only non-white member of the eight-person panel is a streetwise black London teen who seems to be included solely so Flanagan can riff on his yoot-speak argot? Maybe, but probably not.