Heads up! We're working hard to be accurate – but these are unusual times, so please always check before heading out.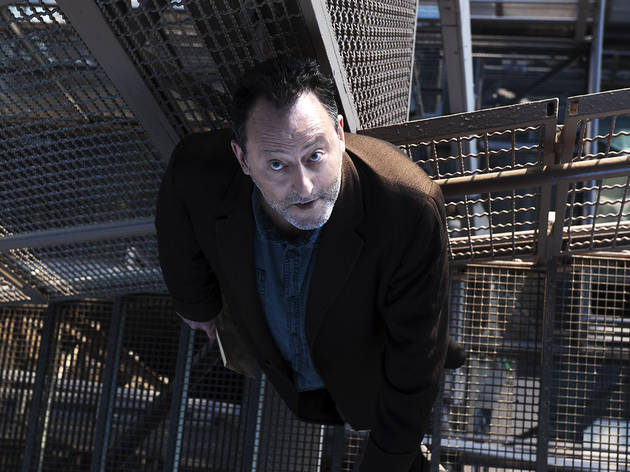 Jean Reno: 'I am a camel'
The star of 'Léon' talks about his new police thriller, 'Jo'
'Jo' is your first TV series since the 1980s and your first ever as a lead. Why this, and why now?
'They [the producers] said it would be international and it is. They said there would be a lot of good partners [to work with], and there are. They said it would be subtle, not heavy, which it is. They said it would be well written, and I think it is. So, why not?
'And Jo is a very strange character – I like that! If a character reveals everything at the start, he's boring, but Jo is an intriguing guy. I hope the audience agrees, because we have eight episodes and I have signed for a second year.'
Did you do much research into police work, or is it all in the script?
'It's like what Laurence Olivier said to Dustin Hoffman, when he did so much running on the set of "
Marathon Man
": why don't you just act? So you have a dream of a cop, divorced, fighting with his daughter, etc, and build it up. I prefer to use instinct and rely on how the lines, the camerawork, the location and everything else creates a chemistry between human beings.'
And the location was fundamental.
'Of course – every episode is around a Paris monument. I'd never been to the Paris catacombs before doing this, so I discovered that through the work. And I discover myself through the work, and through the people I work with.'
Would the series have worked as well in another city?
'I think so. Everyone likes to discover cities. If someone in Africa is watching a show set in London, they can discover the city and then he'll say to his wife: "Next year, we'll go to London." Why not?'
Do you watch much television?
'Not really. Sometimes, between working, I'll buy an entire series. So I bought "Mad Men" and "Boardwalk Empire", which I was very happy with. And I have to admit I like Hercule Poirot very much – David Suchet is a fantastic actor!'
There's a view in America and the UK that a lot of the best writing is in television now. So you agree?
'I do not have to agree or not – it is a fact. My generation has seen more and more good work on television, and the money has gone from the movie business to television.'
What are your priorities when choosing a project?
'I choose people more than projects. Nothing is better than having someone in front of you, telling you that you could be this guy in their dream. So I choose to spend time with people and with their ideas and dreams.'
Do you see any similarities between Jo and Léon [the title character of Luc Besson's 1994 film], in that both are troubled and conflicted, with their own ideas of justice?
'Léon was a murderer, an assassin! He didn't kill the little girl, but he killed people for money. The movie was well done and a lot of people liked it. I liked Léon very much too, but I don't like assassins!'
How do you explain the connection you share with Luc Besson?
'At that time, we represented people who could make their dreams happen – "
The Big Blue
", "
Léon
" and movies like that. After that, we moved apart. It happens. I asked Robert de Niro about his long story with Scorsese, and he said the same. When the director can see that an actor's personality fits in his dreams – like Fellini did with Mastroianni as well – it's magical.'
Which directors have you learnt the most from?
'Luc, of course. And Roberto Benigni [for 2005's 'The Tiger and the Snow'] was a fantastic encounter for me. He's not a human, he's an angel, someone who levitates rather than walks on the ground. I love him.'
Are you interested in directing or writing?
'I directed a short movie and it went well, but it is not my cup of tea. I like to move on to something else every few months. But writing is a bit different. I'm doing an autobiographical one-man stage show with a friend of mine, a journey from Africa [Reno was born in Casablanca] to Hollywood. I hope to finish it by the end of the year. I will bring it to London as well, of course – my wife is English. And there are very good restaurants in London, and very good beer. Paris only has good restaurants.'
You share a lovely scene with a stray dog in 'Jo'…
'It's always very difficult to work with animals. We spent 45 minutes on that one scene. Once you've done it a few times, the dog stops working. My animal is a camel. i don't know why, but for me it is evident that, inside me, I am a camel. What's your animal?'
I've no idea. An eagle? A penguin?
'If you decide what your animal is, you understand much more about yourself. I'm not crazy! It's a very good exercise. Every character has an animal. When Gene Hackman did "
French Connection
", he said in an article that he was a bear.'
'Jo' begins Sunday May 19, 9pm, Fox.
Read our review of the first episode of 'Jo'
The opening case – a corpse left in a crucifixion pose outside Notre Dame – is workaday. Director Charlotte Sieling seems to have mislaid the tension and atmosphere she brought to 'The Killing' and 'The Bridge'. And, while it's not unusual for dialogue in a foreign TV series to be spoken in English ('Zen', 'Falcón'), it seems utterly perverse to make an almost entirely British cast speak in cod-American accents.
See the full review of 'Jo', episode one