Heads up! We're working hard to be accurate – but these are unusual times, so please always check before heading out.
Kate Mosse on 'Labyrinth'
The author talks about the inspiration for her bestselling novel, how it felt to see it adapted for television and a narrow escape with Orlando Bloom
What was the inspiration behind 'Labyrinth'?
'"Labyrinth", "Sepulchre" and "Citadel" are all love letters to Carcassone. The history of the place, the smell of the land, the mountains… Any of us could stand on the city walls and listen to the whispers of the past and write a different story. They come out of the land.'
Why did you take the decision to have women in the lead roles?
'In stories strongly led by women, which tend to be in young adult fiction or crime, there is a very damaged female central character, then goodie men and baddy men. That's not true for the world. I didn't want lots of terribly nice women and lots of horrible men. It's just an old-fashioned adventure story where the leads are women – a story about imagined characters walking across a real piece of history.'
How has it felt to see your work made flesh?
'All my friends who were writers said it [having your book adapted] was a really awful experience – you never know what they're going to do. For me, it was a complete joy. The team captured the spirit of the book that I tried to write. Some of the things they've done are better than the book and the cast is quite exceptional. Meeting them on set, and experiencing the journey of the characters on the page to seeing them walking and speaking – they were better than they imagined them. Oh, and my cameo as a tour guide at the end of the second episode is quite superb! My four lines make the whole film…'
Did you have to audition for your cameo?
'I beat off a lot of competition! The only thing that slightly took the gloss off it was that I was spouting a load of English to a group of French people who had no idea what i was saying. But it only took me two takes!'
Did you consider making a film rather than a miniseries?
'We talked to Hollywood to start with, but each time we went in, they said, "Yeah, we see Orlando Bloom in the lead." And we said, "You know the leads are women, don't you?'. I felt it wasn't going to be possible to make the book in that sort of way, so we didn't think we were ever going to sell it. Then [production companies] Tandem and Scott Free came along and we thought they would actually make a film of the book, rather than something entirely different. We were all nervous, but that's part of why we enjoyed it so much.'
In a way 'Labyrinth' is an unfilmable book. It's very long, it's complicated, it goes backwards and forwards…
'Exactly. On the page, the reader is in charge – you can go back and go, okay, I need to check who this is. It's one story divided into two time periods. [Director] Christopher Smith and the team have made the modern part as gripping as the medieval part, and there is a really strong sense of one narrative. And every single scene has some nuance about it that will appeal to somebody different. Every time you write a book, you leave a gap so the audience can complete the work. That's the trick: it's up to the reader to complete the work of art.'
Did you ever consider adapting it yourself?
'I'm a novelist, and the only job you have is to decide who to sell it to. Once that's happened, why would you not respect the professionals? Once that decision was made, it was important to me that everyone involved delivered their vision. I think I'm a better writer for watching this process. I will never write a screenplay. It's so hard!
'As a novelist, you can witter on about the trees and the woods and the sky and how pretty it is, how great the dresses are… But in the screenplay, I'd see things I'd spent 45 pages on reduced to two lines in the script. But it was the essence of what I was saying. Some novelists never recover from the pain of seeing their book pulled to pieces on screen. For me it was the exact opposite.'
Are we going through a golden age of historical fiction?
'You have to write the books you want to write and hope the market is sympathetic to you. When times are challenging, often people look for lessons about the seriousness of the situation in the past, because it's less challenging than facing them in the future. I think historical and crime fiction are very important at the moment, because they act like a mirror to show us where we are. Hilary Mantel is one of the greatest postwar writers, and she's been writing for 25 years – finally the world has caught up with her!'
'Labyrinth', Saturday March 30 and Easter Sunday, 9pm, Channel 4.
Read our review of 'Labyrinth', episode one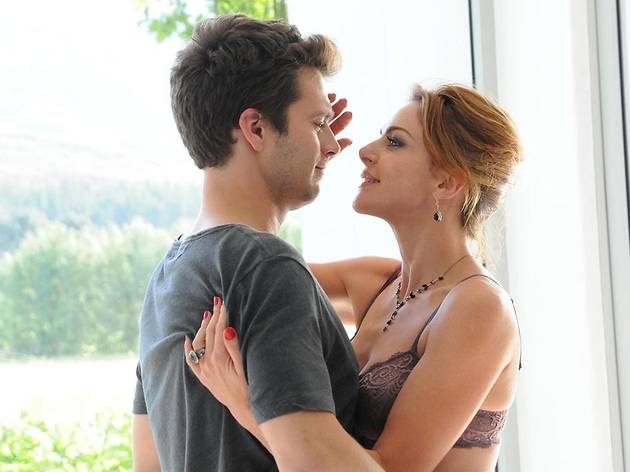 Production values are high and the atmosphere rich, but the pace is occasionally leaden and one or two of the performances are stinkier than a French peasant's dungheap. But as escapist bank holiday entertainment, it does the job.
Read the full 'Labyrinth' review