Heads up! We're working hard to be accurate – but these are unusual times, so please always check before heading out.
Letter from America: Selina Meyer talks to Britain
As scathing political satire 'Veep' returns, the show's bumbling vice president has a message for her British admirers
As we approach the 100th anniversary of World War I in August 2017, I am minded of the Special Relationship between our two nations, which has survived both the war of independence and the war of 1812, conflicts in which Britain's defeat led only to a closer bond with the daughterland.
And so it was on a bright Washington day in 1946 that our relationship reached a new maturity. Bowler hat in hand, that quaint old bluffer and deficit economist John Maynard Keynes came to the State Department and asked for billions of dollars to rebuild war-shattered Britain. We gave him something much more important than mere money. We gave him hope. Give a man money and he'll spend it on fish. But teach that man to fish and one day he'll be able to pay off his massive debts. And as we owe you in Britain a debt of gratitude, so did you owe us a debt, which was paid off a couple of years ago.
Where would we be without that Special Relationship? Free from Piers Morgan, for a start. I'm joking of course, he's a wonderful advocate for all that is best in your country. He's in a long line of Merrie Olde English mirth-makers who have had us rolling in the aisles for decades.
For British culture continues to inspire and confuse us. Sir Elton John and Sir Paul McCartney remind us that knights can be elder statesmen of song, not young warriors with swords. Tracey Emin and Damien Hirst continue to make pieces which challenge our perception of what art is while continuing to sell for high prices at world-renowned galleries. And your writer JK Rowling – or whatever she is calling herself this week – shows herself to be a real Renaissance woman as she moves effortlessly from tales of sorcery to detective thrillers to a book about difficulties at town council sessions.
We admire so much about the UK - your tweeds, your teas, your 'Downton Abbey' – but what's with those darn meerkats? Sure beats me!
On a serious note, I salute your monarch, Queen Elizabeth the Second of England and the First of Scotland. Her reign has seen the assassination of President Kennedy, the death of Winston Churchill, the murder of John Lennon and the rise of England's most famous export, Simon Cowell. You really do have the X factor, Ma'am.
You know, I saw a poster in the Heathrow Airport gift shop as we were whisked past line after line of hopeful Romanians. And that poster spoke to me, with its simple British dignity and English reserve. Crowned with a tasteful coronet, its five short words said more than I could hope to say in a thousand vice-presidential addresses. They were simply this: 'Keep Calm And Carry On'.
But enough of the heavy stuff – I'm off to catch me some of your Great British pop culture, and how better to celebrate than with a trip to see 'Viva Forever!', the Spice Girls musical. As we in the Vice President's office like to say…Girl Power!!! Viva the Special Relationship. And Viva You, UK!
'Veep', Wednesdays, 10.35pm, Sky Atlantic.
Read our review of 'Veep'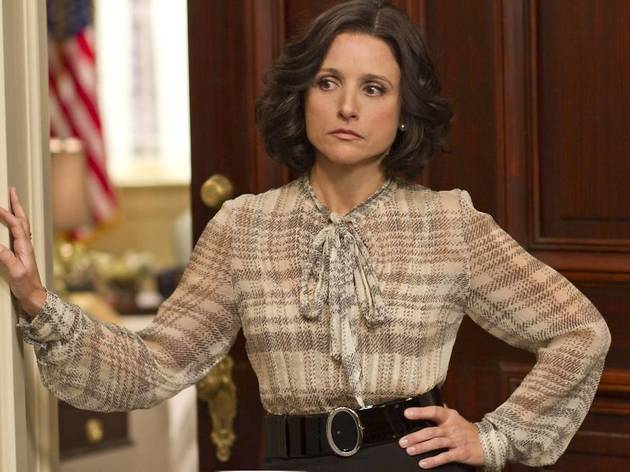 'Veep' is back, capturing the essence of our diluted, disrespectful, mutually abusive relationship with the political classes. US vice president Selina Meyer (Julia Louis-Dreyfus), is on a roll – but for how long? The principals of 'Veep' are as relentlessly dislikeable as ever, but the writing remains relentlessly, inventively hilarious and the performances are naturalistically spot-on.
See the full 'Veep' review
Support Time Out
We see you're using an ad-blocker. Ad revenue is Time Out's main source of income. The content you're reading is made by independent, expert local journalists.
Support Time Out directly today and help us champion the people and places which make the city tick. Cheers!
Donate now