Motor Morphers
Mon May 6, 8-9pm, C5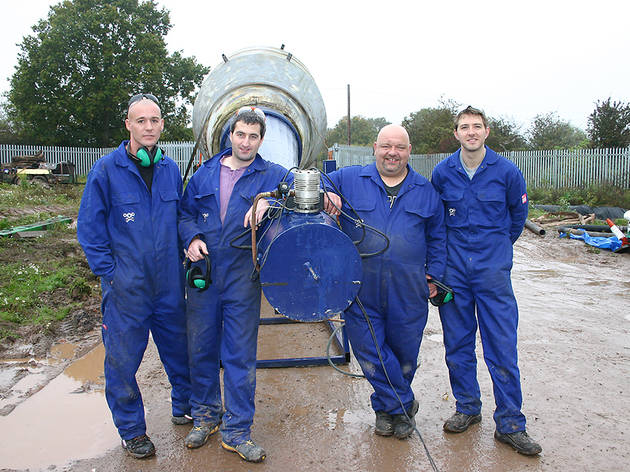 Episode one
Recycling is clearly an important priority for Channel 5. This new addition to their Monday night schedule gives two teams of engineers a challenge – convert vehicles previously fit for the scrapheap and repurpose them for an outlandish contest at the end of the show. Okay, okay, it's fairly obvious where the inspiration for 'Motor Morphers' came from.

Simply substitute 'Scrapheap Challenge''s Dick Strawbridge (or his less-moustachioed predecessor Robert Llewellyn) with 'The Gadget Show''s Jason Bradbury and you've got the gist of this auto-focused hour. This first episode of the run sees two teams competing to convert a concrete mixer into a boat. As with 'Scrapheap', it helps to know your prop-shafts from your pistons, but you don't need to have done a YTS in engineering to enjoy all this carefree construction.
Sponsored listing
Shikumen Finchley Road
Set within the O2 Centre on Finchley Road, Shikumen is an unusually smart spot to grab a Chinese after a trip to the cinema. It's a large, low-lit restaurant – sit right at the back and you can almost forget you're in a shopping centre. Almost. The rear window does look out on to a car park. The food's mostly good and generously portioned. The highlight was a dish of thin Singapore noodles with juicy prawns and fresh, piquant spring onion. Also good were the aromatic and beautifully porky Shanghai xiaolongbao soup dumplings. Less enjoyable was a rather soapy dish of pak choi and asparagus; while sweet and sour chicken tasted like something you'd get from a high-street takeaway. Shikumen isn't cheap either, so these disappointments felt less forgivable. Still, most of the meal was decent and, God knows, you'll have eaten worse in the O2 Centre. For that reason alone, Shikumen's worth a pop.
Venue says: "Shikumen exclusive gifts now available to purchase securely online. See website for more."