Once Upon a Time
Sun Apr 7, 9-10pm, C5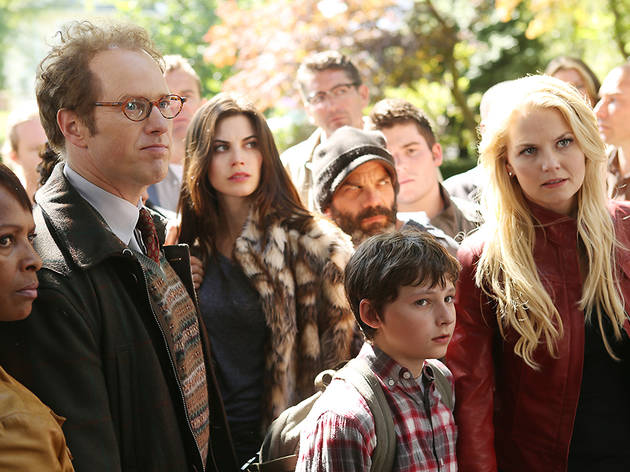 Series two, episode one
Happily ever after? Not exactly. After the climax of season one saw the breaking of the curse that confined the denizens of fairy tale land to the New England town of Storybrooke, there remain a few loose ends. As season two of the US fantasy drama begins, the citizens of Storybrooke are after Regina's blood. Not least Mr Gold (Robert Carlyle), who unleashes a 'soul sucking wraith' upon her as revenge for keeping his beloved imprisoned for so many years.

If you buy into the peculiar internal logic of this show, it just about holds together in spite of plenty of plot holes and some rotten performances. And it's certainly never dull, with a land of fairy tales handily allowing for a near-inexhaustible supply of goodies and baddies. Mulan, Captain Hook and the Queen of Hearts (played by Barbara Hershey, no less) will be making appearances this year. Perhaps JK Rowling's Harry Potter stories aren't deemed sufficiently venerable for the soul suckers to be called what they so clearly are – Dementors.
Sponsored listing
Chi Kitchen
Debenhams and Asian cuisine aren't words that are usually synonymous with each other, but when it comes to the department store's Oxford Circus branch they are. Located on the ground floor, Chi Kitchen offers diners a culinary exploration of South East Asia in surroundings inspired by the elements (marble, timber and leather abound). The kitchen is headed by the winner of 2014's 'MasterChef', Ping Coombes, who has put together a menu of Thai, Chinese, Malaysian, Japanese, Vietnamese and Korean food. Indigenous dishes include char kway teow (fried flat Malaysian noodles), prawn dim sum and robata barbecue, with the addition of Alaskan crab or Chilean sea bass. Visitors can also get breakfast here until 11am, including kaya (coconut jam) on toast and matcha granola, as well as some Western options. Drinks range from smoothies and juices to coffees and teas of the hot, cold and bubble variety.
Venue says: "Lead by 2014 Masterchef Winner, Chi Kitchen offering all day dining from Breakfast through to dinner with a mouthwatering Pan-Asian dishes"