Once Upon a Time
Sun Apr 7, 9-10pm, C5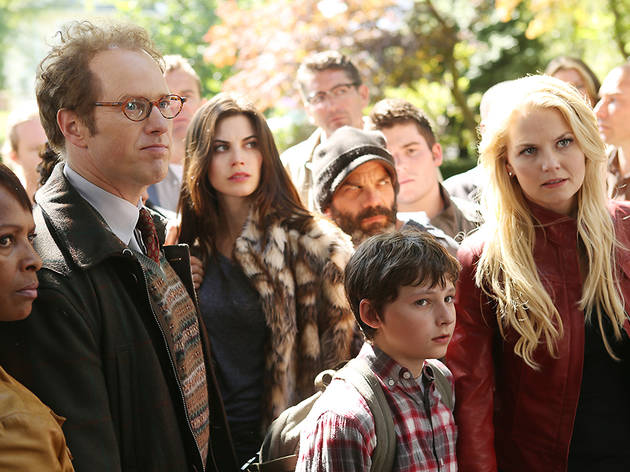 Series two, episode one
Happily ever after? Not exactly. After the climax of season one saw the breaking of the curse that confined the denizens of fairy tale land to the New England town of Storybrooke, there remain a few loose ends. As season two of the US fantasy drama begins, the citizens of Storybrooke are after Regina's blood. Not least Mr Gold (Robert Carlyle), who unleashes a 'soul sucking wraith' upon her as revenge for keeping his beloved imprisoned for so many years.

If you buy into the peculiar internal logic of this show, it just about holds together in spite of plenty of plot holes and some rotten performances. And it's certainly never dull, with a land of fairy tales handily allowing for a near-inexhaustible supply of goodies and baddies. Mulan, Captain Hook and the Queen of Hearts (played by Barbara Hershey, no less) will be making appearances this year. Perhaps JK Rowling's Harry Potter stories aren't deemed sufficiently venerable for the soul suckers to be called what they so clearly are – Dementors.
Sponsored listing
The Schoolhouse
The invitation is to 'take a trip down memory lane' at this Battersea bar and restaurant. The name gives a clue as to how. Thankfully, though, the school theme here isn't laid on thick - a blackboard, bookshelf wallpaper, a couple of signs ('lab coats must be worn at all times') and toys from yesteryear is about as far as it goes. We're not quite sure which school the kitchen attended but the food here is certainly more appetising than most secondary comps. Examples include meat platters, pulled pork in a brioche bun, steak frites, steamed fillet of cod with mixed peppers, lime zest and quinoa, and a braised rib of beef. The dessert list sounds a bit more like it - think apple crumble, sponge and custard, and sticky toffee pudding. The drinks list features some good beers on draught, including Hacker Pschorr Gold, Brugse Zot, WB Mariana Trench and Schoolhouse's own pilsner. Cans from Beavertown are in the chiller. A short wine list takes in countries from across the globe, with an impressive number - all but four, in fact - available by the glass.     
Venue says: "Introducing our £35pp 'Bottomless Bubbles' offer! Enjoy any brunch dish and bubbles for two hours. Available from open to 9pm daily."