Top of the Lake
Sat Jul 20, 9.10-10.10pm, BBC2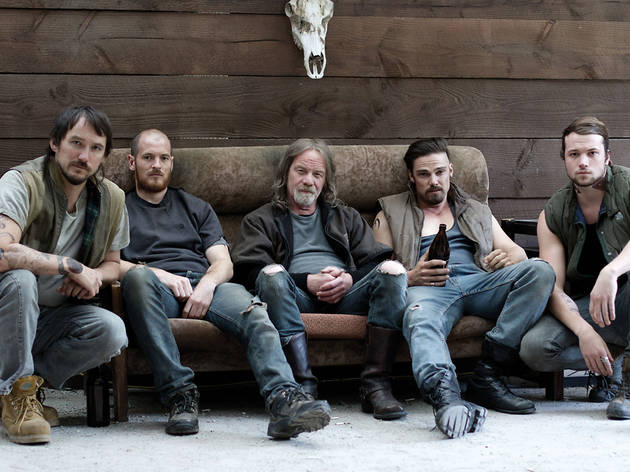 Episode two
Making New Zealand's landscapes look striking is a task so simple as to be slightly beneath Jane Campion. So instead, she makes them look stark and at times almost pitiless. Under these huge, empty skies, Elisabeth Moss's Robin is still trying to track down the forlorn, pregnant schoolgirl Tui.

All the while, her father Matt looks on: a baleful yet messianic figure, aided and abetted by his sons Mark, Luke and Jonno. Elsewhere, the other enigmatic messiah GJ is consolidating her territory; we can't wait for the inevitable meeting of these two beautifully conceived and realised Alpha figures.

'Top of the Lake' is increasingly mesmerising and rapidly shaping up to be one of the year's telly highlights. Its sinister mystery is taken as read, but it's surprisingly and winningly droll too mainly thanks to the bewildered paradise ladies and hapless cop Al. Masterful.
Sponsored listing
Oh'Lola
Like sangria and dicking about with bulls, paella is generally best kept within the borders of Spain. When it's properly done, shallow-cooked in enormous pans and served with a Mediterranean view, it's one of the great joys of Iberian cooking. But even London's best Spanish restaurants often don't do justice to this Valencian classic. Otherwise decent spots trip up when it comes to packing that ultra-short-grain rice with flavour and moisture. So it takes big cojones to try and tweak the process for office workers on a 15-minute lunch dash. A gang of enterprising Valencians have taken on that task, and at Oh'Lola they've somehow served up some of the best paella I've tasted outside Spain – and it comes in a cardboard box. ¡Anda! The place they've picked is Hatton Garden, better known for jewels than jamón, but only a minute or two from the delicacies of Leather Lane Market. Step in through the big french windows and you can watch Team Lola simmering up three kinds of paella in a semi-open kitchen behind a glass screen. Veggie and chicken options are available, but the seafood special is the most eye-catching thing in the room, coming laden with mariscos: a fat prawn, a mega mussel, squid rings, shrimp, octopus and meaty swordfish. And the rice: ¡qué rico! A big sock of flavour – sticky, juicy, rich, salty and fishy, with just the right metallic tang of saffron – it was so authentically Spanish that it felt odd stepping back out into the British summer drizzle. Prices are dec
Venue says: "Visit us in the evening and enjoy our dinner menu."