Tudor Monastery Farm
Wed Nov 13, 9-10pm, BBC2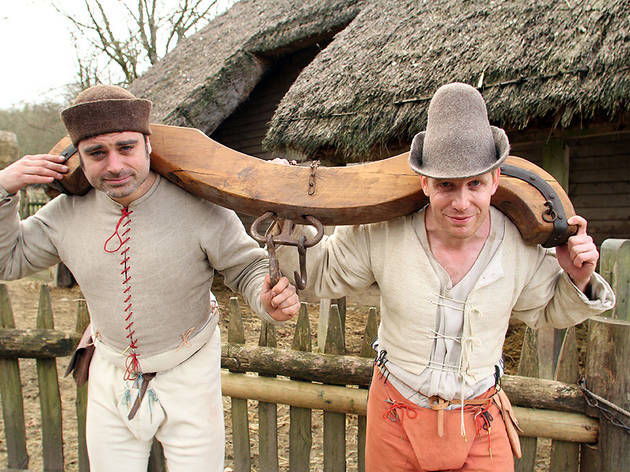 Episode one
If you grew up in England in recent years, you'll have visited a place like 'Tudor Monastery Farm' while you were at school. Where everything runs as it would have in the 1500s when Henry VII was king and religion ruled the land. There you'd see people dressed in smocks slapping manure onto the walls of their buildings and invariably weaving.

This is the situation historian Ruth Goodman and archaeologists Peter Ginn and Tom Pinfold find themselves in for this BBC series. In this first episode the trio are having a whale of a time preparing the house and grounds to make them habitable. And while it's cringeworthy to watch a middle-aged bunch play dress-up, it's also amusing. Especially when their stubborn cows refuse to plough or they nearly drop their bucket down a 20-foot well.

Of course, the programme is educational too and learning how to make paintbrushes from feathers or candles out of sheep fat is intriguing, even if it does put you back in the classroom for an hour.
Sponsored listing
Aida
If you like your clothes stores to offer more than just rails of apparel, Aida is the Shoreditch outlet for you. Marketing itself as a neighbourhood hangout, it invites you to pull up a flea-market pew in its in-store café. Those just interested in clothes won't be disappointed either: Aida is bursting at the seams with chic indie labels, from Minimum for girls to Knowledge Cotton for boys. It also covers the gamut of wardrobe needs, with T-shirts and beachwear among city-friendly daywear and occasion pieces. The merchandising (clothes spilling artily out of Scandi furniture and super-sleek industrial design) gives the place an exclusive boutique air, but prices are varied: ladies can bag a dress for £75, or splash out on one for £255, while gents can go for a basic shirt for £45, or go all out on a sharp, off-the-rack blazer.