Up the Women
Thu May 30, 8.30-9pm, BBC4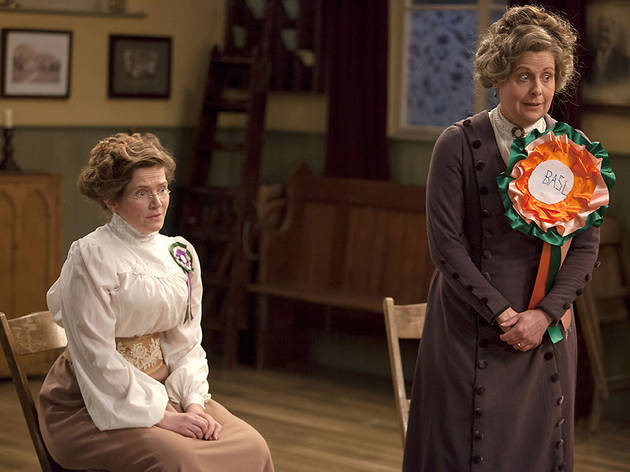 Series one, episode one
Jessica Hynes's first full-series sitcom since 'Spaced' could hardly be more different: old-fashioned, a little stagey and reminiscent of 'Dad's Army' with its band of carefully characterised misfits playing a bit part in serious events of global significance.

Hynes is Margaret, leading a superb cast including Rebecca Front (whose embittered luddite conservative is a highlight), Vicki Pepperdine and Judy Parfitt as the ladies of the Banbury Intricate Craft Circle. The hot debate of the day (that day being in 1910) rapidly moves from tiffin provisions to whether or not to take up the suffragette cause after Margaret returns from London bursting with politely revolutionary zeal.

The performances are game (especially from Pepperdine, shelving any vanity rather magnificently), but the satire nibbles rather than bites; it's resolutely warm, gentle stuff, lacking a little polish and a big comic set-piece. Even so, it's a concept rich with potential and Hynes has more than earned our indulgence with her performance in 'Twenty Twelve'.
Sponsored listing
The Localist
When a mate asks if you want to pop down the local, you probably won't expect plush blue chairs, exposed brick walls, mood lighting and plates of food that resemble works of art, but that's what you get with The Localist. The aim of this restaurant and bar is to provide a 'hub for local residents' – if that's you, then stop in to sip on cocktails with exotic ingredients, such as hibiscus and lychees, and dine on the likes of quinoa salad, tuna tartare, grilled seabass and prawn burgers.
Venue says: "Try some of our favourite brightly coloured cocktails and make sure you take advantage of our two-for-one happy hour; Mon-Fri, 4-8pm!"
You might also like