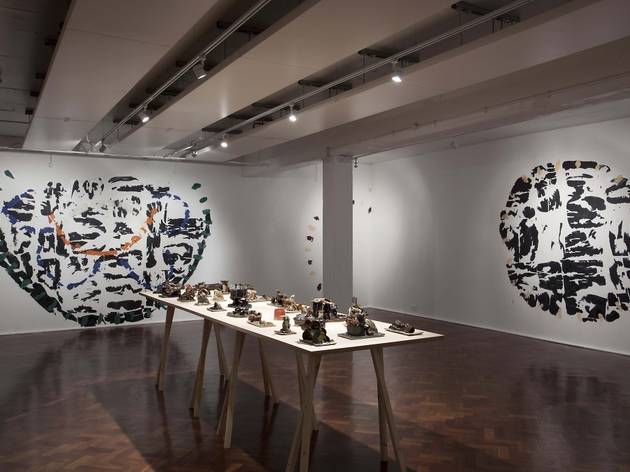 Following a debut solo show at Southend's Focal Point Gallery, recent Slade graduate Aaron Angell's installation at Space hones in on two strands of the young artist's practice – table-top ceramic sculptures and patterned wall-works, the latter formed by the remnants of pieces of coloured paper stuck on and torn off. Both successfully tap in to the current appeal of folksy, craft-oriented or vernacular art, subverted in such a way that the recognisable references constantly play against a more slippery overall meaning.
Angells's almost abstract wall works are circular in shape, relating to civic floral clocks – patterns created from low-growing bedding plants and flowers. It's an esoteric reference for sure, until one thinks of the marks left behind when the flowers die or are pulled up, their correlation with the technique of torn paper (generally associated with hobbyist, figurative images), resulting in an interesting ambiguity.
At first glance, the glazed pottery pieces, arranged on a trestle-style table, seem little more than pleasing arrangements of leftover clay in rough funnel or pot shapes, stuck together with more formless bits and bobs. A closer look reveals repeated elements of specific objects and motifs, including coins, logs, plaits and harlequin-patterned strips. It gives an impression that, rather than having been constructed from scratch, these arrangements might been made from fused fragments of already existing ceramics. One sculpture includes the words, 'Whose is the voice in the wind', cut out in the clay. It's a suitably enigmatic question for works like these, which mix pleasing elements of the familiar while denying any easy definition.