Christo and Jeanne-Claude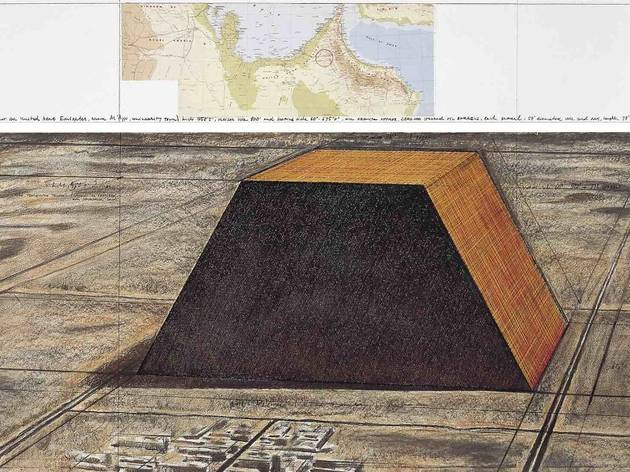 Time Out says
Friendly warning! We're working hard to be accurate. But these are unusual times, so please check that events are still happening.
Christo and the late Jeanne-Claude have always stood slightly apart from the commercial gallery circuit. Their work, after all, is all about interacting with the real world, temporarily altering it in some sort of magnificent, colossal way – such as famously enveloping the Reichstag in sheer white fabric, or wrapping entire islands in a Florida bay with shimmering pink. Yet here's Annely Juda gallery, celebrating 40 years of exhibiting the duo – but exhibiting what, exactly?
Well, perhaps rather unsurprisingly, what you get are basically plans and proposals – yet actually these are deeply fascinating, on two levels. Firstly, because they form an integral part of the duo's modus operandi, as it's through the sale of these items that the large-scale projects get financed – the artists notoriously never accepting any form of outside sponsorship, even when the projects cost tens of millions of dollars.
And secondly, quite simply, because they're utterly stunning – their mixture of collage, conceptual art, and straightforwardly beautiful drawing produces something oddly inspiring, whether or not the actual projects are ever realized (there are several, like the wrapped Manhattan skyscraper, that never are; while others are nearing completion only after decades of bureaucratic negotiation). With their drawn grids, scrawled measurements, cross-sections, and topographic views, it feels like being at the world's weirdest planning meeting, full of wondrous, ethereal ideas being explained and presented.
Which is ironic, given how the artists' core, essential theme involves covering up and hiding away. The idea begins with their smaller, 1960s pieces, exhibited here: lumpy, mysterious, string-tied bundles; furniture wrapped in yellowed, plastic sheeting; an entire shop window, filled with sagging cloth – all poised at the point where the act of concealment becomes a kind of display in itself. Truly, it's such a creepy, elegant, beguiling metaphor – no wonder they've spent their career exploring its infinite manifestations.
Details