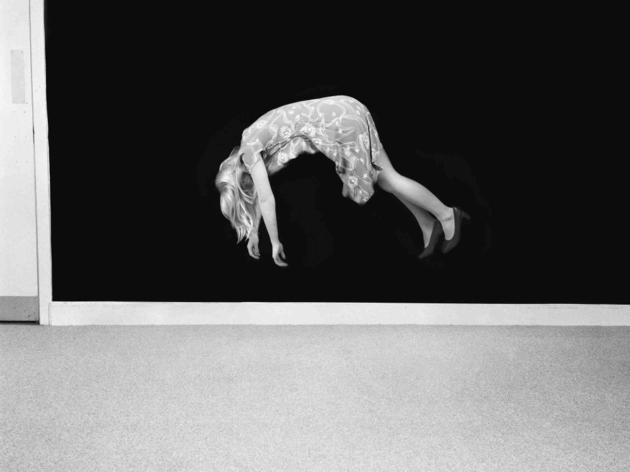 Clare Strand likes magic, trickery and the paranormal, which seems reasonable for a photographer; her fascination with magazines such as Popular Mechanics and Healthy Living is more untoward. A small selection from several of her projects is this new gallery's second show and, appropriately enough, there's more here than meets the eye.
In some cases, this is literally true. For the 'Cyclegraph' images – eerie streaks of light that jump out of profound blackness – Strand strapped lights to her hands (a reference to an early twentieth-century photographic experiment to improve worker efficiency), then photographed herself taking photographs. Like much of her work, the results have intellectual weight and aesthetic lightness: they look good even if you know nothing about them.
That isn't so with 'Ten Least Most Wanted'. if you aren't told to peer round the sides of these found images encased in acrylic, you won't realise there's another picture hidden below each one. This is merely a nice theoretical jaunt. Still, her experiments with the Kirlian process, designed to photograph auras, have more substance. They examine the madness of human inspiration that gave us both paranormal investigations and that very photographic process, used here, to investigate them. And the girl suspended, or cut in half, or pulling endless streamers from her mouth in a DVD installation, says as much about the technology of modern photography as about what we are capable of believing.
Strand is extremely interesting; it's frustrating to be able to see only tidbits of bigger projects. With luck, this exhibition will give her the opportunity to reverse the magic process, and make more of her work appear.