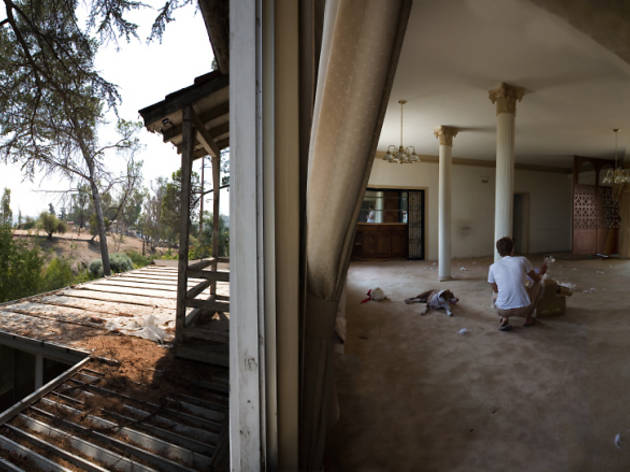 For this US artist's 50-minute film, 'A Journey Between Two Fixed Points', a camera has been set on an automated tripod, placed in the windows of a number of mostly domestic locations, and left to sweep endlessly from left to right. It cuts from window frame to window frame, skipping between insides and outsides, private and public spaces, collecting fragments of overheard conversations and unexceptional scenes. For the most part paced and calm, this many-hued montage builds up to a beautifully textured crescendo. With painterly precision, Michaels's film provides a remarkable, almost unrecognisable space of slowness and intimacy.
The camera passes through back gardens, houses emptied for moving in or moving out, busy kitchens, deserted football fields, woodlands, bathrooms and yards, picking up the sounds of distant fireworks, radios, phone conversations, birds, dogs and motors. Within this landscape, familiarities arise, and against the eternal panning, a series of interventions unravel. Close-ups of the inside of a fridge, a naked toddler, or the gaze of person staring directly into the camera, come to represent tears in the narrative – moments of disruption, whilst a sweep over a white wall, a shot of falling snow or a dark night scene, present moments of paucity. It seems relatively violent then, when on two occasions the camera suddenly stops its rotation, cutting instead to shaky hand-held pull backs to reveal the greater scenes.
Threading together a rich composite of neglected moments, Michaels' work becomes something to pore over. Like any great film, it is peppered with twists and sudden points of resolve, images to anticipate and new things to be seen. And, most impressively, all of this has been patterned from unashamedly direct documentary footage.
Rating Breakdown
5 star:

2

4 star:

0

3 star:

0

2 star:

0

1 star:

0
Went in last week and found this mesmerising. Weird experience to not really feel time pass while ensconced in other people's half lives - wanted to know more several times and each time it was snatched away. Want to go back and see it again but that feels weird too. Interesting gallery - third time I've walked out and thought about it for days.
I saw this over the weekend and was kind of blown away, it's so mesmerizing and poetic. A bit sheepishly I confess that I don't often like many video works so was kind of taken back when it looped and realised I'd sat through the whole thing totally absorbed..