Win a five-star food-lover's mini-break
Enter our competition for the chance to win a night at The Park Tower Knightsbridge and a private lesson with Pascal Proyart of One-O-One Restaurant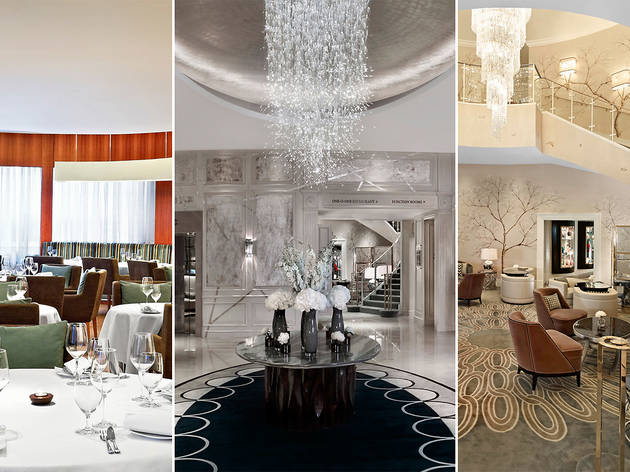 Here's your chance to stay at the five-star Park Tower Knightsbridge, luxuriating in a king size bed on 200-count cotton sheets before enjoying a leisurely breakfast. The iconic 1973 circular tower offers amazing views of London from every room and hosts possibly London's best fish restaurant, One-O-One, led by chef Pascal Proyart.

There's no better teacher if you want to learn how to cook perfect seafood – Proyart is a third-generation restaurateur from a fishing village in Brittany, who left to work at Michelin-starred restaurants around Europe before setting up One-O-One. You'll have a whole hour to yourself with Pascal, and the chance to discover the secrets of his inspired creations. With any luck at your next dinner party you'll be serving your guests braised wild octopus ravioli instead of fish fingers.

To enter, just answer the following question... The exceptional afternoon tea available in The Knightsbridge Lounge is inspired by a nearby Royal park; can you name it?

Sponsored listing
155 Bar & Kitchen
Opposite Farringdon's famous bird ­– The Eagle, that is – exists a conservative and relatively quiet restaurant. Bow-­tied waiters and bare, whitewashed walls hint at a lack of invention, but for proof to the contrary, try the pork belly. The delicate meat paddled in a flavour­-boosting chicken jus and, while the rainbow chard was more decorative than anything else, a dusting of popcorn fragments over the pork's rind showed 155 can have a bit of fun. This didn't translate with the pumpkin ravioli, mind – well-­made as the pasta was, the filling bore a dull, earthy flavour. Food was generally rich or subtle, with little in-­between. The mushroom consummé, as dainty as a Borrower's stamp collection, hardly needed the waiter's gravy boat theatrics at the table. Pig's head croquettes were encumbering for a starter, but well done. Desserts, if over­-sugared, satisfied. Chocolate fondant cloyed the palate, while the sticky toffee pudding was just the right side of toothsome. Just don't expect any help with the wine list. The waiter, bless him, ran a finger down the page and offered nothing more than, 'this one's nice; this one's good'. With its dependable food and smart look, 155 is prime business lunch territory. Bring a colleague who knows his chablis from his chardonnay and you'll do fine.